Both Madras and Vindaloo reflect the South Indian history of spice combinations. They're both made with South Indian spices and have a spicy flavor. So, you may come to wonder what is spicier, Madras or Vindaloo? This article will discuss everything you need to know about that in detail.
Vindaloo is spicier than Madras. Cayenne peppers have a Scoville heat level of 30,000–50,000 SHU and are commonly used in the Vindaloo! Scotch Madras chili content is slightly lower.
In Indian cuisine, there are dozens of different dishes with varying degrees of heat and spice. After all, the heat of madras is not for everyone! With that stated, Vindaloo reigns supreme in terms of spice, as it is frequently the most feared item on an Indian restaurant menu. So, if you want to learn more about Madras and Vindaloo, read further!
Vindaloo Vs. Madras:
Madras is both a region and a dish from Southern India. Tomatoes with coriander, cumin, and fenugreek are fiery and spicy, as is typical of the region. Vindaloo is frequently the most popular dish on any Indian restaurant's menu. Korma is a milder version of it. Vindaloo curry powder is well-known for its spiciness.
What Is Vindaloo?
Vindaloo is known for its scorching heat and thick sauce, which contains a considerable amount of spices and is sharpened with vinegar. It can be cooked with various meats, including lamb, goat, pork, shrimp, chicken, and even vegetables.
How to Make Vindaloo?
Ingredients:
Vinegar
Chopped onions
Ground turmeric
Ground ginger
Coriander seeds
Cayenne chilies
Cloves
White cumin
Water
Salt
Chicken or Pork
Sugar
Brown mustard seeds
Paprika
Instructions:
Dry roast your coriander seeds, chilies, cumin, mustard seeds , and whole spices first, until fragrant and faintly browned.
Combine them with tamarind, garlic, ginger, and vinegar to produce a paste.
In a frying pan, heat the oil and sauté the chopped onions.
Cook for 3 to 4 minutes with the pork or chicken.
Toss in the tomato puree and paste.
Cook for 45 minutes after adding salt, turmeric, and water.
Cook for another minute after adding a pinch of sugar.
Serve!
What Is Madras?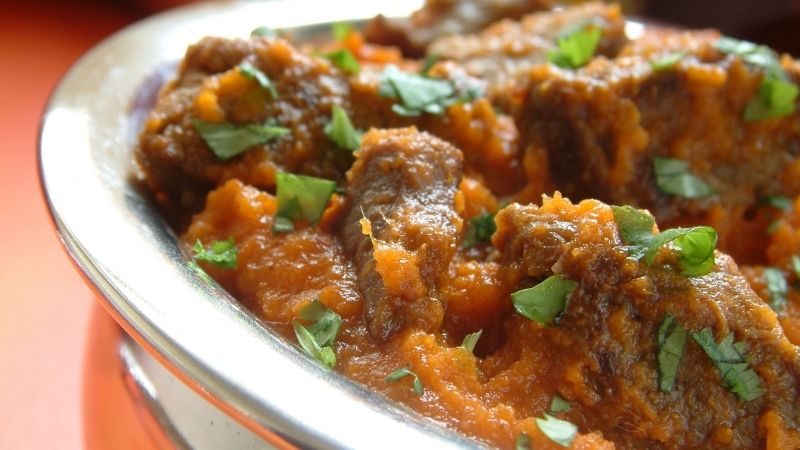 Madras sauce, often known as Madras curry, is a South Indian dish named after the city of Madras (now Chennai). Madras is a fiery curry that is always red in color.
How to Make Madras?
Ingredients:
5 teaspoons vegetable oil
3 whole cloves
2 big finely chopped onions
1 inch piece of ginger
Minced 3 green chile peppers with seeds
4 garlic cloves, smashed
1 teaspoon red chili pepper powder (or to taste)
1 teaspoon turmeric powder
1/2 teaspoon cumin powder
1/2 teaspoon coriander powder, to taste
1/2 pound chicken breasts, skinless and boneless, sliced into bite-size pieces
1/2 (1/4 ounce) can of tomato puree
1/4 cup water
Garlic
1/2 cup fresh coconut milk
½ teaspoon salt
Chopped Cilantro
Instructions:
Add cumin to a big sauté pan and toast in a dry pan over low heat. Remove the item and place it away.
Over medium-high heat, add 2 tablespoons of oil to the pan. Cook until the chicken chunks are slightly browned. Remove the pan from the heat and set it aside.
Add the remaining 1 tablespoon oil to the same pan over medium heat and sauté the onion until tender.
Stir in the garlic, ginger, coriander powder, cumin, turmeric, chili powder, and tomato paste. Mix in the diced tomatoes thoroughly.
Add the chicken, salt, and coconut milk to the pan. Cook for 10 minutes with the lid on. Remove the lid after 10 minutes and continue to cook for another 10 minutes.
Serve with chopped cilantro on top.
What Does Vindaloo Taste Like?
Chili is the most prominent flavor in Vindaloo. If you're used to spicy foods, you might detect a trace of tomato, a hint of acidity and tanginess from the vinegar, as well as undertones of ginger and garlic.
Vindaloo is a flavorful curry. Apart from a few pre-cooked potato bits, it isn't thick or presented with any vegetables. It usually has a reddish-brown color and a thick sauce. It's one of the oilier curries too.
A generous amount of Kashmiri chili powder — a significant spice in Vindaloo – adds flavor, heat, and the curry's characteristically deep red color. Cumin, coriander, cardamom, a little cinnamon, and a few more warm spices are included. Finally, a pronounced vinegar tang is a trademark Vindaloo flavor that balances and provides the curry backbone.
What Can You Serve With Madras And Vindaloo?
Side Dishes For Madras:
When madras is on the menu for dinner, here's a list of the greatest side dishes to select from.
1. Mint Chutney
It's difficult to resist a table filled up with sauces, meats, lentils, dips, chutneys, and samosas. It brings a vibrant touch to rice, curry, or grilled meat.
2. Salad with Cucumbers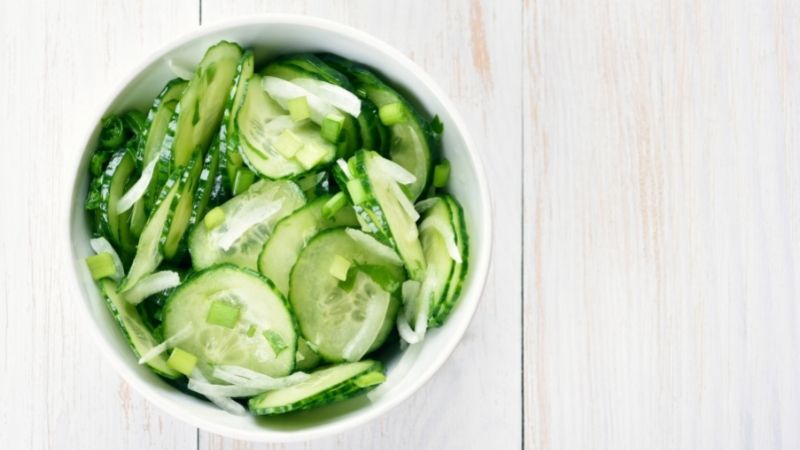 This refreshing cucumber salad is nicely seasoned with green chilies and has an earthy, rustic tempering of cumin seeds in ghee. This salad, which is topped with toasted ground peanuts and cilantro, is ready in about 10 minutes and delicious with your favorite madras curry!
3. Samosa
Samosas are a delicious appetizer and side dish cooked with spicy potato stuffing.
4. Naan Bread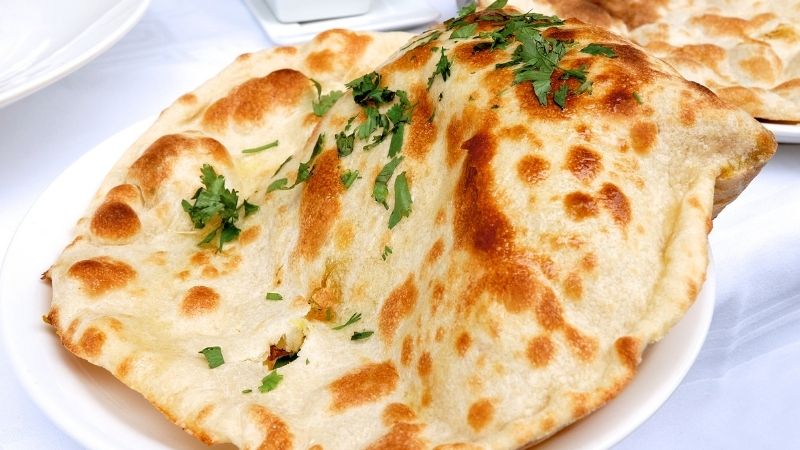 In Indian cuisine, naan bread is a popular flatbread that is a traditional complement to various curries.
Side Dishes For Vindaloo:
A mild-flavored accompaniment should be served with chicken/pork vindaloo. The spicy and flavorful flavor of Vindaloo makes it ideal for serving alongside something mild.
Otherwise, your dinner will be overpoweringly flavorful and unappealing.
1. Mashed Potatoes
Mashed potatoes are a comfort dish that can be included in a daily or weekly diet if you are an American. This side dish is both classic and simple to prepare, and its starchy texture is ideal for absorbing vindaloo sauce.
2. Basmati Rice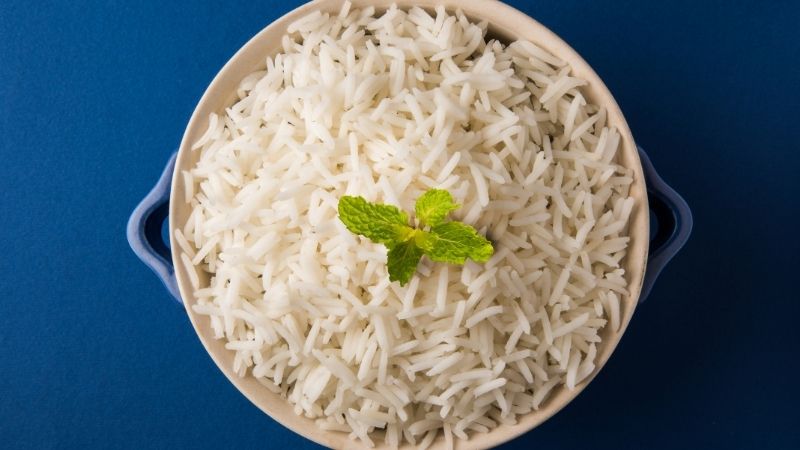 Basmati rice is one of the most popular side dishes to serve alongside vindaloo.
3. Bread
Naan bread is a popular flatbread that is a traditional complement to Vindaloo.
4. Black Beans
Chicken vindaloo can alternatively be served with black beans. Black beans have a lot of health benefits, and the best part is that they can also help you lose weight.
FAQs:
What Is Madras Curry Similar To?
The best substitutes for madras curry paste are chili pepper, Tandoori masala, homemade madras curry paste, garam masala, and sambar powder.
What Could Be Spicier Than A Vindaloo?
The hottest curry in the globe, and the hottest of Indian curries, even spicier than vindaloo, is phaal curry. It is a British Asian curry that first appeared in Birmingham restaurants.
What Is The Distinction Between Vindaloo And Curry?
The distinction between Vindaloo and curry as nouns is that Vindaloo is a blend of tamarind, chilis, cumin, ginger, and mustard seeds that originated in Goa. In contrast, curry is a spiced sauce that originated in South Asian cuisine.
Conclusion
The common thing between Vindaloo and Madras is their European origins: both are spice blends created by Europeans utilizing Indian ingredients. However, Vindaloo is hotter than madras in terms of spice. If you can't handle too much spice, then madras is the best option. Hopefully, with the help of our article, you now have in-depth knowledge of the spice level of Madras and Vindaloo!