Not all people enjoy dishes with dairy because of ethical reasons, personal preference, and allergy or lactose intolerance. Although getting rid of all dairy from a diet sounds challenging, plenty of dairy-free dishes have the right nutritional substitutions.
I love eating Indian food, and Vindaloo is one of my favorites, but I was curious to find out if it contains any dairy. It turns out that Vindaloo is a naturally dairy-free dish!
This spicy and vegetable stew can be made from lamb, pork, chicken, beef, or tofu. The veggies used can vary. The ingredients for Vindaloo are chopped and blended. Then, they are simmered until the meat is tender. Some people love adding additional spices. Typically, this hearty dish is served with rice.
Let's dive into originate of vindaloo, its recipe, and other dietary considerations.
Origin of Vindaloo
Undoubtedly, vindaloo is one of the most popular Indian dishes. But did you know that its origin is extended beyond the Indian subcontinent?
This spicy Indian curry dish stems from Portugal in the 15th century and is based on a Portuguese dish called carne de vinha d'alhos (meat in garlic marinade). When Magellan and Vasco da Gama explored the globe, they brought their cultures and cuisine with them.
Today, most Indian food scholars believe vindaloo is the ancient European meat dish' Indian variation. The dish spread in different regions, especially Goa, and added new ingredients, such as tamarind, cardamom, and palm wine. It is also incorporated with chili peppers. As a result, everyone can enjoy a rich dish with slow-cooked ingredients and a spicy flavor.
But in Indian recipes, they use spices more than garlic. The spices vary from one region to another. Generally, cumin, ginger, turmeric, red chili powder, as well as black pepper or cardamom are used in Vindaloo.
If you love spices, vindaloo is an excellent choice. Even when you taste the vindaloo in your local restaurants, it will not be spicy, but the spices still give it a unique taste. The savory combinations of Vindaloo melt in the mouth and create a unique, unbeatable flavor.
Is Vindaloo Dairy Free?
Yes, Vindaloo is dairy-free. It doesn't contain any butter, cream, milk, or cheese. This makes it an excellent vegan and lactose-intolerant meal. When served without rice, Vindaloo can be a gluten-free dish as well.
It is unlike massaman curry or tikka masala, which contain cream or coconut milk. So, you can enjoy Vindaloo without worrying about consuming dairy products.
*Since vindaloo is a widespread dish found in Indian restaurants worldwide and may adapt to specific regions' tastes, I would recommend asking the waitress directly to check the ingredients for dairy-containing items before ordering.
Common Ingredients for Cooking Vindaloo
Getting the right ingredients is the key to cooking savory and aromatic vindaloo. This dish is usually made up of vindaloo sauce, typically made from:
Curry paste
Caramelized onions
Vinegar
Garlic
Chilies
Lentils
Jalapeno
Other spices like turmeric, paprika, pepper, salt, and garam masala
If you wish to add more ingredients or texture to the dish, you can have chicken breast, tofu, bell peppers, potatoes, and zucchini. Since I love spicy foods, I add more jalapenos and chilies, and you can substitute jalapenos with more spicy peppers, like habanero or scotch bonnets.
The spices are unarguably the essential ingredients when cooking vindaloo. Below is the most common spices used in curry paste:
Salt
Pepper
Paprika
Cayenne pepper
Turmeric
Ground leaves
Ground cinnamon
Ground yellow mustard seeds
Cumin
Ginger
You can also use other ingredients, such as brown sugar, lemon juice, dried tamarind, and ghee. As mentioned above, Vindaloo sauce is critical in the dish. But if you are in a hurry and don't want to make it from scratch, there is a ready-made sauce available in grocery stores. Don't worry; it does not skimp in the flavor and aroma departments.
How to Make Vindaloo at Home (Dairy-free Version)
One of the best things I like about vindaloo is that it can be made in different ways, depending on your budget or time.
Ingredients:
2 lbs lamb or pork (or your choice of meat), cut into bite-sized pieces
2 tablespoons vegetable oil
2 onions, finely diced
4 cloves garlic, minced
1 2-inch piece ginger, minced
2 teaspoons ground cumin
2 teaspoons ground coriander
2 teaspoons ground turmeric
1 teaspoon ground cayenne pepper
1 teaspoon ground black pepper
1 teaspoon ground cinnamon
1 teaspoon ground cardamom
1/2 cup red wine vinegar
1/4 cup tomato paste
1 cup water
Salt, to taste
Instructions:
Heat the oil in a large pot or Dutch oven over medium heat. Add the onions, garlic, and ginger and cook until the onions are softened about 5 minutes.
Add the cumin, coriander, turmeric, cayenne, black pepper, cinnamon, and cardamom, and cook for another minute.
Add the lamb or pork to the pot and stir to coat with the spice mixture.
Add the vinegar, tomato paste, and water to the pot and stir to combine.
Bring the mixture to a boil, then reduce the heat to low and simmer, covered, for 1 1/2 to 2 hours or until the meat is tender.
Season with salt to taste and serve with rice or flatbread. Enjoy!
Tips
You can use a store-bought vindaloo curry paste instead of making your spice mixture to save time. Just add the paste to the pot and the meat and follow the rest of the recipe as directed.
If you prefer a milder vindaloo, you can reduce the amount of cayenne pepper or omit it entirely. Alternatively, you can increase the amount of cayenne for a spicier dish.
Try roasting the spices before adding them to the pot to give your vindaloo a richer, deeper flavor. This will help to release their essential oils and intensify their flavor.
You can use the meat for vindaloo, but lamb and pork are the traditional choices. If you're using lamb, try to find a cut with some fat on it, as this will help to keep the meat moist and flavorful.
Don't be afraid to play around with the ingredients and add your twist to the recipe. For example, you could add some diced sweet potatoes or bell peppers to the pot for a little extra flavor and texture.
There is also ready-to-wave Vegetable Vindaloo available from Tasty Bite. You can make it in minutes to enjoy a delicious vegan version of this traditional Indian dish. Click here to check it out!
Popular Side Dishes for Vindaloo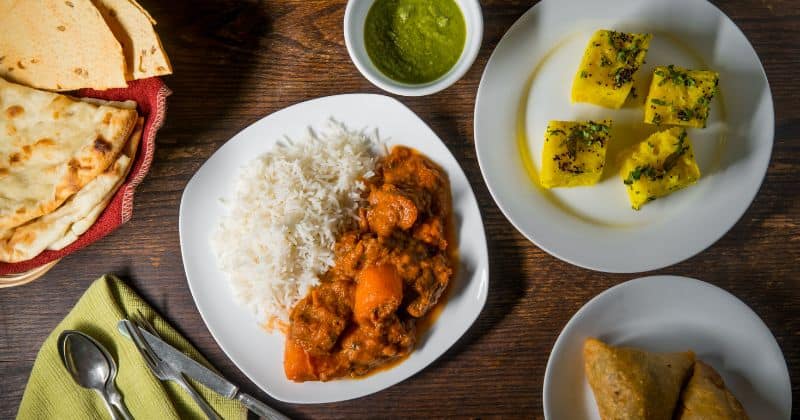 Now, you might be wondering what you should serve with your vindaloo. The best thing about this dish is that you can choose from plenty of tasty sides that go well with it.
People in the Goa region love serving their vindaloo with fluffy rolls called pav. But others prefer pairing the dish with Kerala paratha or laccha.
Below are some of my favorite side dishes I serve with vindaloo:
Wraps
Chapatis
Potatoes
Lemon or Basmati rice
Naan
Does Vindaloo Have Nuts?
Traditionally, vindaloo does not contain nuts. Every cook has variations on a recipe, and some people may add nuts to their vindaloo for added flavor and texture.
Double-checking the ingredients list before trying a new dish is always a good idea if you are allergic to nuts or have dietary restrictions.
Does Vindaloo have Coconut Milk?
Some recipes may include coconut milk to help caramelize the onions and give the vindaloo a creamier texture. If you're concerned about dairy free, don't worry about coconut milk, as it doesn't contain any dairy. It's naturally lactose-free and vegan, making it perfect for those following a dairy-free or vegan diet.
Does Vindaloo have Vegetarian alternatives?
Yes, Vegetarians can enjoy a delicious vindaloo, too. You just need to replace the meat with veggies like potatoes, mushrooms, and carrots. Tempeh and tofu also make great substitutes for pork or lamb in vegetarian versions of this dish.
Additionally, you could add vegan protein sources, such as chickpeas or lentils, to the pot to make your vindaloo more filling and nutritious.
No matter which ingredients you choose for your vindaloo, it's sure to be a flavorful and satisfying dish. Enjoy!