There is something about Indian food that makes your taste buds tingle. The spices used in Indian cuisine are some of the best in the world. However, it can be a challenge to find the best spicy Indian dishes out there.
Here is the list of the 20 best spicy Indian dishes you need to try at least once:
Lamb Vindaloo
Laal Maas
Phaal Curry
Andhra Chili Chicken
Rista
Kozhi Curry
Bhut Jolokia
Chicken 65
Madras Curry
Kolhapuri Chicken
Dal Gosht
Goan Fish Curry
Dal Tadka
Chole Bhature
Aloo Gobi
Chana Masala
Pav Bhaji
Junglee Maas
Dhaba Mutton
Chicken Chettinad
Indians are famous for their spicy cuisine, and there are so many great dishes for you to discover. If heat is a must, please read on for our list of 20 of the most mouthwatering and spicy Indian dishes to try.
1. Lamb Vindaloo
If you're looking for a delicious, hearty dish to warm you up on a cold night, look no further than Lamb Vindaloo. Thus fiery red dish consisted of tender lamb in a super hot sauce made up of loads of crushed red chilies, garlic, vinegar, and spices.
This recipe originated in Goa and typically contained pork. However, the lamb version quickly became one of the most favored Indian cuisines. Vindaloo also comes in the following meat varieties:
Beef
Mutton
Prawn
Vegetable
Chicken.
If you are looking at a spicy scale between 1 and 10, vindaloo tops the charts with its blend of powdered and fresh chilies to warm you through any winter night.
2. Laal Maas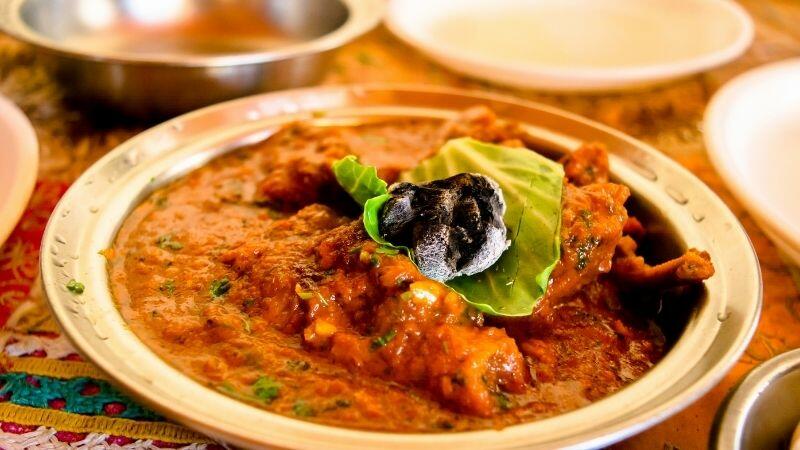 Laal Maas is a fiery traditional Rajasthani dish traditionally made with goat meat. However, you can also use lamb or chicken.
Chefs cook the meat in spice-laced gravy and serve this spicy delight with plain rice or roti. Laal Maas gets its name from the Hindi word for "red" and "Maas," meaning meat.
Garnish Laal Maas with fresh cilantro for a refreshing taste. If you want a truly authentic experience, ask for extra chili peppers when you order!
3. Phaal Curry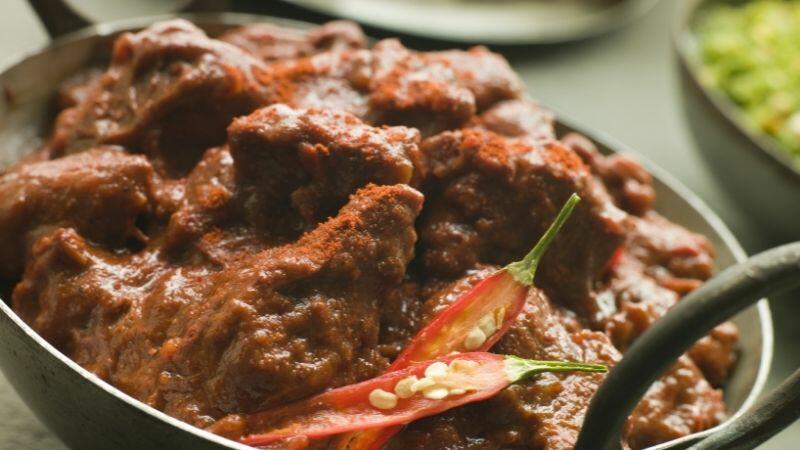 Phaal curry is a dish from the Indian subcontinent renowned for its heat. It is also widely considered the hottest curry in the world. Chefs traditionally make this dish with various chili peppers, although the exact recipe can vary greatly.
Some recipes call for green chilies, while others use red chilies. The dish calls for loads of peppers, typically mixed with other spices such as ginger, onions, and garlic. Use chicken breasts or goat meat for optimal results.
Serve Phaal Curry with white rice as it goes well with it. While the dish is incredibly spicy, it is also very flavorful, making it a favorite among spice lovers. If you're looking for a truly unique culinary experience, Phaal curry is worth trying.
4. Andhra Chili Chicken
Andhra chili chicken is a popular dish in the Indian city of Bengaluru. The dish consists of chicken marinated in buttermilk and a spice blend that includes chili pepper, turmeric, and other spices.
The chicken is then cooked in a lightly oiled pan until it is browned and cooked to perfection. Andhra chili chicken typically comes with rice or roti, and you can also enjoy it as a standalone dish.
The dish is known for its flavorful, spicy taste and is sure to please any fan of Indian cuisine.
5. Rista
Rista is a traditional Kashmiri dish made with mutton or lamb. Saffron plays a crucial role in the flavor of this dish.
The meat is cooked with spices and yogurt and then formed into small balls. The ristas are then skewered and cooked over a charcoal fire.
Rista is a delicious and hearty dish perfect for a cold winter night. This dish typically comes with a light salad or raita. So if you're looking for something new, be sure to give rista a try.
6. Kozhi Curry
If you're looking for a dish packed with flavor, look no further than Kozhi Curry. This traditional Keralan dish consists of chicken cooked in coconut oil and various spices, resulting in a savory and slightly sweet curry.
The dish is typically served with rice or naan bread, making it a hearty meal that will satisfy. In addition, the leftovers (if there are any!) make an excellent lunch the next day.
So if you're in the mood for something new, give Kozhi Curry a try – you won't be disappointed.
7. Bhut Jolokia
Bhut jolokia murgh is a dish that packs a serious punch. It features chicken cooked in a puree made with Bhut Jolokia peppers. These peppers are among the hottest in the world, giving the dish its fiery flavor.
However, the peppers are more than just heat – they also add a distinctive sweetness and smokiness to the dish. In addition to the peppers, the sauce also contains onions, ginger, and garlic, giving it a complex and well-rounded flavor.
8. Chicken 65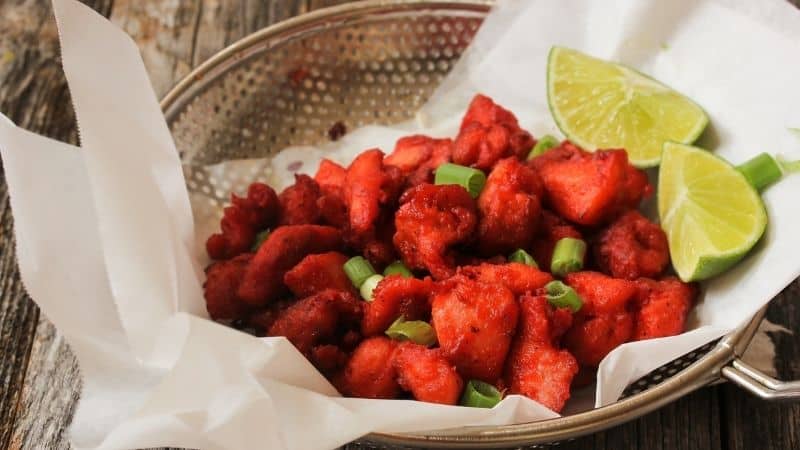 Chicken 65 is a popular Indian dish made with chicken, chili peppers, and other spices. The exact origin of the dish is unknown, but it is widely accepted to have originated in the southern part of India.
Chicken 65 is typically served as an appetizer or main course and can be fried or baked.
You can make chicken 65 with boneless chicken, although some recipes call for bone-in chicken. Regardless of the chicken used, the dish is always cooked with various spices and chili peppers, making it a flavorful and fiery dish.
9. Madras Curry
Madras curry is a popular dish from South India characterized by its fiery heat. The dish contains a combination of chili peppers, turmeric, cumin, and other spices, which give it its characteristic bright orange color.
Madras curry typically comes with a complement of rice or bread, and you can make it with either chicken or beef. While the dish is often quite spicy, you can adjust the heat level according to your preference. For those who like their food on the spicy side, Madras curry is an excellent choice.
10. Kolhapuri Chicken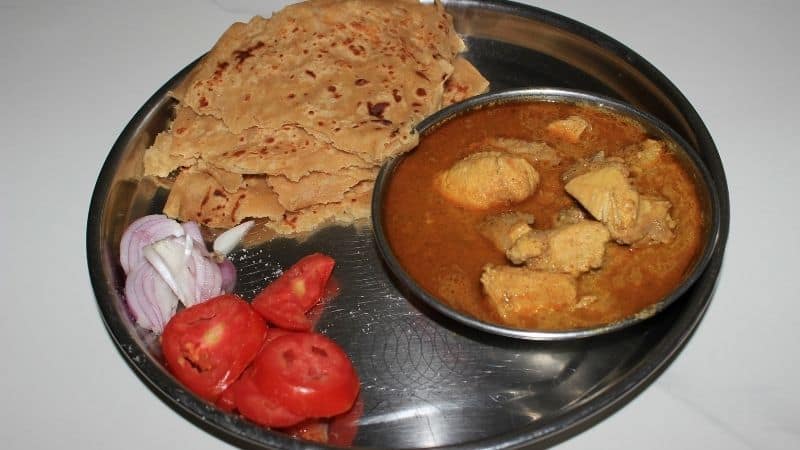 Kolhapuri chicken is a popular dish in the Indian state of Maharashtra. The dish gets its name from the city of Kolhapur, which is known for its spicy food.
Chefs make Kolhapuri chicken with chicken thighs or drumsticks marinated in a mixture of yogurt, spices, and chili peppers. They then cook it in a sauce made with onion, coconut, and chili peppers.
The result is a rich and flavorful dish that will please any spice lover. Kolhapuri chicken is typically served with rice or roti and can be as mild or spicy as you like.
11. Dal Gosht
Dal Gosht is a popular dish from the Indian subcontinent. Cooks create this dish by simmering lamb or goat meat in a spiced mixture of lentils and tomatoes. This spicy meal typically comes with a side of rice or roti and a refreshing kick of fresh cilantro or mint.
Dal Gosht is known for its rich flavor and hearty texture and is a comfort food. While the dish can be time-consuming to prepare, its delicious taste is well worth the effort.
12. Goan Fish Curry
Goan Fish Curry is a dish from the Indian state of Goa. The dish is made with fresh fish, coconut milk, and various spices, resulting in a rich and flavorful curry.
While the exact ingredients and cooking methods vary depending on the region, the essential components of Goan Fish Curry are always the same.
As such, this dish is beloved by both locals and tourists alike. Whether enjoying it at a restaurant or cooking it at home, Goan Fish Curry is sure to tantalize your taste buds.
13. Dal Tadka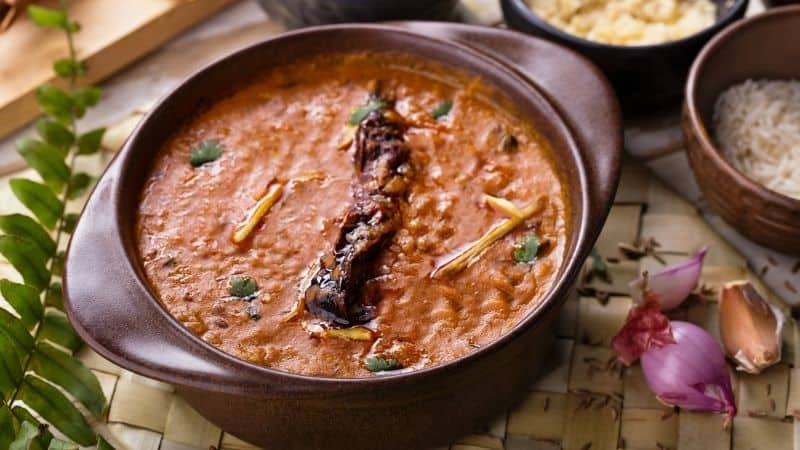 Dal tadka is an Indian dish made with spiced lentils. The dal is cooked until it is soft, then tempered with spices such as cumin, mustard seeds, and red chili peppers. You can prepare Dal tadka with Arhar or Masoor dal.
Finally, finish it with lemon juice and fresh cilantro. Dal tadka goes exceptionally well with rice and is a hearty filling dish perfect for a winter meal.
Give it a try the next time you're in the mood for something delicious and nourishing.
14. Chole Bhature
Chole bhature is a North Indian dish consisting of chickpeas in spicy curry gravy, served with fried bread. The dish is quite popular as street food in Delhi.
The word 'chole' comes from the Hindi word 'chana,' which refers to chickpeas. Bhature, on the other hand, is a type of fried bread made from maida flour.
You can enjoy Chole bhature as a snack or breakfast, but you can also enjoy it for lunch or dinner. Pickles, onion, and yogurt often accompany it. While it is typically a Northern Indian dish, it is famous all over India and Pakistan.
15. Aloo Gobi
Aloo Gobi is a traditional Indian dish with potatoes, cauliflower, and spices. The name means "potatoes and cauliflower," It is one of India's most popular vegetarian dishes.
You can make Aloo Gobi with fresh or frozen vegetables and serve it with rice or roti. You can cook this dish in oil or ghee, and the spices can vary depending on your preference.
Typical spices used in Aloo Gobi include cumin, turmeric, Garam masala, and coriander. Usually made as a dry curry, some recipes call for adding tomatoes or yogurt to create a more saucy dish.
Whether you are looking for a hearty meal or a simple side dish, Aloo Gobi is a delicious and flavorful option.
16. Chana Masala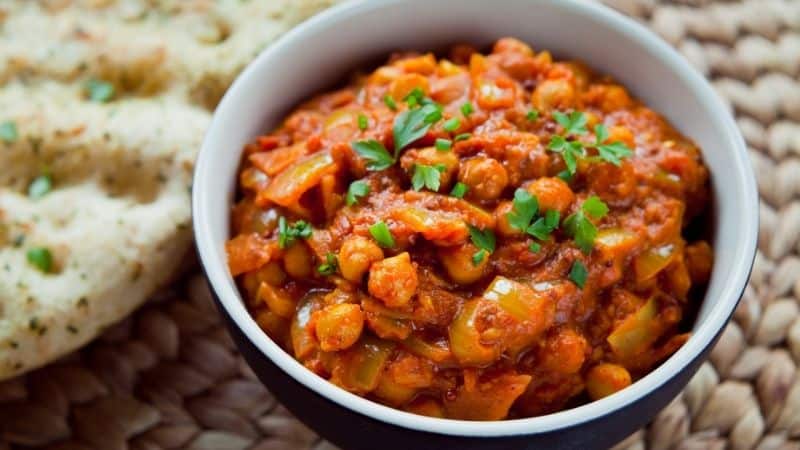 Chana Masala is a delicious Indian dish made with chickpeas and various spices. The dish is hearty and filling, making it an excellent choice for the main course.
The spices used in Chana Masala can vary depending on personal preference, but some ingredients include cumin, tomato paste, garam masala, and ginger. Chana Masala is widely known as a standalone dish.
Whether you're looking for a new cuisine to try or want to spice up your weekly dinner routine, Chana Masala is a dish that is sure to please.
17. Pav Bhaji
Pav Bhaji is a dish that originates from Western India. It is a curry served with bread (pav) and often includes vegetables such as potatoes, peas, and carrots.
The dish is usually very spicy and can be milder or hotter depending on the cook's preference. Pav Bhaji is popular street food in western India, and locals enjoy it as a lunch or breakfast.
It is also popular in other parts of South Asia and has become increasingly popular in the West in recent years. Pav Bhaji is worth trying if you're looking for a spicy quick breakfast.
18. Junglee Maas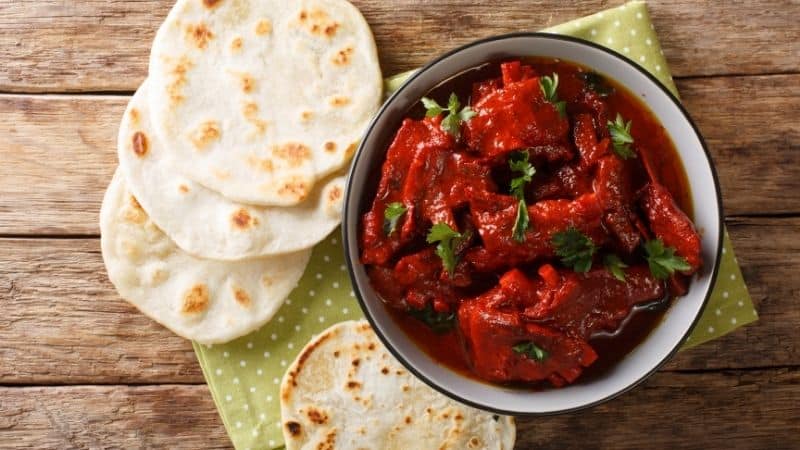 Junglee Maas is a traditional dish from the Indian state of Rajasthan. It is made with yogurt, spices, and dried mango powder.
Most restaurants serve Junglee Maas with baati, a type of unleavened bread. It is also popularly served with rice or roti. The dish comes from the word 'jungle,' which means 'wild' in Hindi.
The dish is said to have originated in the royal kitchens of Rajasthan, and it is still very popular in the state today.
19. Dhaba Mutton
Dhaba mutton is a flavorful and hearty dish from India that is perfect for a winter meal. This dish is served mainly in the Northern part of India in roadside restaurants called Dhabas.
Cooks combine rich mutton with onions, ginger, and garlic, then simmer the spicy meal in a rich tomato-based sauce.
The result is a tender and succulent dish packed with flavor. Serve Dhaba mutton over rice or with naan bread for a delicious and comforting meal.
20. Chicken Chettinad
Chicken Chettinad is a dish from the Chettinad region of Tamil Nadu, India. Cooks take meat and simmer it in a spicy, aromatic gravy with a blend of spices such as Gundu chilies, shallots, and kalpasi.
Chicken Chettinad is a popular dish in South Indian restaurants made with chicken thighs or drumsticks. You can also make this dish with lamb or beef.
Sources: