We all know that Chicago is a city of diverse food options. You can find anything here, no matter what your cravings are. And that includes some seriously spicy food. If you're in the mood for something hot, trust me, they'll give you a burning sensation!
Here are the eleven spicy restaurants in Chicago:
Strings Ramen Shop
High Five Ramen
Lao Sze Chuan
Szechuan Cuisine
Chengdu Impression
Pho's Spicier Thai Cuisine
Spicy Thai Lao
Spicy Mexican Grill
Rangoli
Crisp on Wellington
Fry the Coop in the West Town
Chicago is a city that knows how to do spicy food right. If you're looking for a meal that will set your mouth on fire, you'll want to check out one of these restaurants. The food is delicious, and the spiciness is just a bonus. So don't be afraid to try something new – these restaurants will not disappoint. The rest of this article will detail the 11 spicy restaurants.
1. Strings Ramen Shop
Strings Ramen Shop is the perfect spot for a delicious and hearty bowl of ramen. The broth and noodles are made fresh daily, using only the highest quality ingredients. They have three locations in Chicago, each one offering a unique selection of ramen bowls.
The result is a delicious and healthy meal that will leave you satisfied. Strings Ramen Shop will have something for you, whether you're looking for a traditional ramen dish or something more unique.
Recommended: The Jigoku Ramen at Strings Ramen Shop is the most popular item on the menu.
It's a delicious Japanese-style ramen dish made with the spiciest ingredients. The shoyu broth base is topped with Asari, ground pork, crispy pork skin, and hot pepper and chili.
You can choose from five levels of spiciness, and on level 5, you can get Chinese tian jing red chili, Szechuan chili bean sauce, Thai chili, Piquin chili, Ghost peppers, and scorpion peppers in the same dish. If you're looking for a delicious and hottest meal, then be sure to check out Strings Ramen Shop. You won't be disappointed!
2. High Five Ramen
High Five Ramen is the perfect place to enjoy a delicious bowl of ramen. The signature High Five Ramen features a rich and creamy tonkatsu-style broth combined with miso, sesame, face-numbing pepper, nori, and dried Japanese chilies.
Savoring the flavor of a spicy dish is one thing, but when you're looking to test your heat tolerance, nothing beats Kanabo Spice. The spice level can be adjusted according to preference and desired intensity, so there's an option for you no matter how much you like things hot. Shoyu Ramen has a lighter taste, making it a perfect choice if you're looking for something less intense. The soup is made with chicken broth and soy sauce, giving it a delicious flavor that isn't too heavy.
For those who want a heartier option, the Maitake Ramen is perfect. The earthy taste of the mushrooms in the broth is an ideal match for the rich flavor of the miso. No matter your preference, High Five Ramen has a delicious option for you to enjoy.
Recommended: If you are thinking about ordering Kanabo Spice, please be aware that it is not your ordinary Tonkotsu excited with increased face numbing, tear-jerking, belly-warming spice. There is no relief from Kanabo style; it's too spicy for most to enjoy. Just be prepared for the intense flavor and spice. Go for it if you can handle the heat and want to order Kanabo!
3. Lao Sze Chuan
Lao Sze Chuan is one of the best places to get authentic Chinese cuisine in the Windy City. The restaurant's convenient location and affordable prices make it an excellent choice for dine-in and take-out meals.
Lao Sze Chuan is known for its variety of choices and high-quality fresh ingredients. The friendly atmosphere and excellent service are also two reasons customers keep coming back. You won't be disappointed! If you're looking for delicious, spicy Chinese food and an affordable meal, check out Lao Sze Chuan.
Recommended: The signature dish from Lao Sze Chuan, Chef's Special Dry Chili Chicken, is stir-fried with garlic, ginger, scallions, and dry chiles. The chicken is finished with a touch of chili sauce and sesame oil.
The result is a dish full of flavor and has excellent heat. The heat, however, is not overwhelming. It is enough to give you a "hurts so good" sensation that keeps you coming back for more. This dish is worth trying if you are looking for something a little different and want to experience the authentic flavors of China.
4. Szechuan Cuisine
Sze Chuan Cuisine is the perfect place to go if you're looking for a delicious and authentic Chinese dining experience. The restaurant is conveniently located in Schaumburg and offers affordable prices and excellent service. The food is fantastic, and there is a wide variety of options.
Recommended: The Chongqing Popcorn Chicken from Sze Chuan Cuisine is a must-try dish. The fried popcorn chicken is cooked with the classic Szechuan peppercorns, and it comes with a light and crispy shell. The chicken wasn't dry at all, and it was very flavorful. I would recommend this dish to anyone looking for a delicious hearty meal.
5. Chengdu Impression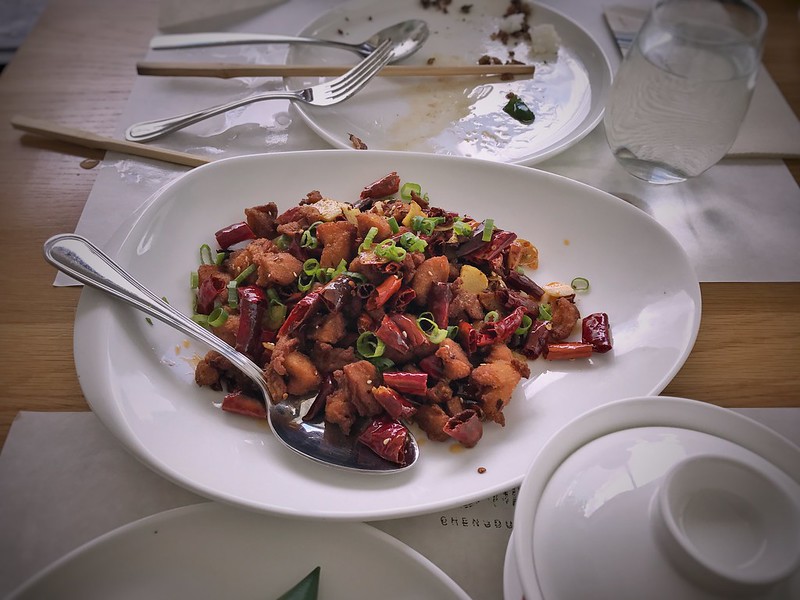 Chengdu Impression is another restaurant in Chicago that represents Sichuanese cuisine, the most popular and beloved regional Chinese cuisine. They apply the classic and contemporary Sichuan style cooking technique and use the most authentic and original condiments shipped from Sichuan, China. The menu features a variety of appetizers, entrees, parking options, combos, sides, beer, wine, and more!
Recommended: Suan La Fen noodles! The broth is the perfect mix of sour and spicy, and the thin noodles soak up all the deliciousness.
6. Pho's Spicier Thai Cuisine
If you're looking for an authentic Thai dining experience with a kick, you've got to check out Pho's Spicier Thai Cuisine. They've got the spiciest ingredients in the city, and everything is made fresh to order from scratch. I love their use of fresh vegetables, oyster sauce, brown sugar, light soy sauce, sea salt, and vegetable oil – it gives the dishes a unique flavor. And, of course, the heat level is off the charts! Pho's is worth a visit if you can handle the spice.
Recommended: Pho's Spicier Thai Cuisine's Panang Curry Sauteed is a dish not to be missed. The succulent meat, cooked to perfection in Panang curry paste and coconut milk, is complimented perfectly by the green peas, bell pepper, carrots, and peanut butter. Be warned that their idea of medium heat may be too much for some diners. However, this dish will please those who can handle the heat.
7. Spicy Thai Lao
If you're in the mood for some fantastic Thai food, you need to head to SPICY THAI LAO! All of their dishes are served mild, medium, or very spicy, so there's sure to be something that'll fit your taste. And since all of their meats and veggies are fresh and never frozen, you know you're getting a quality meal. Their chicken is even Halal and naturally raised without hormones or antibiotics! Plus, they have gluten-free and vegetarian options available.
So come on to SPICY THAI LAO for a delicious meal that you won't soon forget!
Recommended: Who would have thought the little chicken wing could have a big story? But the story of the Sap Sap Sap Hot Wings is a delicious one. Northern Thai cooking traditions influence these wings, so you get more salty-sour vegetal flavors. And if you expressly indicate that you want your food spicy, it will be blazing, nose-blowing, mop-your-brow spicy.
8. Spicy Mexican Grill
Spicy Mexican Grill is the best place to get tacos. They use the best ingredients, but they also have a wide selection of tacos. There's a taco at Spicy Mexican Grill, whether you're in the mood for fish, shrimp, al pastor, buffalo chicken, or hibiscus.
Recommended: The Jalapeno Shrimp Taco from Spicy Mexican Grill is a delicious dish that combines the perfect blend of flavors. The shrimp are beer-battered and topped with fresh coleslaw. The chipotle salsa has just the right amount of heat, and it doesn't overpower the dish. The result is a fantastic taco that will please everyone at the table.
9. Rangoli
Do you love Indian food? You're in luck because Rangoli Indian Cuisine is one of the best Indian restaurants in Chicago. They have the most authentic Indian food, but we also have a traditional Indian dining experience that you won't find anywhere else. The menu options range from light heat to very spicy, so there's something for everyone.
Recommended: The lamb vindaloo from Rangoli Indian Cuisine is spicy. I mean, it's not "blow your head off" spicy, but it has a kick. The first time I had it, I was surprised by how much heat it had. But, you know, in a good way. It's not so hot that it is overwhelming; instead, the spice is well-balanced and perfectly complements the rich flavors of the dish.
10. Crisp
Crisp is a Counter-service Korean restaurant specializing in fried chicken and serving burritos, steak and vegetable bowls, kimchee, etc. The food was delicious, the service was excellent, and the prices were very reasonable.
Recommended: Korean Fried Chicken Wings with Crisp BBQ sauce are a delicious treat perfect for any occasion. The chicken wings prepared with traditional fresh herbs and spices, and you can trill with extra spicy upon request. The homemade Korean BBQ sauce is a little spicy, sweet, and smoky, making it the perfect complement to the chicken wings.
11. Fry the Coop
Fry the Coop is a restaurant in the West Town neighborhood of Chicago, specializing in Nashville hot chicken. The chicken is cooked to perfection with various heat levels, from no-heat to insanity 1,000,000 on the Scoville scale.
The atmosphere at Fry the Coop is casual and welcoming, and the staff is always ready to help you find the perfect meal. The restaurant also offers a variety of sides, including coleslaw, mashed potatoes, and biscuits. Whether you're a Nashville hot chicken fan or just looking for a spicy place to eat in Chicago, Fry the Coop is sure to please.
Recommended: Are you tired of only getting your fix from ketchup or mayo? Fry the Coop has a sandwich for you! The Spicy Butter Fried Chicken Sandwich is everything you could want in a fried chicken sandwich. The chicken is perfectly cooked, with a crispy exterior and juicy interior. If that wasn't enough to get your mouth
Final Thoughts
If you're looking for the best spicy food in Chicago, you can't go wrong with these restaurants. There's something for everyone, from traditional Indian cuisine to Nashville hot chicken. So next time you're in the mood for a bit of spice, check out one of these fantastic places.