Spicy Chinese dishes are an excellent option for hot and spicy food enthusiasts. Many spicy Chinese dishes are simple and quick to prepare, such as soups, meats, and noodles. One could argue that you haven't tasted quality spicy food until you've eaten a spicy Chinese dish.
Here are a few spicy Chinese food options you should consider:
Hot and sour soup
Saliva chicken
Mapo tofu
Dandan noodles
Chinese pork belly
Spicy diced chicken
Sichuan boiled beef
Szechuan chili chicken
Honey chili potato
Spicy garlic tofu
Sichuan hot pot
Mala chicken
Chinese noodle soup
Glass noodles with napa cabbage
Lettuce wraps, Sichuan style
As you can see, you have numerous spicy Chinese foods from which to select. This article expounds on these dishes and seeks to help you appreciate the richness and diversity of spicy Chinese dishes. Consider ordering one of these dishes the next time you visit a restaurant or try replicating them yourself for a pleasant and straightforward spicy homemade meal.
1. Hot and Sour Soup
Soup is a common meal during the cold seasons. If you're looking for a spicy Chinese meal option for the winter, you should try the hot and sour soup. It's an excellent option because you can eat it on its own to warm yourself up or use it as an accompaniment with other meals of your choosing.
You can also prepare a full vegan meal by using different vegetables to make a vegan-style soup, making it ideal for anyone looking for hot and sour broth that is flavorful and richly spicy. It's certainly a suitable alternative for people who don't eat meat.
If you love your soup hotter and spicier, you can add white pepper. This is a great way to easily add some extra heat and flavor to any dish.
2. Saliva Chicken
The name of this dish translates to "saliva chicken" because it's so good that it makes people salivate. It shouldn't surprise you to see Chinese dishes with names that explain what to expect from the meal rather than its composition.
Saliva Chicken is prepared by marinating boiled chicken in chili and sesame oil made from various spices and sauces. It makes the saliva chicken dish hot, spicy, and mouth-watering. The saliva dish is commonly served as an appetizer in fine and high-end Sichuan restaurants.
The next time you find yourself in a Chinese restaurant, you should try getting saliva chicken to enjoy the greatness of spicy Chinese food.
3. Dandan Noodles
Another excellent dish option you should consider is the Dandan noodles. Dandan noodles have also received recognition and acceptance globally and thus have different versions of the same dish. However, these versions are pale compared to Dandan noodles prepared in Sichuan province because they lack adequate flavors.
Dandan noodles are prepared by soaking them in chili oil with Sichuan pepper and vegetables. You may also add pork on top and have numerous flavors, including nutty, savory, smoky, and spicy. Furthermore, authentic Dandan noodle recipes have no peanuts and sugar like the international versions. Thus, you can choose your preferred flavor from the available varieties.
4. Mapo Tofu
Mapo tofu is one of the most popular dishes globally that originated in Sichuan province. For this reason, most Mapo tofu recipes you are likely to come across significantly deviate from the original recipe, with people adding vegetables and reducing the spice levels, making it an entirely different dish.
Authentic Mapo tofu recipes use spicy bean chili sauce, ground pork, and tofu with Sichuan peppercorn, which gives the Mapo tofu its burning and numbing sensation. The Mapo tofu recipe is also easy and flexible enough, allowing you to play around with it to make a decent spicy homemade meal that resembles the original recipe closely.
As a final step to any tofu recipe, sprinkle red and hot broth, ground beef, and diced green onion over the tender tofu to enhance the flavor. Doing so is sure to bring your dish to the next level.
Our Pick
Take Your Dishes to the Next Level with Burlap & Barrel
Get a seasonal shipment of 4 full-sized jars of the freshest, most flavorful spices, delivered straight to your door.
Plus, recipes, spice stories and a free-shipping code for your next order. Unleash your inner chef today!
Check Price
We earn a commission if you make a purchase, at no additional cost to you.
5. Chinese Pork Belly
The Chinese pork belly dish is a perfect spicy choice that is tender, delicious, and has three layers of flavor coating. Usually, slow cooking the pork allows it to absorb many flavors, making it tastier. After it absorbs the flavor, put it in the stock sauce, then cook or seer in a pan before adding seasoning. Another layer forms on the pork once you add a soy sauce coating.
Pork belly is a tasty dish that you can serve as a snack or a main meal, depending on your preference. You can even make a large batch of it to share with friends and loved ones! So, the next time you want a delicious spicy dish full of flavor as a snack or meal, consider preparing Chinese pork belly.
6. Spicy Diced Chicken
The next spicy Chinese dish you should try is the spicy diced chicken. Its Cantonese name is Kung Pao chicken.
To prepare spicy diced chicken, you need to fry diced chicken with golden peanuts and dry red pepper. This dish is more popular outside Sichuan province compared to Mapo tofu because it is less spicy or lacks spices completely when served.
Remember to fry the peanuts in moderate cooking oil amounts until they turn yellow before draining and cooling them. It ensures that the peanuts are crispier, thus enhancing the dish.
7. Sichuan Boiled Beef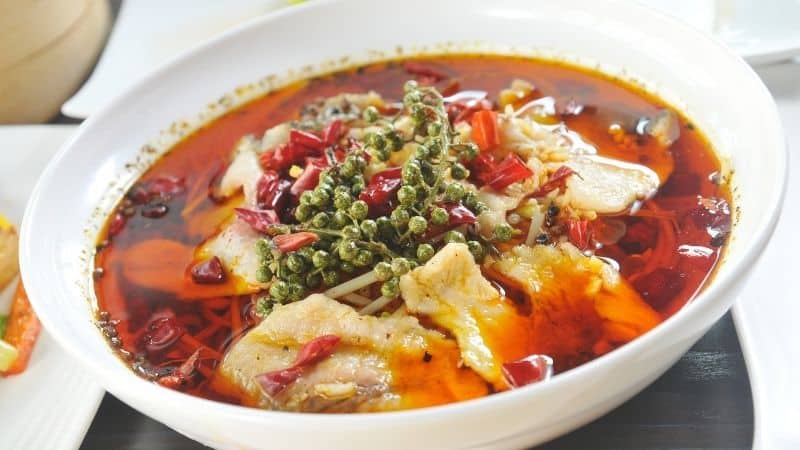 Another classic Sichuan dish you should consider trying is Sichuan boiled beef. To prepare this dish, season succulent pieces of beef meat and crispy vegetables with the following ingredients:
Sichuan peppercorn
Dried pepper
Ginger
Chili bean paste
These spices combine to produce a numbing and aromatic taste that excites your taste buds.
You need seven simple steps to cook Sichuan boiled beef properly:
Fry the spicy toppings.
Fry the vegetables.
Prepare the broth.
Cook the beef.
Simmer.
Finish by topping with a garnish.
You may vary the spices accordingly to match your taste buds.
Also, please note that the most crucial stage of cooking any Sichuan boiled beef lies in ensuring the beef is succulent and tender. Otherwise, you may end up with tough meat that is difficult to chew.
8. Szechuan Chili Chicken
Another spicy Chinese dish you should try preparing is Szechuan chili chicken. It is a relatively simple recipe to prepare with a total cook time of 45 minutes. This dish combines fried chicken with oriental spices, Szechuan sauce, and white, green, and brown peppercorns, which add a spicy and tangy flavor to the dish.
In addition to the reasonable cooking and prep time required to prepare Szechuan chili chicken, it's also an ideal meal to prepare at home because it has numerous accompaniments and serving options.
The key ingredients needed to prepare this dish include the following:
Spring onions
Dried red chilies (deseeded)
Ginger
Brown peppercorn
Green peppercorn
Chicken (with bone)
Salt
White pepper
Oil (for frying)
Black vinegar
Chili oil
9. Honey Chili Potato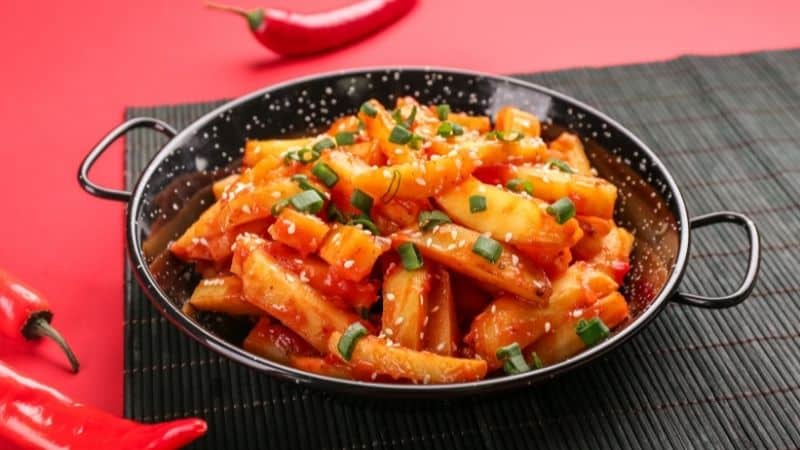 Honey chili potato is an excellent option that people around the world can't help but love. Therefore, if you're thinking of planning a party with spicy Chinese foods, remember to include honey chili potato.
The dish is prepared using fried potatoes, honey, and chili sauce, making a delicious, flavorful, and crispy meal that you can eat on its own as a snack or with an accompaniment of your choosing.
Avoid frying on high flame because it burns the potatoes from the outside while the inside remains uncooked, thus ruining the meal. This dish is also easy to prepare and often takes a total cook time of 35 minutes with a 10-minute prep time.
10. Spicy Garlic Tofu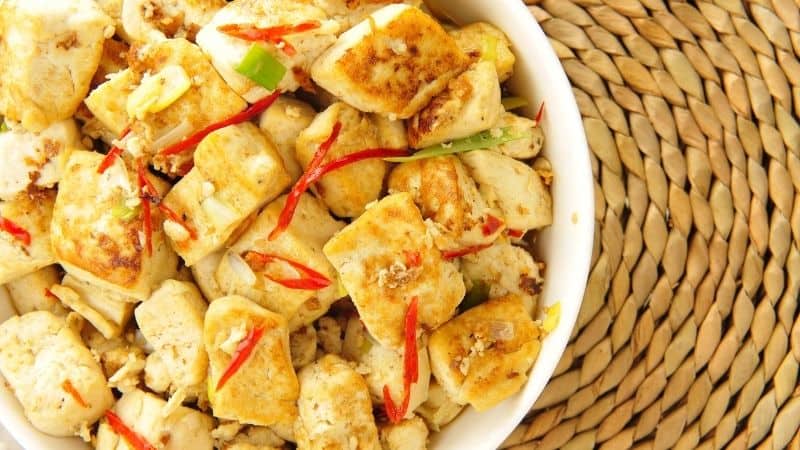 Another dish you should try is spicy garlic tofu, which is spicier than Mapo tofu. People often prefer to make spicy garlic tofu because it is easy and requires less preparation time. Consider making spicy garlic tofu the next time you are hungry and need a quick meal.
The primary ingredient when making spicy garlic tofu is garlic. Other key ingredients in the sauce include the following:
Sugar
Soy sauce
Gochujang
Water
Vegetable stock
11. Sichuan Hot Pot
The Sichuan hotpot is no different from other Sichuan cuisines. It's just as numbingly spicy and hot with lots of flavors. When preparing Sichuan hot pot, the broth is flavored using strong spices and herbs, including chili peppers.
Use a simmering metal pot to boil your preferred spices and add whatever you like to make a quality broth that is either sour, sweet, or salty, as all flavors are available. Although other hot pot styles exist, the Sichuan hot pot is the spiciest and tastiest.
Sichuan Cuisine Is Extremely Popular
You may have noticed that quite a few of the dishes appearing on this list originate from Sichuan cuisine. That's because Sichuan cuisine is the most popular spicy Chinese food.
Sichuan cuisine originates from the Sichuan province in China, the birthplace of many of the world's well-received dishes. Dishes from Sichuan cuisine have deep and rich flavors, including the distinct taste of the Sichuan pepper, which is rare in other regions in China.
Sichuan cuisine has multiple cooking methods depending on the bite and texture you require for the dish. Sichuan cuisine's most common cooking method is fast-frying, with others including steaming, braising, stir-frying, and baking.
12. Mala Chicken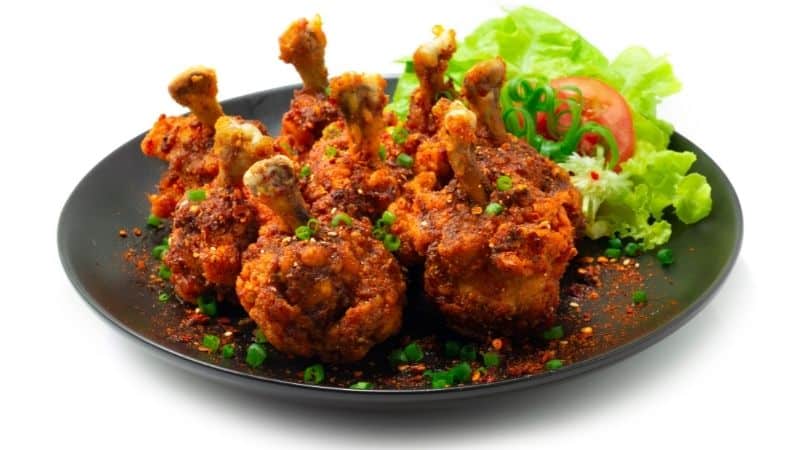 Mala chicken is one of the spiciest dishes—this means it's not for everyone. If you love super spicy food and are sure you can handle it, you'll love it.
Here are a few simple steps for preparing Mala chicken:
Marinate the chicken to enhance its deliciousness.
Cook the chicken until it's nicely crispy.
Combine the crispy chicken with fragrant spices.
This results in a spicy, delicious, and mouth-watering dish that you can accompany with multiple options.
13. Chinese Noodle Soup
Another spicy soup option you should consider making is Chinese noodle soup. This is an excellent option if you love spicy Chinese food that includes tomatoes.
The Chinese noodle soup also offers you an alternative to the hot and sour soup should you crave a different option on a cold day. However, the Chinese noodle soup is also a lot spicier and may be difficult for some people to handle. Try out various recipes to find out which one you love best.
14. Glass Noodles With Napa Cabbage
The next spicy Chinese dish you should consider preparing is glass noodles with napa cabbage. The dish is pretty simple to prepare, takes a short amount of time, and offers big flavors. Preparing this dish can be as simple as combining oyster sauce and soy sauce and then tossing noodles and cabbage in the braising sauce.
Glass noodles with napa cabbage have multiple variations, like most dishes. Add Sichuan peppercorn and dried chili pepper to the mixture to get the spicy and hot variation. Depending on your preference, you can take it as a sauce or include proteins such as pork in the meal.
15. Lettuce Wraps, Sichuan Style
The last spicy Chinese dish I would recommend trying is lettuce wraps made in the Sichuan style. You can make lettuce wraps with mushrooms and beautifully seasoned ground pork nestled in the lettuce leaves (Sichuan style) in less than 15 minutes. It's ideal because it allows you to make a gluten-free, vegan adaptable, and low-carb spicy meal at home with little difficulty.
Adding Sichuan pepper and Sichuan chili bean paste to the dish gives it a distinct and amazingly savory taste that is hot, numbing, and full of umami flavors. However, there are multiple variations of this dish that you can try before settling on your favorite. Lettuce wraps are also healthy and delicious, making them an excellent option for you and your family.
Clearly, there are many different types of spicy Chinese dishes you can enjoy. Furthermore, these spicy dishes are flavorful and nutritious, making them suitable for all meal times, including breakfast, lunch, and dinner. Consider making one of the numerous spicy Chinese food recipes the next time you want a quick and easy homemade spicy dish.
Sources