The Ramen scene in Bangkok is quickly growing, and it is now one of the top places to go for a delicious bowl of ramen.
In recent years, more and more restaurants have opened up around the city, from traditional Japanese ramen to creative fusion options.
Knowing where to go for the best bowl of noodles can be challenging with so many choices. We've compiled a list of our top nine picks for the best ramen in Bangkok – you won't regret trying any of these!
Menya Itto
Address: 999 Ratchadamri Road, 3rd Floor, Gaysorn Tower (New Building, Lumphini, Pathum Wan, Bangkok 10330, Thailand
Information and Booking: https://www.menyaittobkk.com/
It's hard not to start the list without mentioning Menya Itto. This restaurant is owned and operated by the same family that runs one of Tokyo's most famous ramen shops, so you know they take their noodles seriously.
The menu here is simple yet delicious, offering varieties of traditional Japanese ramen, such as Shio Ramen, Noko Gyokai Ramen, and their signature dish Itto Tsukemen.
Itto Tsukemen (310 Baht) is a unique type of dipping ramen, where the noodles are served cold with a concentrated pork-based soup for dipping with a slice of pork shoulder chashu and chicken dumplings. It's an experience not to be missed!
They have many seasonal dishes such as Homard "Bleu Breton" Tsukemen (1900 Baht++), which features a lobster-based from Brittany, France, to upscale your ramen experience.
There is no need to book in advance; excerpt some unique dishes that require prior booking. So it's a great place to pop in and try if you're exploring the city centre.
No Name Noodle BKK
Address: 2 Attha Kawi 1 Alley, Khlong Tan, Khlong Toei, Bangkok 10110, Thailand
Information and Booking: https://www.facebook.com/nonamenoodlebkk/
No Name Noodle BKK was newly opened in 2022, and it is quickly gaining popularity for its delicious comfort food. This restaurant offers creative and delicious fusion ramen, led by chef&ramen lover Shinji Inoue who is always seeking new ramen shops and contributing to the Ramen Lovers Association of Thailand(a Popular Facebook Group for ramen lovers in Thailand).
Now chef Shinji Inoue serves his modern twist on classic ramen dishes. One must-try is the Shio ramen. It features a creamy garlic and shio broth, topped with slices of pork chashu and handmade noodles made daily. His crafting skill and passion for ramen made this restaurant one of Bangkok's most famous ramen shops.
No Name Noodle BKK also has seasonal specials, so if you're ever looking for something a little different, it's definitely worth a visit. Reservation in advance is a must because they are popular and only serve 30 – 35 dishes daily to control the quality.
SENDAI RAMEN MOKKORI
Address: 8/3 Thong Lo 2, Khlong Tan Nuea, Watthana, Bangkok 10110, Thailand
Information and Booking: https://www.facebook.com/sendairamenthonglor/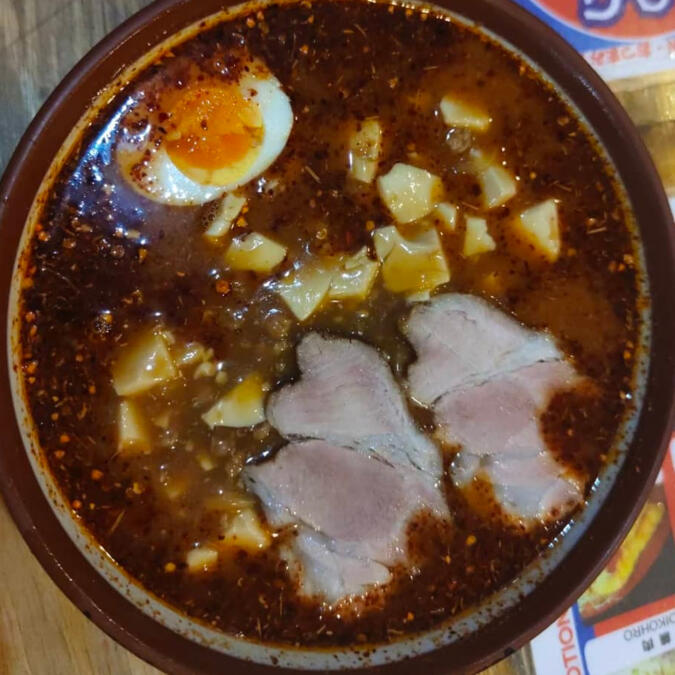 Small and cozy, SENDAI RAMEN MOKKORI is a hidden gem tucked away in the heart of Thong Lo. This restaurant serves up classic Japanese ramen in Sendai style.
Karamiso Ramen (220 Baht) is the signature dish here, a spicy miso ramen with creamy pork-based broth and thin noodles. Topped with bean sprouts, menma (bamboo shoots), and boiled egg, this bowl of noodle soup packs a flavorful punch.
Another popular item is Jigoku Chashumen (280 Baht), a unique take on tonkotsu ramen with their signature pork-based soup mixed with spicy miso and topped off with an egg, narutomaki (fish cake), and green onions. You can choose the spicy level from 1 – 3, and level 3 is very intense; it can be made the men cry!
The ramen served here is made with fresh ingredients, which makes it absolutely delicious. The owner of this shop takes great pride in his work and puts a lot of effort into making sure each bowl is perfect. If you're looking for an authentic Sendai-style ramen experience, SENDAI RAMEN MOKKORI is the place to go.
Ramen Ajisai at Asok
Address: 4, 7 Soi Sukhumvit 23, Khlong Toei Nuea, Watthana, Bangkok 10110, Thailand
Information and Booking: https://www.facebook.com/ramenajisai.at.asok/menu/
Ramen Ajisai at Asok opened in 2014, one of the shops in Bangkok to serve authentic Japanese ramen. The restaurant has a variety of ramen dishes for you to choose from, with lots of toppings and different broth options.
The signature dish is the Sapporo Miso Butter Corn Ramen (269 Baht), a unique combination of different tastes and textures. The ramen is served in a creamy, thick pork-based soup with miso butter and sweet corn for sweetness, topped with slices of pork chashu, corn, bok choy, seaweed, and boiled egg. You can add spicy Japanese onions for 40 baht more.
There are dishes such as the Odashi Hiyashi Tsukemen (289 Baht) and Gokujyo Syouyu Ramen (299 Baht). Their ramen dishes come with handmade noodles cooked in-house daily to ensure the highest quality.
Lust Ramen
Address: 785 Thanon Ban that Thong, Wang Mai, Pathum Wan, Bangkok 10330, Thailand
Information and Booking: https://www.facebook.com/lustramen.th/
Fusion ramen is the specialty of Lust Ramen, a ramen shop in the Pathum Wan district. This unique and creative concept has quickly made this restaurant popular among local foodies.
Mala Brisket Ramen (189 baht) is one of their signature dishes. Rich in flavor and full of umami, this ramen dish will satisfy any craving for something hot and spicy. The meat-based broth is flavored with a spicy Chinese Mala sauce and topped with slices of beef brisket, bok choy, and an egg.
Tom Yum Goong Ramen (209 baht) is another popular dish. This ramen features a creamy tom yum-flavored broth with the perfect balance of spicy and sour, topped with shrimp, lime, and vegetables.
If you're vegan, they also have Vegan Tomato Ramen(119 baht) with a vegan-friendly shoyu broth, topped with tomatoes and corn. They also have a classic menu like Onomichi Ramen, Tonkotsu Ramen, etc.
No matter what you choose, Lust Ramen is sure to please. Their creative interpretations of classic ramen dishes make this restaurant unique and worth a visit. So head on over for some amazing ramen!
Washin Ramen
Address: 4, 1 Decho Road, Suriya Wong, Bang Rak, Bangkok 10500 Thailand
Information and Booking: https://www.instagram.com/washin_ramen/
Washin Ramen is the perfect place for ramen lovers in Bangkok to indulge in some delicious and authentic Japanese flavors. This small but cozy restaurant serves up classic and modern ramen dishes that will please your taste buds.
The Washin Ramen (190 Baht) is a must-try at this establishment, as it is the restaurant's signature dish. This ramen bowl features a pork bone-based soup with pork broth and an intense flavor profile topped off with chashu (Japanese barbecued pork), egg, bamboo shoots and spring onion.
The restaurant also serves other types of ramen, including Tantanmen (190 Baht), Tokouno Ramen (190 Baht), Curry Ramen (220 Baht), Tori Paitan (220 Baht) , Yuzu Shoyu Ramen (190 baht), etc. Each bowl has unique flavor profiles and toppings, so be sure to try them all!
Living in Bangkok, you can also use delivery services such as LINEMAN, Robinhood, Foodpanda, and Grab food to enjoy Washin Ramen at home.
Rockmen 69men
Address: 44, 11 Soi Akapat Sukhumvit 55 Rd, Khwaeng Khlong Tan Nuea, Khet Watthana, Bangkok 10110, Thailand
Information and Booking: https://www.facebook.com/69menbkk/
Rockmen 69men is a ramen restaurant in Bangkok that specializes in Japanese-style ramen dishes. The 69 meaning is serving only 69 bowls of ramen per day.
Their signature dish is the Shoyu Rockmen All-Star (305 Baht). This classic Japanese-style ramen is served in a light, soy-based broth and topped with pork chashu, shoyu egg, bamboo shoots, nori seaweed, and scallions.
The Fishmen (370 Baht) is another popular dish. This dish features a fish broth topped with roasted fish and other toppings, including aji-Tama (marinated egg), dumplings, and scallions.
With limited ramen per day, the restaurant is always crowded, but it is worth visiting.
Mensho Tokyo BKK
Address: RSU Tower, G Floor, Sukhumvit 31, Klongton Nua, Wattana, Bangkok, Thailand
Information and Booking: https://www.facebook.com/menshotokyobkk/
Mensho Tokyo BKK is the first Thai branch of Mensho Tokyo, a Michelin-star restaurant in Japan. This restaurant serves authentic Japanese-style ramen dishes with unique and creative flavors.
The Tori Paitan Ramen (375 Baht) is one of their signature dishes. It is a rich-tasting ramen made with tori paitan chicken broth, pork chashu, shoyu egg, shrimp tempura and mustard greens.
They also serve other delicious ramen dishes such as Shoyu Ramen (325 Baht), Shio Ramen (335 Baht), Wagyu Miso Ramen Chashu*5 (980 Baht), etc.
Mensho Tokyo BKK will make your experience even more enjoyable and memorable. So don't hesitate to visit this fantastic ramen restaurant during your stay in Bangkok!
Good Noodle
Address: B Floor, Union Mall 54 Ladprao, Jomphol, Chatuchak District Bangkok, Thailand 10900
Information and Booking: https://www.goodnoodlebkk.com/
This is not a typical ramen shop. Good Noodle is heaven for instant noodle lovers who crave something different. The restaurant has various instant noodles worldwide; you can pick and create your own signature bowls.
Walking into Good Noodle, you will see a huge wall of instant noodles. Whether you're craving Buldak Ramen, Nissin, Indomi, MAMA, or any other brands in the world, Good Noodle has it all!
The highlight of this restaurant is that you can customize your ramen bowl with various toppings such as pork, chicken, fish cake, egg, and vegetables, plus pick sauces like tom yum spice or spicy kimchi one. The possibilities are endless!
The price range varies depending on the toppings and the number of noodles in your bowl. They also offer a wide selection of side dishes such as gyoza, fried chicken, and takoyaki.
When you're feeling adventurous and want to try something new, Good Noodle is the perfect place to go. With its wide variety of instant noodles and customizable toppings, it's definitely one of Bangkok's most unique ramen spots.
This 9 must-try ramen restaurants in Bangkok are all you need to enjoy the delicious noodle soups. Don't miss out on the chance to try these incredible ramen dishes! Bon appetite!