What are the best toppings for spicy ramen? This usually comes in thin, flat, fat, and ribbon-like sizes. Also, they can be wrinkled or straight with a yellowish color. They're always served in a hot broth flavored with shoro or miso, and the best toppings are seafood, beef, chicken, seaweed, spring onions, and many others. Continue reading to know more about the best toppings for spicy ramen.
What is Ramen?
Ramen is a Japanese noodle soup dish that has gained popularity worldwide. It consists of wheat noodles in a broth, usually made with pork or chicken, and topped with various ingredients such as eggs, vegetables, and meats.
Ramen is believed to have originated in China and was brought to Japan by Chinese immigrants. The dish has since become popular worldwide, with variations of the original recipe popping up in countries all over the globe.
What are the Best Toppings for Spicy Ramen?
Ramen is continuously evolving and changing. Toppings are one vital element f making a great bowl of ramen that can influence the whole flavor of a bowl. There are a lot of toppings for spicy ramen available on the market today, which is why we have made a list of our best toppings for spicy ramen. So, let's dive into it.
Chashu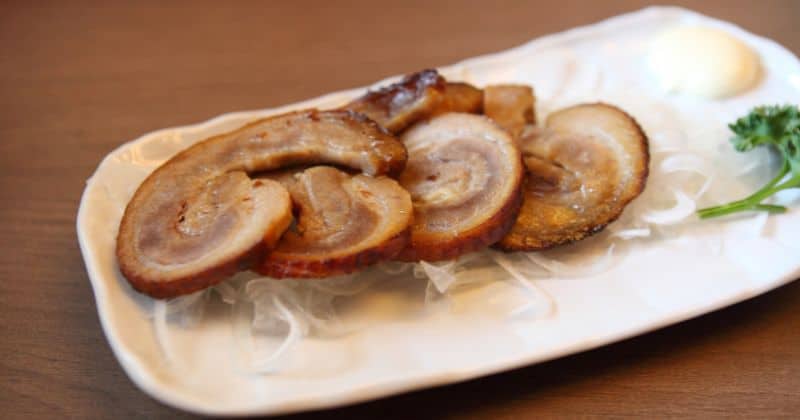 Fatty slices of braised or roasted pork, Chashu is a ubiquitous and standard bowl of ramen noodles comes typically in two or three portions.
Most ramen noodles also serve chashumen, which is a ramen bowl with extra pieces of chashu. Braised pork belly or kakuni is served in place of chashu at some Japanese restaurants.
Menma
This is a fermented bamboo shoot marinated in a savory and aromatic broth. This is also considered a staple topping for ramen, which can be seen in each ramen order. This has a crunchy texture and smooth surface, combining well with the ramen noodles' firmness.
The marinate sauce consists of a mixture of exquisite soy sauce and complement the ramen broth well. Even if it is popularly utilized as a topping for ramen, Menma is also considered an appetizer or versatile snack. It also goes well with wine.
Ajitama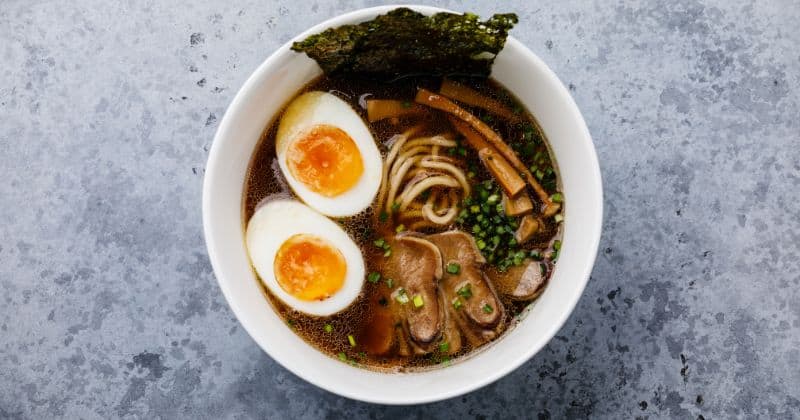 This is also one of the most popular ramen toppings. Ajitama is a delicious, soft-boiled egg marinated in a pungent sauce. Conventionally, it is marinated in a mixture of mirin and soy sauce. It is soaked for a few hours, leading to a remarkable and wonderfully flavored soft-boiled egg. Ajimata has a subtle soft yolk and combines delicately with rich broth.
While enjoying the bouncy feeling of the egg white, you will also love the creamy harmony of ramen broth and the egg yolk. The best thing about Ajitama is that it complements an extensive array of ramen broths and a common ramen topping in many different ramen restaurants.
Pork Ginger Sautee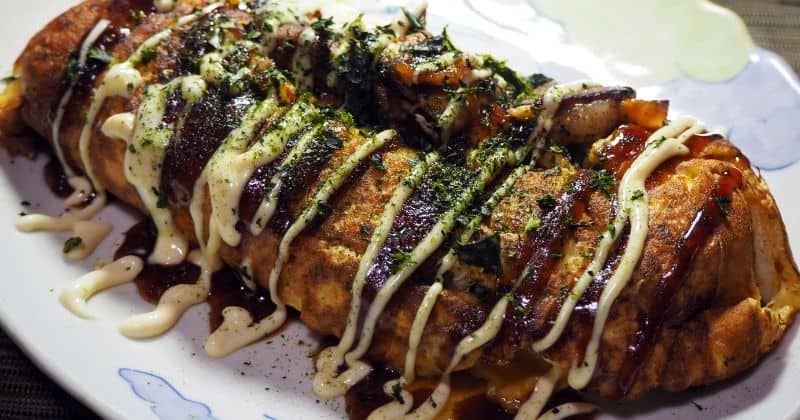 Pork Ginger Sautee, also known as Pork Shouga Yaki, is renowned Japanese comfort food. This topping is made of pork belly and then fried with mirin, soy sauce and ginger, some onions, and cooking sake. Its defining trait is the ginger taste, which balances the marinade's rich taste.
Pork Shouga Yaki as a topping for your ramen will give a lot of textures. The slices of pork belly are soft and gently cover the firm ramen noodles, making an intriguing harmony. Ginger serves as a refreshing addition to the remarkable ramen broth.
Pork Kimchi Sautee
This is a widespread Japanese food. It mixes finely sliced pork belly and kimchi, a combination of fermented veggies marinated in a hot condiment. The most prevalent veggies are radishes and Nappa cabbage.
It is a crunchy texture and is a little bit spicy. This mouthwatering Korean side dish is mixed with a thinly sliced pork belly over a pan, making a tempting sensation of spicy crunchiness. Pork belly fattiness and kimchi taste complement the noodles and serve as an appealing textural addition.
Kakuni
Kakuni is a cubed or thickly sliced pork belly marinated in a spicy soy sauce mixture. Usually, the marinate sauce considers green onion, sugar, soy sauce, and cooking sake. The thickly sliced pork belly is marinated for a couple of hours to create a soft, rich piece of meat that melts in your mouth.
Kakuni is also served with white rice and, at the same time, a popular ramen topping. If you compare Kakuni to chashu, it has a richer flavor and is ideal for people searching for a flavorful, mouthwatering meat topping.
Wonton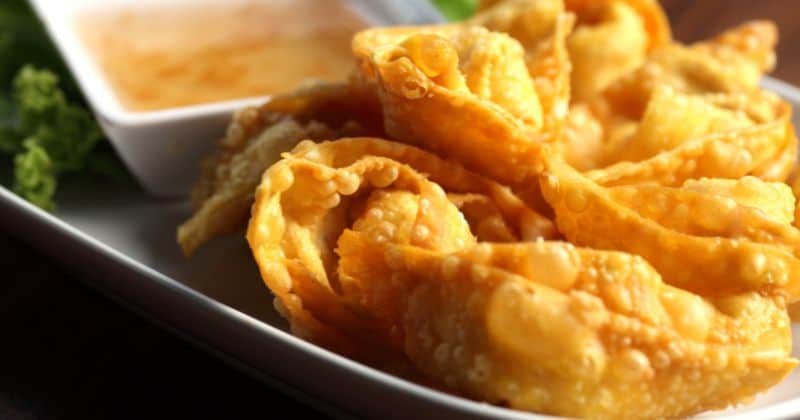 This is Chinese comfort food made from meat and wheat-based wrappers. Wonton is common in many Chinese food establishments in the US and remains the most popular food among foreigners.
Usually, wonton is filled with shrimp or ground pork. The wrapper is made of egg, water, flour, and salt. When the shrimp filling is wrapped, it is cooked in two ways: deep fried or with soup. It has a very soft texture and absorbs the taste of the broth. It's a flavorful filling and an irresistible topping for spicy ramen.
Bacon
Arguably, bacon is popular pork cut among food lovers. This is a popular topping for spice ramen.
Traditionally, bacon is pan-fried to reach its crispiness. A crispy bacon topping will give a complementary texture to your soft and firm ramen noodles. On the other hand, a piece of soft bacon serves the same way as chashu, where the fattiness mixes well with the rich broth of the ramen.
Negi
Shredded or chopped green onions or leeks, Negi is a spicy type of shredded leaks combined with chili oil. This is a common ramen topping, most especially miso ramen.
Moyashi
These are cooked or raw bean sprouts that add crunchiness and sweetness. This is a popular topping for all kinds of ramen out there.
Tamago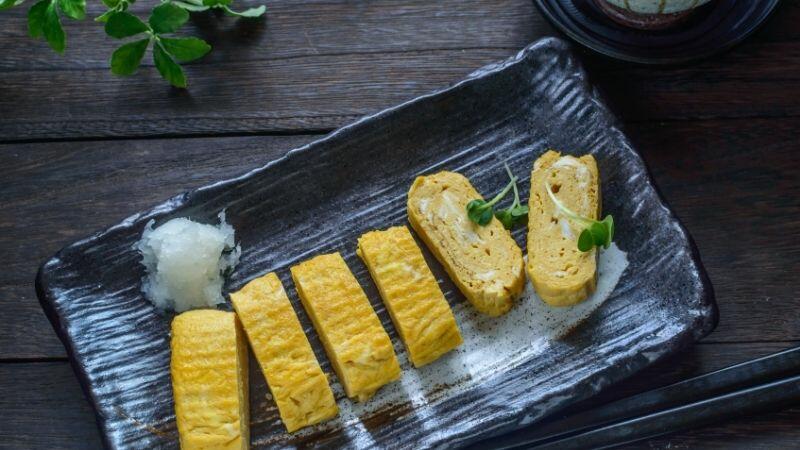 Soft-boiled, hard-boiled, raw, and marinated eggs are standard toppings on spicy ramen. Aside from being delicious, Tamago is also very healthy.
Seaweed
Different kinds of seaweed like nori and wakame are usually added to all sorts of ramen, especially spicy ones.
Fish Cakes
Naruto comes from a big family of fish cakes in the dish of Japan and is one of the most popular among guests and foreigners. This is also called naruto; a fish cake is one type of ground-up fish cake. This is made of a paste of groundfish and hardened into its spiral shape via steaming. Also, it is one of the popular toppings for spicy ramen and is common in every bowl of ramen.
This topping gives a hint of hue to ramen soup. Aside from providing color to your ramen, it also has a textural purpose. It has a bouncy sensation and goes ideally with firm ramen noodles.
You can find a fish cake in many Asian grocery stores, usually frozen and pre-cooked. Defrost, slice thinly, and put it into the ramen broth. This adds subtle sweetness as well as a pleasantly fishy vibe.
Spicy ramen is a staple food on every table in Japan. This is a delicious noodle with lots of herbs and spices. The broth will indeed awake you. But, to make the best of spicy ramen, top it with any of the toppings mentioned above.