Are you craving some Indian dishes? Then, be sure that your pantry has spicy curry powder.
However, what if you run out of it? Don't panic; I will share some of the best spicy curry powder substitutes.
No all times, I stored curry powder. Fortunately, I can replace it with garam masala, tandoori masala, coriander seeds, curry paste, sambar powder, chaat masala, etc.
What is Curry Powder?
Curry powder is a popular Indian blend of spices, which includes coriander, turmeric, chili, black pepper, fenugreek, caraway, fennel seeds, garlic, allspice, etc. However, Japanese curry or Thai curry may have different ingredients.
This powder is an excellent addition to marinades, soups, stews, and savory curries. Although it varies in flavor and taste because of its composition, it stays as a complex seasoning, offering aroma, color, taste, and consistency to any dish.
What Flavors Does Curry Powder Have?
Before discussing the kitchen ingredients, you can substitute for spicy curry powder; let's talk about the powder's different flavors.
Since curry powder is made from various spices, it has a range of tastes. Bay leaf, turmeric, and cumin are known for their intense, warm, and savory aroma. Cinnamon and cloves offer a sparkling and warm flavor. Cinnamon also provides sweetness. Chili flakes and pepper bring heat, while cardamom and caraway bring zing to the powder.
The fresh scent of curry powder comes from fenugreek, ginger, and turmeric. Coriander is responsible for bringing herby and floral fragrance to the powder.
These ingredients come together to deliver profound, rich, earthy, and heavy flavor profiles.
Top Substitutes for Spicy Curry Powder
The kaleidoscope of flavors and aroma in curry powder makes searching for substitutes challenging. However, I still find some ingredients that can help save your recipes.
Ground Cumin
Ground cumin is what you need if your recipe calls for a lot of tanginess or heat. It might lack the range but still provides the same results as curry powder. I usually use it in small amounts since over-seasoning can make a dish too pungent unless you like it that way.
This ingredient tastes slightly sweet, warm, and earthy with a nutty element. Whenever I use ground cumin in spicy curry, I add some dried red chilis to compensate for its lack of heat.
Garam Masala
Garam masala is a popular blend of spices in Indian cooking, making it a good substitute for spicy curry powder. It resembles curry powder with cumin, cardamon, nutmeg, black pepper, cinnamon, and clovers.
This blend of spices is more intense than curry powder, with a bitter taste and an intense aroma. Unlike curry powder, which is added at the beginning of the cooking process to reveal its distinct aroma, garam masala is added at the end to bring out its flavor and add a finishing touch to the dish.
Sambar Powder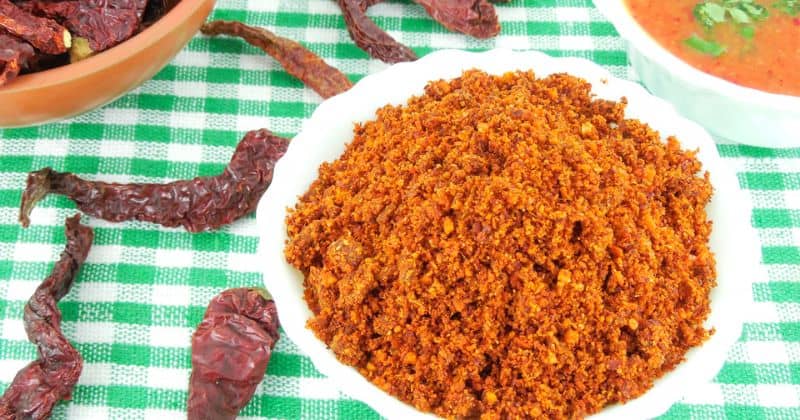 Sambar powder is a blend of spices also available in spicy curry powder. This is why I also use it as a substitute.
This powder usually consists of coriander seeds, peppercorn, black gram, turmeric, fenugreek seeds, curry leaves, Bengal gram, and chilis. It also contains yellow split peas and other Indian lentils.
As an excellent substitute for spicy curry powder, sambar powder is like curry that you can eat with idli, dosa, and rice. I recommend using half the quantity of the powder since it is more pungent than curry powder. However, if you want to make your dish more pungent than usual, feel free to use the whole quantity.
Typically, I add this powder to soup, fish, meat, and stews. I appreciate how it gives an authentic flavor and aroma to my dishes.
Chaat Masala
When it comes to Indian cuisine, you should not skip chaat masala. It is one of the most popular cooking ingredients and condiments in Indian cooking.
This condiment easily blends with different dishes, from soups and salads to desserts, giving them tanginess, savoriness, and a hint of spiciness. It is usually made of clove, black pepper, red chili, mango powder, coriander seeds, cumin seeds, and asafoetida.
Chaat masala is a life-saver when you are out of curry powder. This alternative will give flavor and spiciness to cooked dishes.
Curry Paste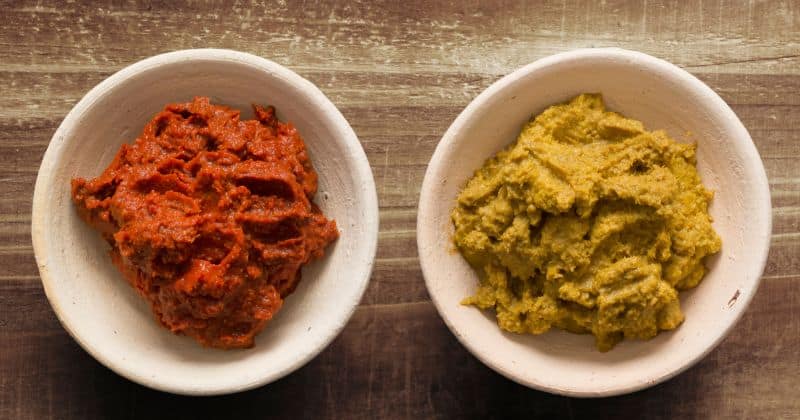 Curry paste is another substitute for curry powder and is often used in Thai cooking. This paste offers a bold aroma, having a mix of shrimp paste, turmeric, lemongrass, garlic, chili, and sea salt. It brings more tanginess and pungency to dishes than curry powder.
I use curry paste when cooking curries and stews because of its hearty and warm aroma. I recommend diluting it with water to get a milder and more delicate aroma. For example, I dilute 1 tablespoon of curry paste with 1 tablespoon of water, replacing 1 tablespoon of spicy curry powder.
Tandoori Masala
Tandoori masala is commonly used in paneer tandoori and chicken tandoori. It offers a tangy and smoky flavor. You can also taste the zesty flavor.
It is an excellent spicy curry powder alternative, adding a distinctive flavor to different recipes. It brings the same basic spices and elements as curry powder. When cooking, I use ½ teaspoon of tandoori masala as a replacement for 1 teaspoon of curry powder.
Coriander Seeds
Coriander seeds are among the key ingredients in curry powder. They offer fresh, floral, and minty scents with a subtle sweetness.
In most cases, I use toasted and ground sees instead of curry powder when cooking. However, if I wash to get the same characteristic of curry powder, I add some chili peppers and ground cumin seeds to the seeds.
Allspice
Allspice is popular for its warm and earthy taste, derived from the West Indian allspice tree's dried berries. It is also called Jamaican pimento or pepper, resembling dried peppercorn in flavor and appearance. It is nutty, spicy, smoky, and warm.
It consists of many flavors from spicy curry powder. I add turmeric and chili to match the curry powder's flavor profile. When cooking, I use 1 teaspoon of allspice, equivalent to 1 teaspoon of curry powder.
How to Make Homemade Spicy Curry Powder?
Whenever I want to cook with spicy curry powder but it, I make my own at home. You, too, can do it. Don't worry; the process is straightforward, and you can find the ingredients in your kitchen.
Ingredients you will need:
15 grams of coriander powder
8 grams of cumin powder
5 grams of chili powder
5 grams of turmeric powder
5 grams of black pepper
5 grams of ginger powder
Procedures:
Get an airtight container and mix all the ingredients in it. If some of the ingredients are not in powder form, ground them. You can add other spices, including clove, nutmeg, cinnamon, and fenugreek powder. You can store the container for over 3 months.
The next time you lack spicy curry powder, you know how to replace it and proceed to your cooking quickly.
Conclusion
Curry has many aromas and flavors, making it a complex spice. However, you can still find substitutes for it by looking around your kitchen. You also need to bring out your creativity to achieve the tastes and scents you are looking for.