Did you ever assume that Colombian food is spicy? You are not alone; I am guilty of that.
I was surprised to learn that Colombians hardly use hot peppers or other spicy ingredients in their dishes and are sensitive to anything spicy. However, I am not saying that Colombian food is flavorless or bland.
Colombians use different vegetable and fruit-based sauces that add a lovely flavor. Their dishes usually have herbs and spices, such as chives, guascas (also known as "potato weed" or "gallant soldier"), parsley, and cilantro for a kick of flavor.
Don't worry; I still found Colombian dishes for spicy lovers, like aborrajados, arepas, sancocho, posta negra cartagenera, empanadas, ajiaco, and ceviche de camarones.
Is Colombian Food Spicy?
Colombians are sensitive to spicy dishes. Their food does not contain chilies and other spicy things. However, there are several ways to make Colombian dishes spicy. For example, Aji, a sour and spicy sauce, is added. However, Colombian dishes, in general, are not spicy. So, it is challenging to find spicy Colombian food.
Colombian cuisine is a diverse mixture of soups, one-pot meals, grilled meats, and soups from six different regions, Afro-Caribbean influence, and history of European colonialism. It incorporates many fruits and vegetables, making each dish rich in flavor.
Bread, empanada, arepas, rice, and potatoes are common foods in Colombia. They are eaten together with a variety of sausages and grilled pork and beef. Most importantly, soups and one-pot dishes play a critical role in the daily lives of Colombians.
Although most Colombians eat meats like goat, pork, and beef, the coastal regions enjoy fresh seafood daily. Coastal food is typically lighter than Colombian gastronomy's heavy meals.
Its neighbor's cuisines also influence Colombian cuisine. This makes Colombian food diverse.
Top Colombian Dishes Every Spicy Lover Should Try
The Colombian cuisine is rich and diverse. I found many exciting dishes to try in Colombia, where each city or region has its specialties.
While typical Colombian food is not spicy, I am still lucky to find some dishes that can satisfy every spicy lover's craving. Check out the top dishes to try for spicy lovers:
Aborrajados 
Aborrajados are an excellent way to start a Colombian meal. These little delights are plantain slices stuffed with cheese like pepper jack for a little spicy kick. They are a popular appetizer, offering savory and sweet flavors.
They are coated with a special batter and deep fried until crispy golden brown. Before trying any authentic Colombian meal, I munch Aborrajados first. They are not only ordered as an appetizer but also as dessert because of their savory and sweet taste.
Arepas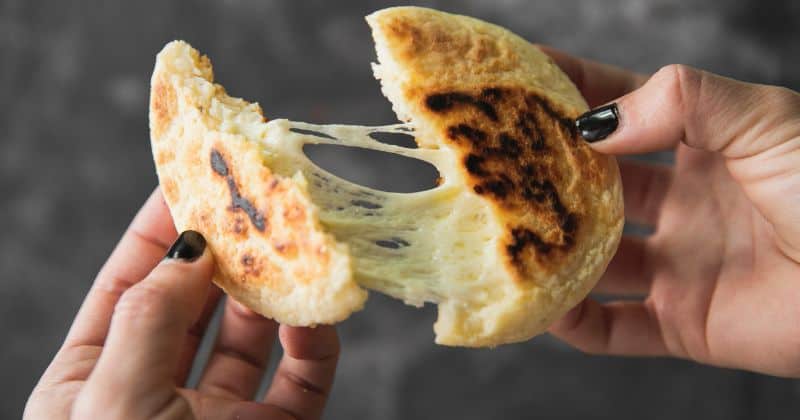 A Colombian food trip is never complete without trying arepas. This pastry is made from corn meal or maize flour, basically pancakes. They are served with any meal, from breakfast to dinner.
Indigenous people have eaten these pancakes for centuries. They come in wide varieties, including fried arepa de choclo with fresh cheese stuffing, arepa de huevo with eggs stuffing, or plain arepa de maiz served as a side to soups.
The arepas on the street might be stuffed with vegetables, meat, fried eggs, cheese, or chocolate. I tried an arepa with mayonnaise, cheese, hard-boiled quail egg, and ham.
People who prefer a spicy taste can go for arepas topped with spicy grilled lobster or shrimp.
Sancocho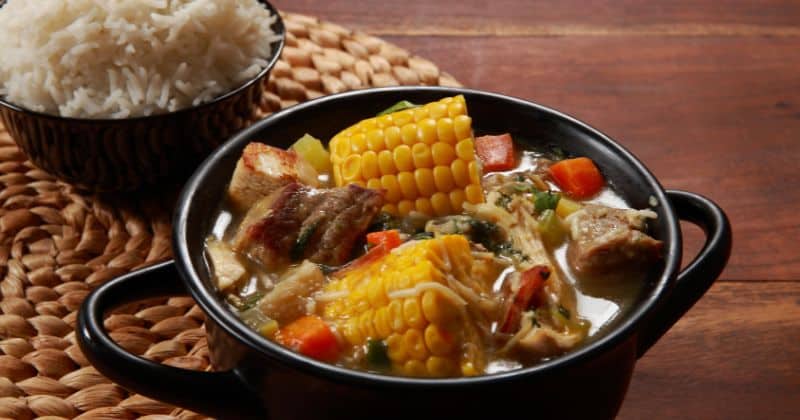 Sancocho is a famous Colombian chicken soup with large chicken pieces, cob corn, and chunks of plantains and yucca. This soup is served in a clear broth, salsa de herbas, an herb sauce, and spicy cream.
This hearty stew is usually served for lunch and is always present during family gatherings. While sancocho varies between Colombian food regions, it is generally made with Majorca, cilantro, scallion, tomato, cassava, potato, and banana and served with rice, avocado, and corn.
As a critical part of Colombian culture, I met many families in Colombia gathering over the weekends and having a sancocho. I can compare this Colombian food tradition to backyard barbecue parties in other countries.
Posta Negra Cartagenera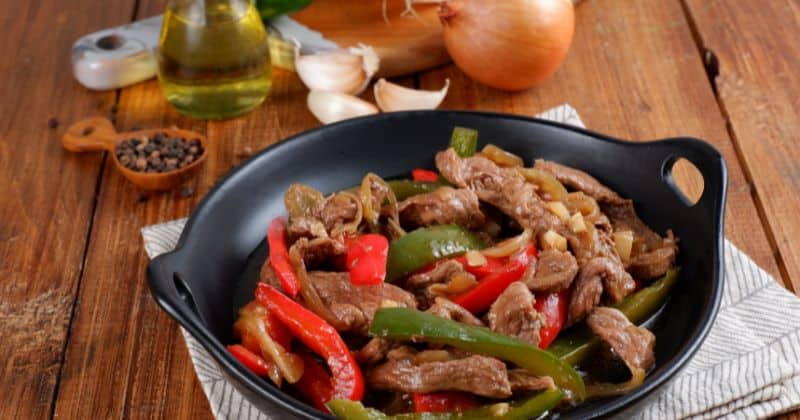 Like other Latin American cuisines that offer fresh and hearty entrees, Colombian cuisine is no exception. Posta Negra Cartagenera, also referred to as Cartegena Black Beef, is a traditional Colombian beef entrée.
This classic dish uses the marinated tri-tip steak and slows cooked in a sauce in a dark, spicy, and syrupy mole. However, there is no chocolate used in the recipe.
Some recipes use orange juice or coke. What I ate while visiting Cartagena had a hint of sweetness and spiciness, perfectly balanced with spice, acid, and rich robustness.
Colombian Empanadas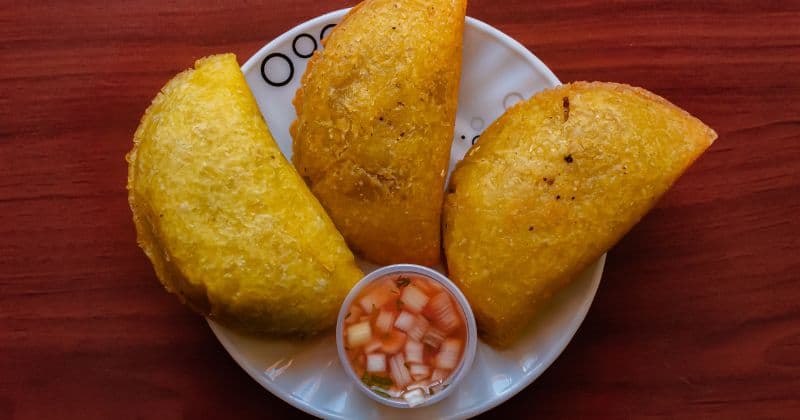 Empanadas are a significant part of Latin American cuisine. On the other hand, empanadas in Colombia are uniquely made with masarepa outer crust, Colombian precooked cornmeal.
Empanada is derived from the Spanish word empanar, meaning to coat or wrap in bread. They are essentially small-sized foods filled with a variety of ingredients.
The typical filling of Colombian empanadas is potatoes seasoned with hogao and stewed pork or beef. Hogao is a traditional sauce with scallions, tomatoes, cilantro, spices, garlic, and seasonings. It is like the salsa's cooked version.
It is traditionally used as a base in different Colombian recipes or as a topping or dip in other Colombian dishes like patacones, arepas, and Bandera paisa. The empanadas are fried for a crispy exterior. However, using precooked cornmeal gives them softness on the inside. 
Traditionally, Colombian empanadas are served with spicy aji sauce. This sour and spicy sauce dip brings spices to most Colombian dishes. However, it is not as spicy as other spicy sauces or dips we know.
Empanadas are easily found on every street corner. This deep-fried dish is ideal for breakfast or even eaten as a late-night snack. Although potatoes and beef are common fillings, I found empanadas filled with spinach, cheese, chicken, and chorizo.
Ajiaco 
Ajiaco is enjoyed by many Columbians living in mountainous areas of Bogota. This hearty stew contains chicken, corn, and three different types of potatoes. One of these potatoes is the Andean potato, a purple-skinned potato only grown in that region.
The chicken in this stew is usually in large pieces and still served on the bone, while the corn is served on the cob. The soup's rich flavor is because of the herb guasca and giant capers cooked into it and sprinkled on top—the topping Crema, a seasoned and thinner, more fermented sour cream's form.
This dish is best when added with aji Picante, extra capers, lemon, and avocado. Aji Picante is a classic spicy sauce made from water, aji pepper, onions, coriander, and chopped tomatoes.
Ceviche de Camarones 
Ceviche de Camarones, also known as Colombian shrimp ceviche, is a popular Colombian dish made with various types of cooked shellfish dressed with herbs, aromatics, hot sauce, ketchup, and lime juice, and seasonings. 
This Colombian dish is bursting with different flavors, from sweet and sour to spicy and savory. It is perfect for people who love seafood with a spicy kick. It is one of the spicy dishes I enjoy most.
Conclusion
Overall, Colombian food is strongly influenced by cultural traditions and local ingredients. So, it's no wonder that it is rich and hearty. It is not common to find spicy Colombian dishes, but spicy lovers can enjoy the spices they look for with deep research.
Source: