Mild and Medium salsa is one of those condiments that is easy to make while bringing out the flavors of fresh seasonal vegetables. So you may come to wonder which salsa is spicier? This article will discuss everything you need to know about that in detail.
Medium salsa is hotter than mild. The mild will be the easiest to tolerate, while the medium salsa will be a little hotter and burn your mouth more. Peppers provide the majority of the spiciness in the salsa sauce.
An item is classified as Mild if it has a Scoville rating between 100 to 2,500 Units, and it is classified as a medium if it has a Scoville rating between 2,500 to 30,000 Units. Salsa is served differently in each Mexican restaurant. Continue reading if you want to learn more about mild and medium salsas.
What Are Some Mild and Medium Salsas?
Fody Vegan Mild Salsa
Finding a healthy salsa that doesn't cause stomach issues can be difficult for those on a diet, as many salsas contain garlic and onions as key ingredients. Fody, on the other hand, has designed a mild salsa that is tailored to persons with gastrointestinal sensitivity.
This salsa is gluten-free, non-GMO, vegan, keto-friendly, and low-FODMAP certified, making it an excellent choice for individuals with special dietary requirements. Fody also has a medium-spiced salsa and a salsa verde if you prefer something spicier.
Nature's Promise Organic Mild Salsa is an excellent choice if you want tasty salsa at a reasonable price. This salsa was not only inexpensive, but it is also flavorful. Tomato is the primary flavor of the salsa. You will also taste faint smoky overtones in the salsa, which are offset by the fruit's sweetness.
Despite the presence of jalapeno peppers, the salsa is mildly spicy and would be a welcome addition to any table.
Medium Chunky Newman's Own Black Bean and Corn Salsa
Smooth tomato salsa is a crowd-pleaser, but bean and corn salsas fill in the gaps when you're looking for something heartier. In Newman's Own's rendition of this spin-off, black beans, tomatoes, maize, jalapeno peppers, red/yellow/ green bell peppers, and lots of basic salsa ingredients.
The extra beans and corn give the salsa a chunkier texture, giving it more depth to go. This salsa has a medium heat level and 25 calories per tablespoon.
CHI-CHI'S Thick & Chunky Salsa Medium
Look no further than CHI-CHI'S Thick & Chunky Salsa Medium to begin the party with a delicious tasting salsa with just the proper amount of heat. The garden-ripe crisp tomatoes and onions combine well with a good kick of spiciness. This salsa is a medium spicy and the crowd's favorite, whether you're organizing a one-person party or a large gathering.
Stonewall Kitchen Fire Roasted Salsa
Stonewall Kitchen is known for its jarred goods, so it's no surprise that it has a number of delicious salsas to choose from, including this one. Thanks to a profusion of fire-roasted veggies (the salsa comprises tomatoes, yellow onions, red bell pepper, apples, garlic, jalapeno peppers, lime juice, cilantro, and tonnes of excellent salsa ingredients), this fire-roasted salsa has a distinct smoky flavor.
It's delicious on its own, but it may also be used to prepare chicken or fish. When it comes to spice level, it's approximately a medium. This salsa is gluten-free as well. If you like this salsa, you might also like Mild Tomato Salsa, Mango Lime Salsa, or Spicy Tomato Salsa from Stonewall Kitchen.
Different Types Of Salsas
Pico de Gallo
Pico de gallo is a raw salsa made from finely chopped tomatoes, onions, Serrano chilies, lime juice, cilantro, and salt. It's recognized for its light flavor and bright colors. Pico de gallo, unlike other forms of salsa, contains relatively less liquid, making it a good topping for tacos, quesadillas, and other Latin-inspired dishes.
Salsa Roja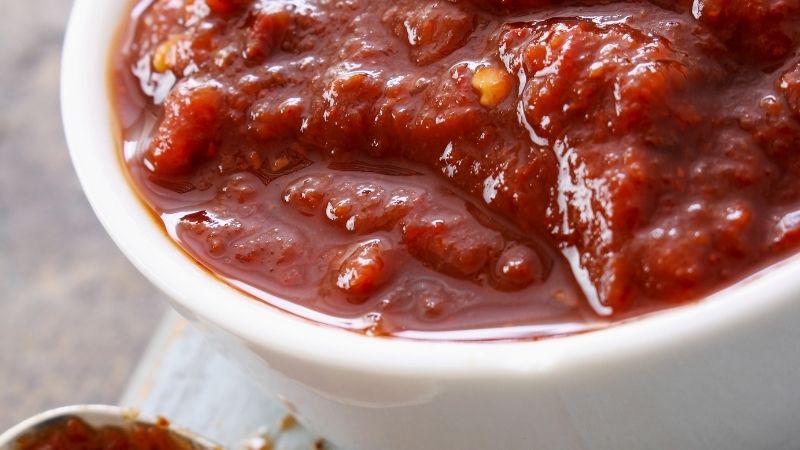 Salsa Roja is one of the more well-known Mexican salsas, which refers to "red sauce." It's prepared with ripe red tomatoes, which give it that vibrant red color. Salsa Roja is very similar to the canned salsa that is so popular in the US. In most Tex-Mex restaurants, the predominant salsa is salsa Roja.
Garlic, onions, and chili peppers will appear in most recipes. Salsa Roja is commonly served with tacos and burritos as a condiment. It's also used as a meat topping for chicken and beef.
Salsa Verde
Salsa verde, or "green sauce" in Spanish, is the next most traditional form of salsa. Tomatillos, also known as Mexican husk tomatoes, are used in this dish.
They resemble green tomatoes, but they have a husk that peels away, leaving a sticky residue behind. Why create roasted tomatillo salsa from scratch when you can buy it? That's how good it is. It's acidic, smokey, garlicky, and spicy, and it's ideal for dipping mounds of chips in.
Salsa Borracha
The salsa borracha, which is made with garlic, green tomatoes, and pasilla chili peppers, goes incredibly well with charcoal-grilled meat. Pasilla peppers are dried peppers that must be soaked before being used. These peppers are smoky and spicy, giving the sauce a coppery color.
Pulque, a fermented agave syrup that has been drunk in Mexico for centuries, is an essential component in this sauce and the one that gives it its name.
What To Eat With Mild or Medium Salsa?
Baked Zucchini Fries
If you enjoy fries, zucchini fries are for you. They're a tasty alternative to the traditional potato side dish for dinner. These are fantastic since they are baked rather than fried, making them extremely healthy. Serve zucchini fries with salsa for a light and refreshing side dish that goes with any dinner.
Vegetables
You can make your snack with any vegetables you choose, but carrots, green peppers, celery stalks, radish, or jicama will go well with the flavors. Scoop the salsa out with the vegetables or spoon some onto the end of the vegetable stick with a spoon.
Because loose salsa may not attach to the vegetables as effectively, this method works better with thicker salsas. You may also make your salsa with sugar snap peas, chopped peppers, or cucumber.
Classic Deviled Eggs
Deviled eggs are usually a crowd favorite, and they go well with salsa. Vinegar, mustard, and salt flavor come with the creamy egg filling. It's a tried-and-true dish that everyone will enjoy. Because deviled eggs are already bite-sized, serving them is simple with salsa for dipping.
The combination of deviled eggs and salsa is a match made in heaven, whether you're serving it at a party or just enjoying dinner at home.
FAQs:
Is There A Difference Between Taco Sauce And Salsa Sauce?
Pace Corporation's Picante sauce is a subset of contemporary salsa. Taco sauce has a soupier, thinner consistency due to its higher liquid content. Taco sauce, on the other hand, is produced using a tomato base, sugar, and vinegar for flavor balance, as well as dried spices. It has a dense but smooth feel.
Is Salsa a Sauce or a Dip?
Salsa is the Spanish word that means "sauce." This renowned condiment, which may be made out of fruit, vegetables, spices, herbs, and even grains, and ranges in heat from moderate to scorching, is much more than a basic topping.
Conclusion
Now we know that medium salsa is spicier than mild. The mild will be the easiest to tolerate, however, the medium salsa might appeal more to spice lovers. Those who don't like spicy meals should choose the mild option. Hopefully, with the help of our article, you now know more about mild and medium salsa!