I always love Yangnyeom Chicken's sweet-salty-spicy flavors. I discovered this fried Korean chicken dish from a friend who Korean culture, dramas, music, etc. I instantly fell in love with this spicy, red fried chicken in a sticky red sauce.
But those who haven't yet tried this spicy dish may wonder, how spicy is Yangnyeom Chicken?
This Korean fried chicken is seasoned with gochujang, sugar, garlic, and other spices. The dish's spiciness mainly comes from gochujang, on the Scoville Heat Unit scale at less than 1,000 units. Therefore, the dish can be on the milder side.
What Exactly is Yangnyeom Chicken?
Yangnyeom Chicken is a popular Korean fried chicken variety glossed with sweet and spicy gochujang-based sauce. This dish is also seasoned with sugar, garlic, and other spices. Traditionally, it is eaten while drinking, known as "Anju."
In South Korea, the word "chicken" refers to roasted or fried chicken, while "yangnyeom" means "seasoned." In other words, "yangnyeom chicken" is Korean for "seasoned fried chicken."
What is the History Behind Yangnyeom Chicken?
Yoon Jonggye, Yangnyeom Chicken's initial developer, devised the dish in his restaurant after analyzing his customers' leftover food. As he noticed that regular chicken had a too crunchy crust, he realized that it scratched the customers' palates. He used a sauce to coat the fried chicken to soften the crust. Then, the Yangnyeom Chicken recipe was born.
But his employee, Yang Heekwon, commercialized the recipe and founded a Pelicana Chicken restaurant chain. The customers were hesitant to try the chicken at first. So, the restaurant gave free food samples as part of its marketing campaign.
It was a success as it increased its sales in just two months. The dish became more popular after Choi Yang-Rak, a famous comedian, was featured in the Pelican commercial.
In the 1990s, the recipe's naming and trademark status was argued in the courts. In the 1970s, fried chicken became famous in South Korea, and the first chicken restaurant opened in 1977 – Lim's restaurant. Since then, Yangnyeom restaurants were continuously becoming more popular in South Korea and other countries.
How Spicy is Yangnyeom Chicken? Is It Spicy?
When preparing Yangnyeom, boneless chicken is cut into bite-size pieces or a chicken into pieces. Then, they are seasoned with salt and black pepper powder. Curry powder or rice wine (Gyeongju) is sometimes added to eliminate chicken's strong smell.
Next, the seasoned chicken is coated in a batter with starch powder and eggs. Since the battered chicken is deep-fried twice, it results in a thin and crackly crust. It is also almost transparent. Sometimes, it is sprinkled with sliced green onions, chopped garlic, sesame seeds, or chopped peanuts. Pickled radish is a popular side dish for Yangnyeom Chicken.
As for the sauce is made of strawberry jam or starch syrup, dark soy sauce, ketchup, gochujang, ground pepper, brown sugar, red pepper, and other seasonings. The sauce is boiled until thick.
Coating the chicken in sauce quickly makes the crust soggy. So, it is recommended to consume it right after purchase. But I know some people who enjoy the moist crust.
The dish is famous among people who avoid fried chicken's oily taste. However, others are not a fan of deep-fried coating and sweet, spicy taste that quickly gets soggy and prefer fried chicken.
This is why the "banban" style got popular. This style of ordering chicken involves half fried chicken and half Yangnyeom Chicken. I tried banban style once and got a "the best of both worlds" feel.
As mentioned earlier, Yangnyeom Chicken comes with a gochujang-based sauce. Let's talk about gochujang to give you an idea of how spicy the recipe is.
The gochujang paste rates on the Scoville Heat Units scale at less than 1,000 units. Remember that this pepper rates between 2,500 and 8,000 units. If I compare it with jalapeno peppers, the paste is on the even milder side.
More About Gochujang Paste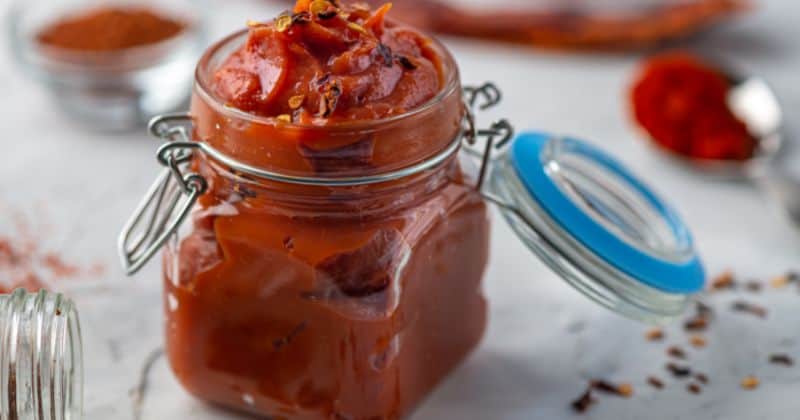 Gochujang is a popular Korean condiment. This Korean red pepper paste is made of Korean red pepper flakes, glutinous rice, fermented soybeans, and other spices. Aside from giving a vibrant red color, the Korean red peppers provide a spicy, pepper, and earthy flavor. The paste tastes sweet, spicy, savory, and umami.
The spiciness of gochujang depends on the version: mild and spicy versions. The paste goes well with fried foods, like Yangnyeom Chicken. It offers a perfect consistency to glaze deep-fried chicken.
When I bought gochujang in a Korean grocery store, the label stated whether the paste was a hot version or not. I got the two versions to determine the differences.
I find the spicy version's spiciness the same as sriracha sauce's. The paste's mild version is very mellow with a savory red pepper flavor.
Aside from Yangnyeom Chicken, gochujang is also critical to Korean classics, like ssamjang, tteokbokki, and bibimbap. I use this paste often in meat dishes and stews to add instant complexity and depth. I even tried it in Korean BBQ to achieve heat and sweetness.
Gochujang is an excellent alternative if I run out of sriracha and Tabasco. It offers a more intense savory flavor on cooked dishes. I sometimes add it to a dip for fried chicken or salad dressings.
For some people who find the paste's fermented notes too spicy for finishing dishes, I recommend using it in a marinade. This adds mild heat and the meatiness of soy.
How To Make Yangnyeom Chicken At Home
You can achieve the Yangnyeom Chicken's sweet, spicy, and salty flavors at home with the following ingredients and procedures:
Chicken Marinade:
3 lbs. of drumsticks
Vegetable oil, just enough to coat chicken
Salt and pepper
Yangnyeom Sauce:
2 to 2.5 tablespoons of gochujang
Three tablespoons of ketchup
Two tablespoons of rice vinegar
Two tablespoons of brown sugar
Two tablespoons of honey
Two tablespoons of grated or minced garlic
Two tablespoons of soy sauce
One tablespoon of sesame oil
One tablespoon of strawberry jam
Two teaspoons of grated or minced ginger
Freshly ground black pepper
Garnish:
Finely shredded green onions
Roasted sesame seeds
Instructions:
Season the chicken with salt and pepper and coat in vegetable oil.
In a small bowl, whisk gochujang, ketchup, rice vinegar, brown sugar, honey, garlic, soy sauce, sesame oil, strawberry jam, and ginger until well combined—season with pepper to taste.
Deep-fried the seasoned chicken twice.
In a deep saucepan, heat the chicken sauce over low to medium heat. Stir well.
Once the sauce starts to bubble, reduce the heat,
Add in the chicken and toss until well-coated in the sauce.
Remove the chicken from heat.
Garnish with sesame seeds and green onions.
Serve and enjoy!
Every bite is bursting with sweet, salty, and spicy flavors – a must for every spicy food lover out there! Do not forget to pair Yangnyeom Chicken with Korean pickled radish for a more enjoyable experience. You can also pair it with sticky rice or cold beer.
The strawberry jam and ketchup add luster and sweetness to the dish, while rice vinegar and soy sauce provide balance. I recommend slight changes to the traditional recipe. You can remove flour or frying in oil and reduce sugar.