Although there are many Thai dishes to choose from, they all share particular characteristics. All dishes are usually sweet, spicy, salty, sour, and bitter.
Whether you prefer visiting Thai restaurants or recreating dishes at home, you may have already encountered Thai green curry. However, there are other curries, such as yellow Thai curry, red Thai curry, and Massaman curry.
These Thai curries are undoubtedly savory and spicy, but the Thai green curry spice level is the highest. It gives a tasty but burning flavor all over your mouth.
What are the Different Thai Curries and How Spicy Are They?
Thai curries, also known as "gaeng" or "kaeng," are some of the popular dishes in Thailand. Each Thai dish has unique ingredients, including curry paste, meat, seafood, fruit or vegetable, herbs, and coconut milk or water.
Each Thai curry has a unique taste, tangy, tender, or hot flavor. You can choose from variations, namely Green, Yellow, Red, and Massaman curries.
These Thai curries use the same paste. However, they still differ in color, taste, and spice level. If you have been eating Thai Green curry and wonder whether it is the spiciest choice, keep reading.
Thai Green Curry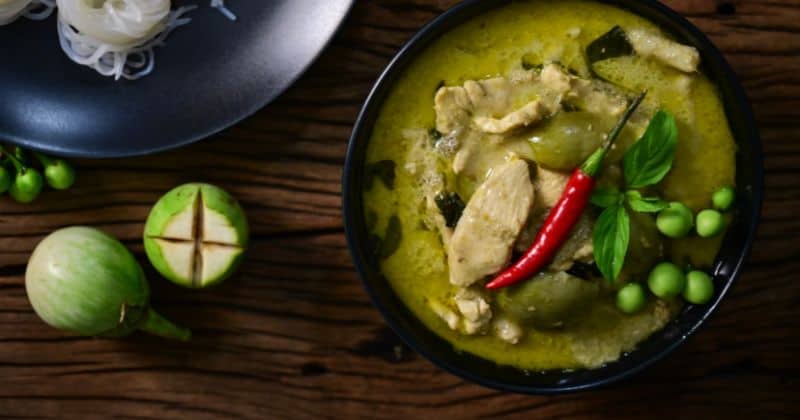 Most people who have not yet tried Thai green curry would assume that the red variety is the spiciest. However, it is about time to change their minds.
Thai green curry is the spiciest among Thai curries. This curry gives a tasty flavor but a burning sensation all over your mouth. The curry's hotness varies from region to region in Thailand.
In Thailand's southern part, this green curry is added with bird's eyes' chilies, making it fierier. Although bird's eye chilies are tiny, they are super spicy. Instead of meat, this curry contains vegetables. However, you can use chicken if you want meat in your curry.
The green curry's vibrant green color is from the green curry paste. However, it became more vibrant with adding fresh cilantro, basil, and makrut lime leaf. These herbs are combined with coconut milk, fresh green chilies, and other ingredients, like shallots, ginger, garlic, fish sauce, and lemongrass.
Thai Red Curry 
Thai red curry, also known as "kaeng phet," is a spicy curry made of various meat, like beef, chicken, and seafood. However, if you do not eat meat, you can substitute it with tofu.
Before trying the Thai green and red curries, I assumed the red one was too hot and spicy because of its red color. However, the spiciness of Thai red curry is not as much as the Thai green curry spice level. Between the two curries, I find the green curry spicier and hotter than the red one.
Traditionally, Thai chefs add up to 20 chilies to the curry to achieve vibrant red color and spicy taste. However, modern chefs reduce the number of chilies. Instead, they use tomato sauce or chili powder to enhance the color and impart a deeper flavor.
Red curry will give you the taste of coconut milk, shrimp paste, galangal, and garlic in addition to the chili flavors. This curry is either cooked wet or dry. A wet curry is cooked in coconut milk, while a dry curry is prepared by simmering until the liquid evaporates.
Thai Yellow Curry 
Thai yellow curry has British influence and is popular in many Thai restaurants in western countries. This one is for you if you want a Thai curry with the mildest taste.
Also known as "kaeng kari," Thai yellow curry is made of turmeric, cayenne pepper, cinnamon, garlic, mace, cumin, lemongrass, bay leaf, ginger, fenugreek, coriander, and salt. I find this Thai curry the mildest one because of lesser chilies than green and red curries.
Yellow curry is made with vegetables, meat, and seafood. It is the same as Thai red curry, except that it is less spicy. During the last few minutes of the cooking process, seafood is added to meat and other ingredients.
Aside from mild flavor, the yellow curry paste in Thai curry offers a little sweetness. The paste is usually combined with coconut milk. It is also used in fish stews.
Traditionally, Thai yellow curry uses turmeric that gives a golden yellow color, just like Indian curry. This is why Thai yellow curry is sometimes mistaken for Indian curry. However, the Thai variation has a distinct taste.
Massaman Curry 
Massaman curry has Muslim roots, so expect chicken, beef, mutton, or duck instead of pork. For people who do not eat meat, they use tofu, fish sauce, and shrimp/
This Thai curry's components are unusual in Thai curries that use mace, bay leaves, nutmeg, cinnamon cumin, star anise, or clove. When making Massaman curry paste, you will need shrimp paste, lemongrass, chili pepper, white pepper, galangal, shallots, garlic, and coriander.
The curry has a thick sauce with a slightly sweet and mild flavor. It is not as spicy as red, yellow, or green curry.
How to Make Thai Green Curry at Home
Do not worry if Thai restaurants are distant from where you live; you can make your version. The cooking process is quick and straightforward.
Ingredients you will need for the green curry paste:
2 tsp lightly toasted cumin seeds
2 tsp lightly toasted coriander seeds
2 medium seeded and chopped green chilies
1 medium chopped shallot
1 piece peeled and chopped ginger
2 cloves of garlic
4 fresh torn makrut lime leaves
Zest of 1 lime
1 piece chopped lemongrass (pale yellow part only)
1 bunch cilantro stems
1 tsp fish sauce
Ingredients you will need for the chicken curry:
1 pound of skinless, boneless chicken thighs
1 tablespoon of coconut oil
½ teaspoon of kosher salt
1 thinly sliced shallot
1 can of whole coconut milk
1 medium bell pepper (cut into strips)
¼ cup of chopped cilantro leaves
¼ cup of chopped Thai basil
½ pound of trimmed green beans
4 large wedges
Instructions:
Add the coriander, cumin seeds, and toast on a small skillet over medium heat.
Remove the spices once slightly dark and fragrant. Set aside to cool.
Use a spice grinder or mortar and pestle to grind the spices.
Combine the coriander, cumin seeds, and the remaining curry paste ingredients in a food processor. Process the ingredients until smooth.
Put some salt on the chicken's both sides and slice into ½ -inch thick strips.
Add coconut oil and the chicken to a large skillet over high heat.
Sear the chicken until all sides are golden.
Then, transfer the seared chicken to a plate.
Lower the heat and cook the shallot.
Stir in 2 tablespoons of green curry paste.
Add ¼ cup of coconut milk and stir well.
Add the remaining coconut milk and bring to a gentle boil.
Add chicken pieces, green peas, and sliced peppers.
Simmer for 20 minutes.
Stir in basil and cilantro at the end of cooking.
Garnish with a lime wedge and basil leaves.
Serve and enjoy.
You can also serve Thai green curry over white or brown rice. Do not forget to share it with your loved ones.