Many experts say that chips are best avoided while wearing braces. Indeed, it is best to avoid hard, crunchy foods like bread and many kinds of chips. However, there are some chips that can be eaten while wearing braces, as long as you clean your teeth well afterwards. 
Here are the ten spicy chips you can eat with braces:
Pringles: Scorchin' Cheddar
Deep River Snacks: Jalapeño and Cheddar
Pringles: Scorchin' BBQ
Anthony Spices: Carolina Reaper Cheese Balls
Cheetos: Baked Flamin' Hot
Sensible Portions: Garden Veggie Straws: Screamin' Hot
Slow Foods Kitchen: Thai Chili Kale Chips
Spudsy: Sweet Potato Fries: Hot Fries
Pringles: Scorchin' Chili and Lime
Homemade Spicy Baked Carrot Chips
Additionally, rather than stuffing handfuls into a hungry mouth, eat the chips slowly, one at a time. Doing this will ensure that your braces don't get packed with small pieces of the chips. The rest of this article will go into detail on the 10 spicy chips you can eat with braces.
1. Pringles: Scorchin' Cheddar
Pringles are a suitable chip to eat while wearing braces because they are softer than regular chips. The new line of Scorchin' chips includes this great cheddar flavor with a spicy kick.
Don't expect a fiery inferno in your mouth, since these chips are on the milder side. Of course, you can always add a little more spice of your own if you feel it is warranted.
Pringles Scorchin' Cheddar Chips are available on Amazon.com and can be bought in multipacks.
2. Deep River Snacks: Jalapeño and Cheddar
Baked chips are great for those wearing braces and are preferable to crunchy, hard, fried chips. These baked Deep River Snacks have a gentle heat, making them a good choice for fans of milder spice.
They are light, airy, and great with guacamole or salsa if you need extra flavors or heat. Additionally, they are also gluten-free and contain 65% less fat than regular potato chips, making them great for health-conscious spicy lovers with braces.
3. Pringles: Scorchin' BBQ
Another option from the Pringles Scorchin' range is these delicious BBQ chips with a slight kick of heat. They are delicate and easy to munch on, with the soft texture easily cleaned from your braces afterward.
The heat is subtle again, but the blend of BBQ flavors with spice is a success for many hot snack lovers. However, with Pringles, the heat is not always to every spice enthusiasts' desired level. Therefore, adding a little chili powder might be more palatable for fans of true fiery hotness.
Keep in mind that adding more spice may upset the balance of heat and flavor. In any case, Pringles Scorchin' BBQ Potato Crisps are available on Amazon.com in multipacks for those that get addicted to the taste.
4. Anthony Spices: Carolina Reaper Cheese Balls
Okay, enough with the mild heat, I hear you say! These super-hot cheese balls from Anthony Spices may be what some of you brace-wearing spice enthusiasts are really looking for in a chip.
Cheese balls are suitable for those that wear braces because they are soft and baked. However, proceed with caution! These chips, made with the infamous Carolina reaper chili, actually hold the Guinness record for being the world's hottest chip.
At 2,200,000 SHU on the Scoville scale, it will undoubtedly be a challenge to finish the pack. For those of you unfamiliar with this scale, SHU measures the heat of the chili, and 2.2 million SHU is comparable to law-enforcement-grade pepper spray!
If you are very brave, this Wicket Reaper Spice Gift Set on Amazon.com will make an excellent gift to any spice lover. It features chili powder ranging in heat from 1-2 million SHU. Even a little sprinkle will make any food a chili challenge!
5. Cheetos: Baked Flamin' Hot
Next up is a chip not usually recommended to those wearing braces. However, as these are baked, they are one of the few Cheetos that are okay to consume while wearing them. Don't forget to chew slowly, one chip at a time, and clean your braces thoroughly after.
Similar to regular hot Cheetos in flavor, these chips have 50% less fat but without the greasy fried texture. Therefore, you can get your favorite Cheetos flavor without worrying about calories!
6. Sensible Portions: Garden Veggie Straws: Screamin' Hot
Veggie sticks are another excellent choice for brace wearers, and the Sensible Portions Garden Veggie Straws Screamin' Hot are available on Amazon.com.
These chips are gluten-free and feature no additives or preservatives. They are made from garden-grown potatoes and ripe vegetables and have 30% less fat. A good kick of hot spice is present, but vegans should be aware that, despite their veggie name, they are not suitable.
7. Slow Foods Kitchen: Thai Chili Kale Chips
With their soft consistency, Kale chips are another type of chip acceptable for wearers of braces. Not only are they acceptable, but they are also healthy and delicious. Fans of Thai spice will be immediately addicted to these fiery treats.
The chips are hot and come with added benefits of being 100% vegan and free of gluten, soy, peanut, and dairy.
Savory and salt and vinegar are an alternative to Slow Foods Kitchen Thai Chili Kale Chips on Amazon.com for those needing a change from heat and spice – but why would you do that?
8. Spudsy: Sweet Potato Fries: Hot Fries
Sweet potato chips are another delectable way for those wearing braces to continue to enjoy spicy hot chips. Their soft texture is a lot safer, and the braces are easier to clean afterward.
Spudsy Sweet Potato Fries are available in packs of two from Amazon.com. They offer balanced flavors and heat with clean ingredients suitable for vegans.
9. Pringles: Scorchin' Chili and Lime
Pringles seem to be able to balance heat and flavor perfectly. This unique choice is tangy and spicy at the same time, creating a great alternative to regular spicy chips.
As with all Pringles, these chips can be enjoyed with dip for even more exciting tastes. However, getting the right level of heat for everybody is almost impossible. Adding a little extra spice, if needed, will help you enjoy chili and lime Pringles even more.
Amazon.com also sells these Pringles Scorchin' Chili and Lime Potato Crisps. However, since they are Pringles, they are not suitable for vegans and are not gluten-free.
10. Homemade Spicy Baked Carrot Chips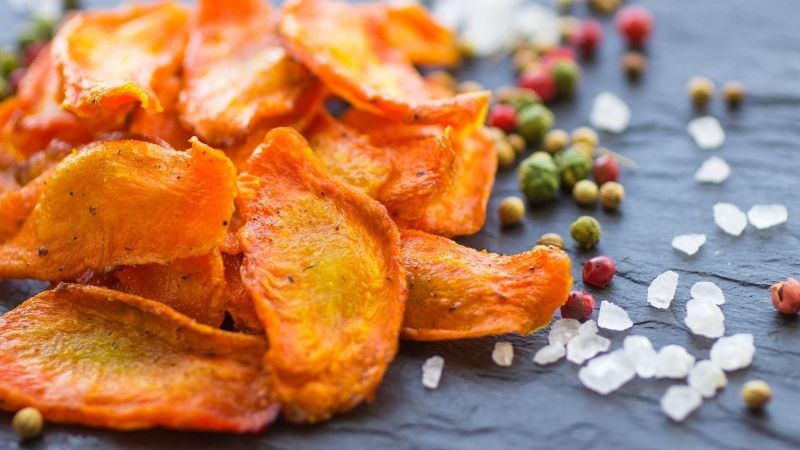 If none of these excellent chips tickle your fancy much, why not try making your own chips at home? Kale chips, carrot chips and other veggie chips are all easy to make, and there are many recipes available online.
Carrot is one of the best alternative vegetables to make chips. This simple recipe is healthy, nutritional, and easy to make. Chili powder or cayenne pepper is the ingredient that gives these chips a bit of spice, and, of course, if you want your carrot chips hotter, just add more spice to the recipe!
A similar recipe but with more herbs and spices is this Cajun sweet potato fries recipe.
In the end, wearing braces will make your teeth look fantastic. However, another positive effect is that they might also make you think about healthier eating alternatives.
Sources