There are plenty of things to love about and enjoy at KFC. And the spicy menu is one of them.
KFC is undoubtedly one of the world's most famous American fast food restaurants. It gained global popularity because of its crispy and delicious chicken. However, fast food is beyond fried chicken.
Many spicy food lovers can count on KFC because it has a variety of menu items that will satisfy their cravings for spice. Here are 9 of the spiciest menu items that KFC has to offer:
Nashville Hot Tenders
Kentucky Scorcher
Dipping Fries
Golden Egg
KFC Zinger Burger
Triple Stacker Burger
Spicy Bowl
Spicy Jack Harlow Meal
Khao Yum Kai Zaab
Let's see how much you can handle the heat with KFC's spiciest menu items.
Nashville Hot Tenders
KFC's Nashville Hot Tender is a go-to for spicy food lovers. This legendary hot chicken was first introduced on the market in 2016. The chicken is available in tender form. Depending on the breading instead of the sauce, these tenders produce extreme hotness.
Without dipping the tenders in the sauce, I can already feel the fiery mouth aftertaste. The breading is not only flavorful and hot but also crispy. It gives a best of both worlds feel: crispy on the outside, soft on the inside.
As with the hot sauce, it is delicious. It has fair amounts of spice and flavors without overly pungent since the breading is already spicy.
I tried these chicken tenders with other KFC menu items, like Mac, Cheese, and Biscuits. I also recommend trying these tenders with more mild items on the menu.
Kentucky Scorcher
As the name suggests, Kentucky Scorcher is all about scorching hotness. This newly added menu item has a twist as it aims to separate two groups: the "true spicy food lovers" and the "mildly spicy pretenders."
Kentucky Scorcher is considered an even spicier chicken sandwich. The chicken breast is covered with the iconic Carolina Reaper pepper-based Scorcher sauce. And it comes with a bottle of milk, helping not-so-spice lovers cool their mouths. The Milk2Go is a handheld product of Saputo, a Montreal-based dairy company.
This spicy offering also aims to meet every spice lover's craving. I heard the chicken sandwich comes with a 13,500 Scoville spice level and can go above Tabasco hot sauce. However, it is only available in Canada.
Dipping Fries
Living in Romania gives you the best chance to try KFC's, Dipping Fries. These hollowed-out French fries come with a fried potato skin shape. These fries are the answer to prayers for spicy lovers who are also impatient with the smothering sauce on their fries.
Dipping Fries are hollowed out to ensure all the savory dip stays on the fries, include Garlic Sauce, Ketchup, Curry, Salsa, Sweet & Sour, and Barbecue. So, expect every piece is completely coated with the spicy kick. Diners can stick with the ketchup or experiment with sweet and sour garlic or curry sauce.
Golden Egg
When I visited Hong Kong, I had a chance to try the famous KFC Golden Egg. Don't worry; this spicy snack is also available in Brunei and Malaysia.
Golden Egg combines different flavors: hot, spicy, salty, and sweet. It is a chicken covered with a hot and spicy mix for those unfamiliar with this egg craze. It is marinated in curry leaves, sweet basil, and salted egg.
The golden egg's various flavors stimulated all my taste buds at once. Since I am not used to eating salted eggs, I prefer soaking this snack in mashed potatoes. However, those who love salted eggs prefer eating the skin before munching the meat due to its crispiness.
The drawback? The Golden Egg is only prepared during the Lunar New Year celebration.
KFC Zinger Burger
The Zinger Burger is KFC's classic fried chicken's most popular version. So, I got curious about how spicy it was.
Cayenne pepper is what brings the burger's heat level, measuring 30,000-50,000 SHU. This spice level is considered medium spicy on the Scoville Scale. Cayenne pepper makes the burger ideal for a bit more spiciness kick.
Aside from the toasted brioche bun, the crispy chicken thighs are also served with a creamy sauce. The marinate is made from pepper, salt, spicy sauce, and buttermilk. It penetrates the chicken and ensures the coating has evenly adhered.
The ingredients for the dredging mix include all-purpose flour, garlic powder, cornstarch, paprika, cayenne pepper, white pepper, and salt. The burger sauce combines mustard, ketchup, and mayonnaise with a hint of white vinegar to create a perfect zing.
Triple Stacker Burger
This KFC spicy food is an addition to KFC's hidden menu.
Triple Stacker Burger is unsuitable for those with weak tolerance to spicy food. It has 3x the protein alongside spicy flavor and fiery sauce. In short, the heat is not only derived from the sauce but also from the taste itself.
The three 100% chicken breast filets are embraced by unique flavoring. Then, they are topped with fast-melting cheese, smoky bacon, chili, and supercharged sauce.
Spicy Bowl
Spicy Bowl comes with popcorn nuggets covered in corn, gravy, Nashville Hot sauce, and shredded cheese in a bed of flavorful mashed potatoes.
Even if the chicken is sitting in gravy, it remains crunchy. With the addition of Nashville Hot sauce, it is no doubt that the heat level is increased. However, I can still taste the slight sweetness and smokiness.
I have already tried the regular Famous Bowl, which offers chicken's seasoned crunch, mashed potatoes' light creaminess, gravy's salty richness, and corn's sweetness. The Nashville Hot sauce's spiciness, oiliness, and smokiness introduced a new layer of flavor to the meal.
Spicy Jack Harlow Meal
The Jack Harlow Meal includes the Original Recipe Fries, Spicy Chicken Sandwich, and Mac & Cheese. Of course, let's not forget the Colonel's Lemonade.
First, let's talk about the Original Fries. These fries had replaced the tasty potato wedges. They are covered with a light batter seasoned with onion, black pepper, and garlic, providing lots of flavors, crispy crunch, and a slight kick of spice.
The Mac & Cheese may not be the best option among fast food offerings, but I appreciate that the noodles are not overly cooked, which prevents mushy quality. The cheese is not too cheesy, which prevents it from tasting like salt. However, do not expect cheddar's subtle floral quality and distinct sharpness.
The Colonel's Lemonade is one of KFC's newest lemonade recipes. The drink tastes like a freshly squeezed lemon, unlike other beverages that use lemon juice concentrate with added sugar or taste like soda without the fizz.
Now, for the star of Jack Harlow Meal among spicy food lovers – the sandwich. This KFC spicy food is not only hot but also flavorful. The spicy chicken sandwich's thick filet has an attractive texture. It has the signature KFC crunch. It can taste the onion and garlic powder.
The sauce adds flavor and spice to the sandwich. It provides excellent cayenne-backed heat and goes well with the tangy pickles.
Spicy Chicken Rice Bowl (Khao Yum Kai Zaab)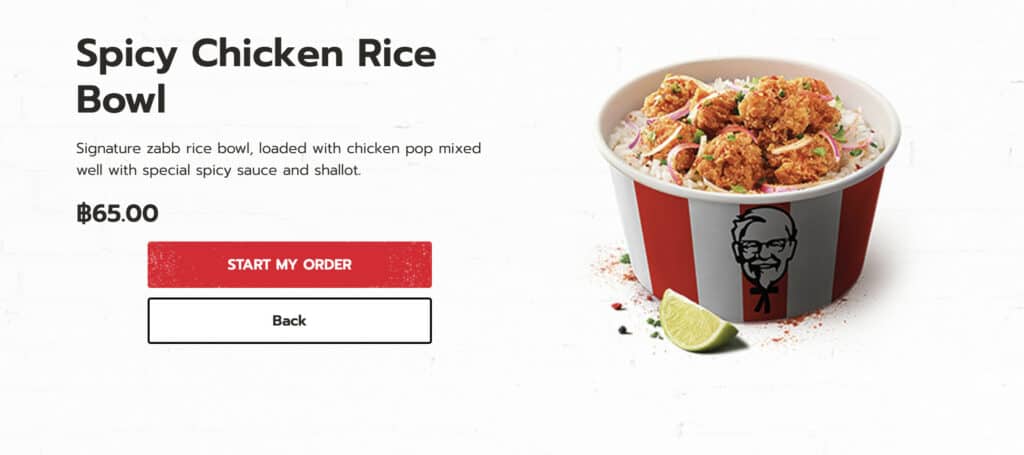 This one is only available in Thailand; Khao Yum Kai Zaab is a spicy chicken rice bowl that includes KFC's famous fried chicken, Thai herbs, lime, chili peppers, and sticky rice.
The dish has a beautiful presentation combination of KFC chicken and Laab, the popular dishes from North East Thailand. It has been a special menu in the '00s, but due to the popularity of Thai dishes, it is now a mainstay in KFC Thailand.
Khao Yum Kai Zaab has a strong chili pepper taste with the addition of fish sauce. The dish is suitable for those who like their food spicy and flavorful. I recommend trying this if you want something different from the usual KFC menu items.
Final Thoughts
KFC has a wide variety of food items, and I think they have something for everyone. They have different meals for different occasions, and I believe their spicy food menu is worth trying.
I recommend the Spicy Bowl, Jack Harlow Meal, and Spicy Chicken Rice Bowl (Khao Yum Kai Zaab) if you want something new and different from the usual KFC menu items. These meals are flavorful and have a good balance of spice and heat.
Sources