Craving a spicy, aromatic noodle dish but want to ensure it meets dietary guidelines? Many wonder – is Mama shrimp tom yum noodles halal?
The answer is a delicious yes! Multiple certifying bodies confirm Mama instant noodles Thailand's popular shrimp tom yum variety is officially halal.
Below we'll explore what makes these noodles compliant, their uniquely flavorful ingredients, and why they appeal to halal food fans worldwide. Read on to discover how you can savor this mouthwatering Thai classic guilt-free!
Halal Certification Status of Mama Shrimp Tom Yum Noodles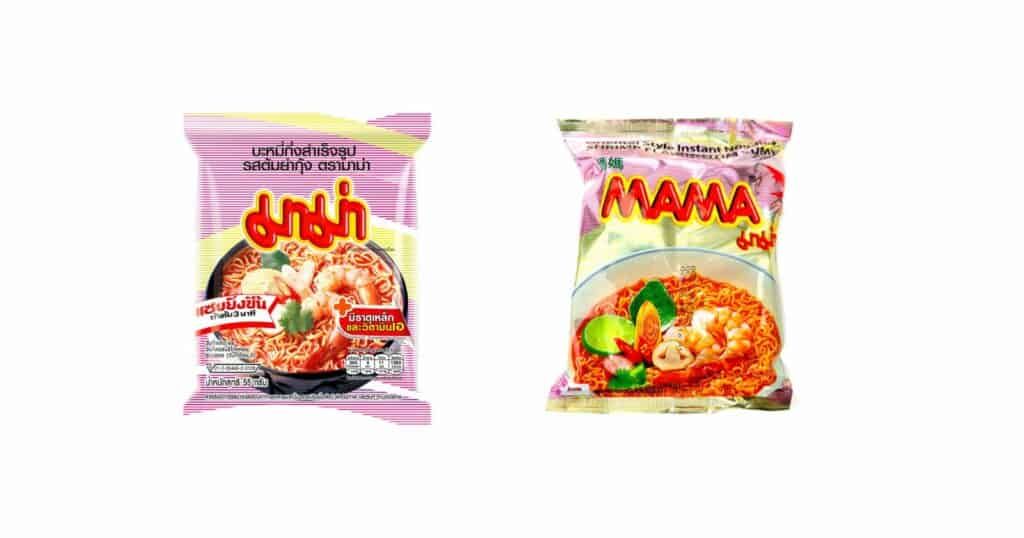 Let's begin by looking at what makes Mama shrimp tom yum noodles halal:
Certified by the Central Islamic Committee of Thailand
Listed as halal on retailer sites like Lazada and Thailand Halal Shopping
Explicitly labeled halal on Mama brand's website
Verified by halal e-commerce platforms such as Halalioapp
With confirmations from both the manufacturer and multiple trusted authorities, Mama's shrimp tom yum flavor can confidently be considered halal-compliant.
This gives peace of mind to Muslim consumers that these tantalizing noodles adhere to Islamic dietary guidelines. Now everyone can enjoy this cuisine classic!
The Origins of Mama's Craveable Tom Yum Noodles
To understand what makes these instant noodles so distinct, let's look at their origins.
Mama instant noodles Thailand introduced tom yum flavor to bring an iconic Thai soup to the noodle aisle. It recreates the hot, sour, and shrimp-forward taste of traditional tom yum soup in easy pack-and-go form.
This innovation was an instant hit across Thailand and Asia. The authentic tom yum taste provides a flavor journey in every bite.
By combining dried noodles, a sachet of zesty seasoning, and simple preparation, Mama made this street food staple accessible anytime.
Today these tantalizing Thai noodles have gained fans worldwide thanks to online retailers. The global love for tom yum's bold flavors keeps demand high.
What's Inside Mama's Tom Yum Noodle Packets?
So what exactly gives these instant noodles their tangy shrimp zing? Let's look at the key ingredients:
Shrimp powder – Provides that essential briny seafood flavor
Spices – Chili, lemongrass, and lime leaf recreate tom yum's hot sourness
Dried vegetables – Leek and mushrooms add savory depth
Seasonings – Fish sauce, soy sauce, and natural flavors ensure a well-rounded taste
Texture ingredients– Thickeners like modified tapioca starch give the broth richness
Together these components aim to mimic the indulgence of takeout tom yum minus the wait. They deliver everything fans love about the iconic soup in quick noodle form.
Why These Noodles Appeal to Halal Consumers
Given their compliance with Islamic law, what makes Mama's tom yum noodles especially appealing to halal foodies?
Shrimp Ingredient – Shrimp is a popular halal seafood choice revered in Southeast Asian cooking. These noodles allow fans to enjoy it anytime.
Iconic Tom Yum Taste – The sweet, spicy, and tart tom yum flavor profile is widely enjoyed in Muslim culture. These noodles provide it conveniently.
Widespread Availability – Sold throughout Asia and online, Mama's tom yum noodles are accessible to observant Muslims worldwide.
When you crave the nostalgic taste of shrimp tom yum soup but want halal reassurance, these certified noodles hit the spot!
How To Prepare Mama's Tom Yum Noodles
Ready to whip up this Asian favorite at home? Here's a quick guide:
Ingredients:
1 pack Mama shrimp tom yum noodles (dried noodles and seasoning sachet)
11⁄2 cups water
Optional proteins and vegetables
Instructions:
Boil water in a pot or electric kettle.
Add noodles brick to pot and cook for 2-3 minutes until tender.
Add seasoning sachet and optional proteins like shrimp or chicken. Cook 1 minute.
Top with herbs, lime wedges, chili slices if desired. Enjoy!
With just a few minutes of prep, you can indulge in belly-warming tom yum flavor anytime. Customize with added veggies and proteins to your taste.
Are Mama's Other Noodle Flavors Considered Halal?
When it comes to Mama instant noodles, most of their varieties adhere to halal guidelines, not just the shrimp tom yum flavor.
This is because all Mama flavors excluding Oriental Kitchen use halal-certified seasoned soup to flavor the noodles. Mama also avoids non-halal ingredients like pork bone broth across all varieties.
Specifically, Mama's chicken, seafood, vegetarian, and tom yum flavors use no haram ingredients and are suitable for halal diets. Flavors like Mee Goreng and Kimchi are also halal-friendly.
The Oriental Kitchen line that uses salt water rather than seasoned soup is the only exception. But otherwise, Mama's commitment to halal-compliant ingredients makes most flavors permissible for Muslim noodle lovers.
Of course, observant eaters should still check labels and certifications to be absolutely certain. But they can feel confident that Mama's wide range of instant noodles contain no non-halal components beyond the Oriental Kitchen flavors.
So dip into that satisfying tom yum spice, explore new flavors like stewed duck or Korean spice, and slurp happily knowing Mama's noodles are halal through and through!
Other Halal Instant Noodle Brands
Beyond Mama, there are many noodle brands producing halal-certified varieties:
Sapporo Ichiban – This popular Japanese noodle brand has halal shrimp and chicken flavors. Their website details certification.
Nissin – Many Nissin noodle products are halal, including their Demae Ramen line. Check packaging for certifications.
Indomie – Indonesia's famous Indomie brand has numerous halal flavors using spices instead of pork.
Prima Taste – This Singapore brand offers halal Laksa and Curry noodle dishes made with chicken and spices.
Mr. Lee's Noodles – A new Malaysian brand specializing in halal-only noodles with flavors like tom yum and curry.
MyKuali – MyKuali Penang White Curry Noodles and other varieties are halal-certified.
Samyang – Select Samyang Korean noodle flavors are certified halal like their mala and stew types.
With so many options now available, Muslim foodies can explore halal noodles from multiple cuisine traditions!
The Verdict on Mama Tom Yum Noodles Being Halal
After reviewing reputable sources like Thailand's halal authority, there's no question that Mama's popular tom yum shrimp noodles qualify as halal.
This means observant Muslim foodies can enjoy the iconic hot and sour shrimp flavors free from doubt.
While always check certifications for other varieties, you can confidently savor this craveable tom yum noodle specialty knowing it adheres to halal guidelines.
For an authentic Thai flavor journey with the convenience of instant noodles, look no further than Mama's certified halal shrimp tom yum noodles. Their compliant status lets everyone partake in this irresistible flavor favorite!