Tiny but mighty chili pequin pack intense heat. If you're lucky enough to get fresh ones, how can you best use them beyond drying?
While notoriously spicy, chili pequin have great citrusy, nutty flavor too. Harness their heat and zing in:
Infused chili oil – Let pequin permeate olive oil for a spicy cooking ingredient.
Quick pickles – Slice fresh pequins into a tangy vinegar brine.
Salsa – Just a couple minced pequins gives great kick to pico de gallo.
Marinades – Whisk pequins into a spicy marinade for proteins.
Remember, a little chili pequin goes a long way! Their searing spice complements many dishes.
Let's explore over a dozen more ways to enjoy fresh chili pequin. From hot honey to jerk seasoning, this guide covers creative and tasty options beyond just drying the peppers.
Chili Pequin Infused Oil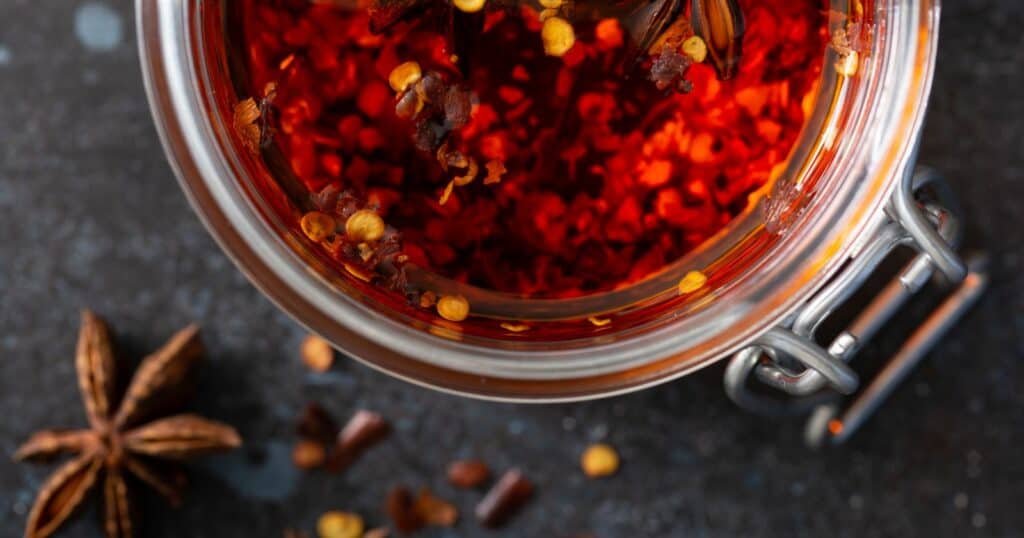 Transform a mild olive oil into a spicy chili-kissed oil for drizzling and cooking. The pequin's heat slowly infuses the oil for bold flavor.
Wash and dry fresh pequin peppers. Remove stems and seeds if less heat is desired.
Add peppers to a clean glass jar and cover completely with olive oil.
Allow to infuse for 1-2 weeks, shaking jar daily.
Strain out peppers and transfer oil to an airtight bottle. Refrigerate.
Use this infused chili oil for spicy vinaigrettes, marinades, pastas, or as a condiment for pizza, eggs, avocados and more! Adjust pequin amounts to suit your preferred spiciness.
Quick Pickled Pequin Peppers
Preserve bumper crops of fresh chili pequin with a fast refrigerator pickle recipe. Enjoy them as a fiery, tangy condiment.
Clean pequins, slice into rings, and pack into a glass jar. Add garlic cloves, peppercorns, and dill.
In a saucepan, bring vinegar, water, salt, and sugar to a boil. Pour hot brine over peppers.
Refrigerate overnight before using. Pickled pequins keep for 4-6 weeks.
Finally, a tasty way to use up all those petite peppers! Use pickled pequin rings to add heat and crunch to sandwiches, tacos, nachos, and Bloody Marys.
DIY Pequin Pepper Hot Sauce
Ramp up the heat in your next homemade hot sauce by using fresh chili pequin instead of traditional jalapeños or habaneros. A little goes a long way!
Wash and roughly chop fresh pequins, removing seeds and membranes for milder heat.
Place in a blender with garlic cloves, vinegar, and a pinch of salt. Blend to desired consistency.
Transfer hot sauce to a sanitized bottle. Refrigerate for up to 6 months. Shake before each use.
The bright, fruity notes of pequin balance beautifully with the garlic and vinegar. You can customize this basic recipe with extra spices and veggies too.
Chili Pequin Salsa
For a salsa that really brings the heat, spike a classic tomato-onion base with fresh chili pequin. A small amount infuses big flavor.
Dice ripe tomatoes, red onion, cilantro, and lime juice in a bowl.
Add 1-3 minced pequin peppers. Stir in salt to taste.
Let salsa sit 30 minutes for best flavor blending before serving with tortilla chips.
Start with one minced pequin and adjust upwards from there once you know your tolerance! This simple salsa really livens up any Mexican meal.
Fiery Pequin Marinade
Unleash the chili pequin's searing heat in a bold marinade for steak, chicken, shrimp, pork chops, or veggies. A little goes a long way.
Whisk neutral oil, minced garlic, cumin, oregano, lime juice and 2-3 diced pequins.
Pour over protein or veggies and marinate 30 mins to overnight.
Grill, broil, or sauté marinated ingredients until cooked through.
The acidic lime juice helps tenderize meats, while the spicy chili pequin and savory herbs infuse big, bright flavor.
Pequin Pepper Hot Honey
Whip up a sweet-spicy hot honey with fresh chili pequin as a dip for chicken tenders, biscuits, pizza crust, and more. It takes just minutes.
In a small saucepan, combine 1 cup honey, 1 minced pequin, 1 tsp butter, and pinch of red pepper flakes.
Warm over low heat 3-5 minutes until melted and well-blended.
Remove from heat and stir in lemon juice. Transfer to a jar and store refrigerated.
The floral honey tames the pequin pepper's heat a bit but retains a nice kick. Adjust the chili quantity to your taste.
Chili Pequin and Mango Chutney
Make a chunky chutney with fresh mango, chili pequin, lime, ginger, and brown sugar for an addictive, sweet-spicy topping.
Dice peeled mango. Add minced chili pequin, lime juice, grated ginger, brown sugar, vinegar, and pinch of salt.
Bring to a simmer over medium heat until thickened to a relish-like consistency.
Cool chutney completely before serving with chicken, pork, fish, or cheeses.
The tropical mango balances beautifully with the pequins for lots of flavor and gentle fire. This chutney keeps for weeks refrigerated.
Chili Pequin Jerk Seasoning
Whip up this bold Jamaican jerk spice blend using fresh chili pequin for authentic heat and smoke. Fantastic on chicken, fish, shrimp and tofu.
Toast cumin and coriander seeds, then grind. Add to minced garlic, onion, thyme, brown sugar, pequins, allspice, and salt.
Blend ingredients to a wet paste with olive oil and vinegar. Marinate protein for 1-24 hours before grilling.
Customize your jerk marinade to preference – dial up the pequin peppers for extra spice or tone it down with more brown sugar and oil.
Chili Pequin and Fruit Salsa
For a sweet, hot salsa, combine fresh pequin with mango, pineapple, or peach. Spoon over fish tacos, chicken, or pork for delicious contrast.
Dice your fruit of choice. Mix in minced pequin, red onion, cilantro, lime juice and salt.
Let sit 30 minutes for the best melding of flavors.
The juicy fruit provides a pleasant counterpoint to the fierce chili pequin burn in this easy summer salsa.
Chili Pequin Powder Spice Blend
Grind dried chili pequins into a simple but spicy seasoning mix. Sprinkle on meats, eggs, avocados, popcorn, and more.
Toast whole dried chili pequins briefly until fragrant. Grind into a powder.
Mix powder with equal parts salt, garlic powder, and onion powder. Store in an airtight container.
This punchy blend adds instant flavor and heat. Adjust the ratio of chili powder to salt and garlic depending on your desired spiciness.
Chili Pequin and Cocoa Rub
Make an ancho chili-style dry rub perfumed with cocoa powder and spiced up with ground chili pequin. It's dynamite on steak, chicken, pork and shrimp.
Combine brown sugar, cocoa powder, cumin, oregano, garlic powder, salt, and black pepper. Mix in ground chili pequin.
Coat meat or veggies evenly with rub at least 30 minutes prior to grilling or roasting.
The chili pequin brings smoky heat to balance the sweet cocoa and savory spices. This rub crusts beautifully when grilled over fire.
Chili Pequin Cornbread
Bake spicy cornbread with fresh pequin that brings a flavorful kick. Serve alongside chili, BBQ brisket, or soups and stews.
Make your favorite cornbread batter. Fold in kernels of grilled corn and 1-2 minced chili pequins.
Pour batter into greased baking dish and bake at 375F until golden, 20-25 minutes.
The sweet corn and pequin pepper combo adds super flavor to basic cornbread. Adjust pequins to your desired spice level.
Chili Pequin Popcorn Topper
Kick up your next movie night popcorn with a lively blend of sauteed chili pequin, garlic butter, Parmesan, and lime juice.
Melt butter in a pan. Add 2 minced chili pequins and garlic. Saute 30 seconds.
Toss melted pequin butter with popped popcorn along with grated Parmesan and a squeeze of lime.
This easy popcorn topper delivers spicy, savory, tangy goodness. The lime helps cut the richness.
Chili Pequin Hot Sauce Fried Rice
Fire up leftover rice into a quick chili pequin fried rice. The pequin-spiked sauce clings nicely to the rice, infusing heat and flavor.
Make sauce of soy sauce, sesame oil, rice vinegar, minced pequin, garlic, ginger, and cornstarch.
Stir-fry chilled rice with sauce, frozen veggie mix, and scrambled eggs.
The chili pequin sauce gives a nice kick of heat to plain old fried rice. Use more or less pequin to suit your taste.
Hope You're Inspired To Use Chili Pequin Peppers!
As you can see, fresh chili pequin have more uses beyond just drying and grinding into spice. With their intense heat and fruity flavor, pequins are perfect for:
Infused oils, salsas, sauces, rubs, and more
Pickling, marinades, and spice mixes
Cornbread, popcorn, fried rice, and other dishes
Just remember to start with small amounts of this little firecracker pepper until you know your tolerance.
So embrace your inner thrill-seeker and turn up the heat with chili pequin! Your cooking is sure to sizzle with its spicy magic.