Is Mediterranean food spicy? Lots of Mediterranean food is not spicy. Many traditional recipes incorporate warming spices to give vibrant flavor to veggies, meats, and grains.
Color, flavor, and freshness make Mediterranean food a ray of sunshine at your table.
It is one of the most varied foods in terms of flavor and taste as of its spices and herbs. And the freshness is boosted by the combination of grains and legumes. We would love for you to figure out this delicious and generous cuisine so that you can include it in your daily diet.
What makes Mediterranean food spicy?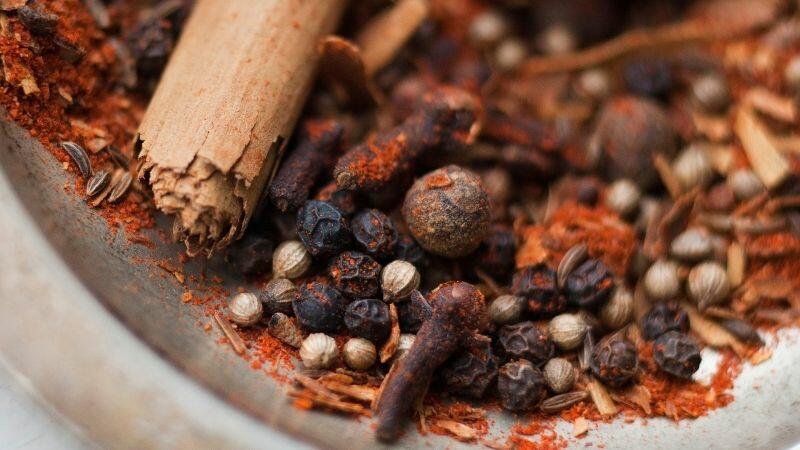 It depends on the region; however, I look forward to finding coriander, cumin, black peppers, cloves, paprika, and cardamom. Baharat is a warming spice that ends with a pleasant savory, a little bit sweet, and mild heat to rice pilafs, soups, stews, or couscous as a dry rub for veggies and meat.
What are Mediterranean Food and its Features?
Mediterranean food is defined by the cuisine and preparation techniques utilized by the Mediterranean region's residents- the food of those residing along the Mediterranean Sea from Morocco to Spain through Italy, Tunisia, Greece, and other nations.
The food comprises plant food and processed staples where spices and herbs are vital ingredients. The focal point is fresh products, simple preparation, and pronounced flavors. Usually, there are more veggies, fruit, legumes, olive oil, grains, and aromatic herbs: consuming eggs, dairy and wine, fish, and just a bit of meat.
Main Features
Plant-based is the most consumed food
Meat products are consumed in moderation
Not only is the variety of products extremely vital but also consuming local products to make the most of the flavor.
Products being harvested are consumed
Sweet products are limited
A common ingredient is an olive oil
Spices, herbs, garlic, and onions are used rather than salt.
Top 9 Mediterranean Dishes To Try for Spicy Lover
There are a few Mediterranean spicy foods that you can give a try, such as:
1. Shakshuka (Eggs Poached in Spicy Tomato Sauce)
One of my preferred breakfasts is fresh red tomatoes stewed in olive oil, cumin, smoked paprika, and a jalapeno pepper thrown in for additional flavor and poached eggs. It's a filling Sunday morning type of meal which is pleasing if you have nothing especially vital to do afterward. The extra juiciness of this dish lends itself to bread dippers; it doesn't matter if it is a gluten-free cornbread or a whole grain baguette.
2. Cacciatore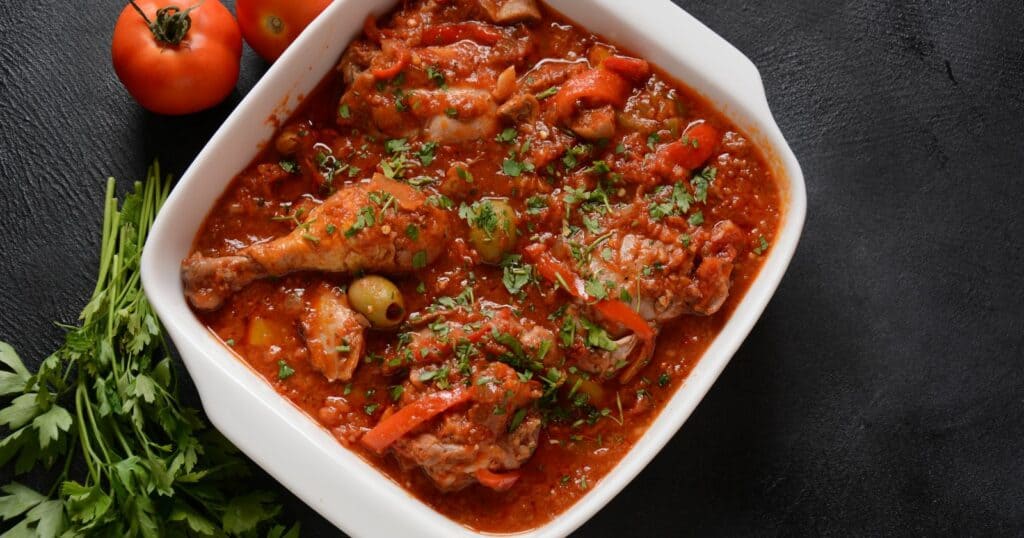 Cacciatore, or hunter in Italian, is considered one of the best and most classic Mediterranean cuisines. Hunters would consume this dish after a successful day in the forests. It was cooked without tomatoes. Beef cacciatore recipes differ depending on the area of Italy where it is prepared. However, in the southern portion of Italy, it comes with anchovies, olives, and spicy peppers.
3. Spiced Moroccan Meatballs and Veggies
I have tasted amazing foods from different Mediterranean parts, including spinach pies in Crete, chocolate croissants, and Tortilla Espanola in Spain. But, despite how many other recipes and cuisines I have eaten, Spiced Moroccan Meatballs and Veggies or Tagine Kefta is one of my favorite. This meatball made of beef or lamb is consumed in different countries in the Mediterranean and is also considered a staple diet.
The spices are what provide this dish its exceptional Moroccan flair. The combination of chili powder, paprika, cumin, and fresh cilantro impart a delicious savory flavor. You should also try this dish, especially if you are a spicy lover.
4. Speca te Mbushur me Oriz
This is a trendy cuisine. This is widely served in various regions of the Mediterranean, most especially in Albania, and you can order this in countryside restaurants serving traditional food.
This dish consists of many green bell peppers stuffed with rice. The exact recipe changes; it depends on how it was passed. Some put in some chopped lamb meat and tomatoes. The stuffed green pepper is baked and then served hot.
Adding black and chili pepper to this cuisine is common among Albanians because the spicy kick complements the cuisine's mild taste. Usually, this is served with feta cheese or yogurt. I suggest giving this dish a try.
5. Speca te Mbushur me Salce Kosi
This is also a traditional side dish, part of Albania, Mediterranean country cuisine- pickled green peppers filled with sour cream.
It's a good cuisine when consuming heavy foods like meat, rice, and potatoes. Stuffed pepper is a specific menu option common in grill house restaurants and countryside restaurants serving a traditional meal.
Also, you can find this dish in markets that sell dairy products. This dish has an interesting taste as the spicy pickled taste doesn't let the sour cream become overpowering.
6. Lahmacun
This is classic cuisine in Turkey, a flatbread packed with spices and meat. The preparation differs extensively all over the region, but in Adana, they serve a midsize, round, super spicy lahmacun. Even if the same in look as pizza, this one doesn't have cheese, a spicy taste, and features ground meat.
Thin bread is topped with minced meat, onions, tomatoes, and spices and then cooked in a stone oven. Garnished with parsley and lemon, this dish is often rolled up and eaten by your hand. This is a common fast food and lunchtime snack on street stalls. This is usually prepared for different occasions or events.
7. Bucatini All Amatriciana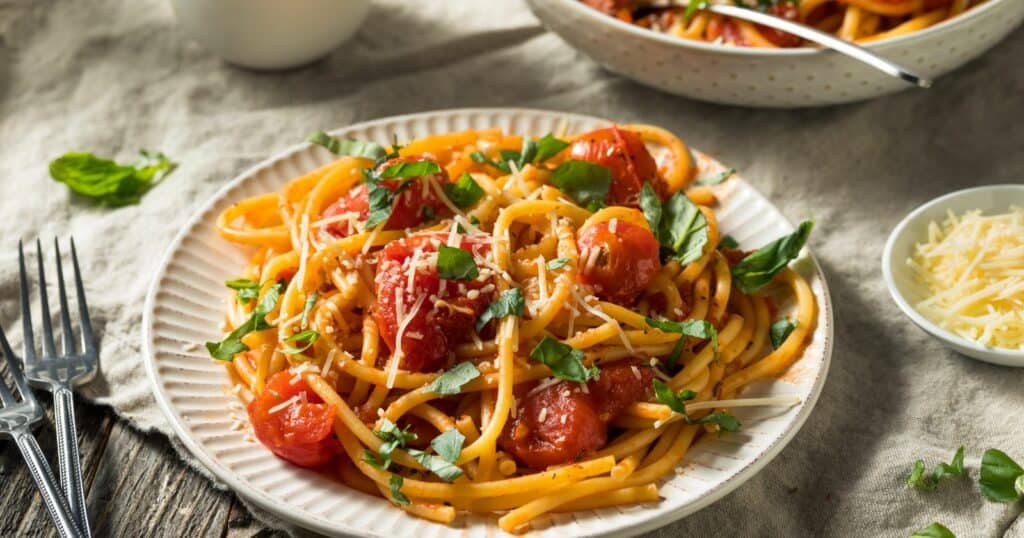 This is a dish from Italy where pasta is tossed in a super spicy tomato sauce with red pepper flakes and guanciale. It is a dream recipe for spicy pasta lovers.
This is identical to the pasta arrabbiata that usually is vegetarian, even if it comes with guanciale.
The origin of this dish is very controversial, with many sources attributing it to Amatrice and others telling it is a dish from Roman. Others also argue over the ingredients, like whether or not to include onions, olive oil, and cheese, but guanciale is always available.
8. Calabria
Calabrian Style Marinara
This dish is spicy as it comes with Calabrian pepper, a cayenne-type chili dried and crushed. This is best served during cold weather to heat up but can also be served during the hot season. Today, there are a lot of restaurants that offer this spicy cuisine. If you love super spicy food, then you must give this a try.
9. Assassin Spaghetti
This is a cuisine to die for. The smooth, oily tomato sauce, which shines on the plate and trickles down the spaghetti, is not ideal for those with high blood lipids. This will taste how potent your taste bud is and is addictive as well.
Is Mediterranean Food Spicy?: Conclusion
The Mediterranean is not just famous because of the fantastic weather and landmarks but also because of the food they serve to guests and locals. Although Mediterranean food is not that spicy, some regions have started to help super spicy foods to meet the needs of their guests. And listed above are just some spicy foods that every spicy lover will love and enjoy.