Like most products with limited shelf lives, spices need proper storage to guarantee they'll still be used whenever you need them.
Spices are considered a miracle that plants have made for humans. A spice is a seed or plant substance used for coloring or flavoring. In ancient times, spices were also utilized to preserve food. For instance, salt was utilized to keep the meat.
Keep in mind that spices go stale fast, even when properly stored. What you'll have left will be ground seeds and bark that are of little value. Proper storage involves the location in the kitchen where you store the spices, but no factor is more critical to the spices' freshness than the storage solutions in which you store them.
What are the Best Storage Solutions for Spices?
You see, picking the proper containers ensures your spices remain usable for as long as possible. If you are searching to preserve your precious spices, we have some of the best storage space solutions you can give a try so that you don't incidentally expose your surroundings to spices.
Use the following tips to pick containers that preserve freshness and maximize shelf-life.
Recycle old jars
With storing the spices, if you have decided to show them in any way, you may like them to make them all the same look.
You could purchase ready-made spice containers, or you can recycle some that you may have around your home.
One excellent way to do that is if your present brand of spices comes in glass containers. You can remove the labels of those bottles and label them properly, and re-use them. How cool is that?
That's a good idea because you don't need to store excess spices all around the place that do not fit well into your selected bottles or bags. If you are also re-using the old spice jars, you will know they fit an entire jar already.
Paper bags 
These are a less-than-optional spice storage solution for your spices. However, you can still utilize them to store spices in the short term, primarily if you use whole spices instead of ground.
Furthermore, whole peppercorns will remain fresh for longer, unlike ground black pepper. The same goes for cardamom and whole cloves. You can also seek out and buy nutmeg or use cinnamon sticks instead of ground cinnamon.
Bags made from paper are ordinary for storing spices and keeping them from getting exposed to too much light. Given that spices lose their strength when they're exposed to light, it's essential that they're safeguarded from light.
Papers bags aren't that durable and could break when pushed to the limit, but they're still better than nothing.
Self-sealing storage bags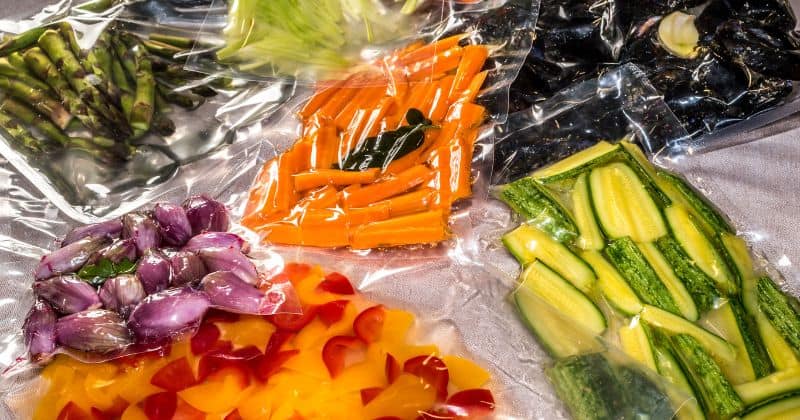 Did you know that zip-lock storage bags could keep your spices from being exposed to air? In a pinch, you can just put those bags inside a paper bag to protect them from direct sunlight. It can even be stored in a dark setting to protect them from light.
Would you like to prepare your food while on that picnic? For instance, are you packing up for a small adventure? Also, self-sealing bags are an excellent option for storing small amounts of spices.
Have we mentioned that self-sealing bags don't leave ant mess and are simple to dispose of? You can always place the spices in other small self-sealing bags. Those bags are durable and flexible enough to endure being in your pocket even for a long time.
Glass containers
Of all the aspects that will impact the freshness of all your spices, the air is undoubtedly the most damaging. You'll like to prevent using containers that enable your spices to come into contact with moving air.
Glass is an excellent option because it's not porous. That only indicates that your spices will be protected if the lid tightly fits.
Remember that air brings moisture, causing powdered spices to cake. Also, air can lead to spices losing their flavor because of the loss of volatile oils through evaporation.
The only drawback of using glass containers is that they don't provide much defense from the light. Meanwhile, transparent containers have the advantage of making it simple to see and determine their contents.
If you can't see which spices are inside them, you may forget that they're there, and they might wind up going stale. Make sure you store them in a cool, dark place to extend their shelf life.
Also, powdered spices could remain fresh for about two years when stored in airtight glass containers and kept from any light. Practical glass containers for spice storage can include mason jars.
You can also find cork-top spice bottles accessible, which are appealing solutions to keep the spices from being tainted by air.
Plastic jars
Soft plastic such as polyethylene is a common and affordable alternative to glass jars, not to mention they are much sturdier. Plastic is also utilized to create containers for spices.
You can always opt for a plastic spice jar. One of the benefits of using plastic jars is that it's frequently simple to color on top of the plastic and make it look more appealing. For instance, are you searching for a spice glass jar but like it to be more durable?
However, remember that other plastics are porous, and it can be challenging to clean the container after it's been used once for spices. Also, the container may be clean, but the spice smell won't leave the container for a long time.
Containers that keep the light out
Metal is another best alternative if you don't like to use glass. Don't forget that light is the enemy of freshness, and metal containers are your best option for keeping the light away from its contents.
You see, a good metal container and a tight-fitting lid will keep the air and moisture away from the spices.
Small containers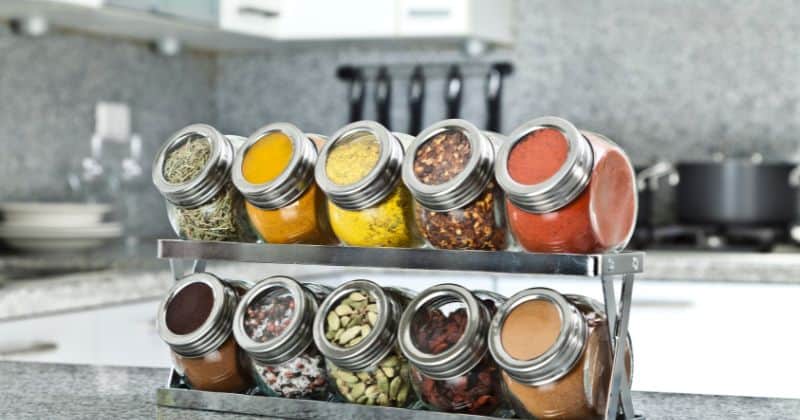 With the materials, you must also consider the containers' sizes. Normally, smaller is better when it comes to the container for keeping spices.
For instance, a smaller container is essential for limiting the moisture and air that come into contact with the spice. Also, the less space there is in your container, the less moisture and air there will lessen the pungency of the spice or otherwise spoil it.
Now that you know the best storage solutions for spices, can we share some storage ideas with you? For instance, you can use your work surface.
Do you love having things on hand and having space? Why don't you use your work surface? You can obtain a fantastic countertop spice rack, which will work well on displays like turntables, wooden racks, and more. 
You can also make a kitchen wall display. Who doesn't like a good display in the kitchen? After all, they can be a wonderful way to create a display for something so useful! You can utilize a wall-mounted spice rack or perhaps design a spice organizer on your own from a set of shallow shelves, a shallow cupboard, etc. Feel free to look around and determine what would work best for your entire kitchen style.