Only spicy food lovers can relate to how frustrating it is to run out of red chili peppers when cooking. Fortunately, I know some red chili pepper substitutes.
One of the best ways to add kick and zing to cooking is by incorporating red chili peppers. However, they are not always available. So, I looked for alternatives, such as jalapeno peppers, cayenne powder, dry poblano, serrano peppers, pequin chili pepper, Piri Piri sauce, tien tsin chili powder, etc., to get the spicy twist I wanted.
What Exactly Are Red Chili Peppers?
Red chili peppers are fruits of the capsicum pepper plant. Besides carbohydrates and a small amount of fiber and protein, they are a good source of vitamins and minerals. They are usually used in different dishes to make them spicy.
Although there are different types of chili peppers, the red ones are commonly used at home and in restaurants. They give a distinct spicy taste alongside smokiness, sourness, and sweetness to a dish. This is why they are used when cooking various dishes, such as stews, soups, seafood, salsas, and pasta.
What are the Best Substitutes for Red Chili Peppers When Cooking?
Do not limit your cooking to only red chili peppers. You can find plenty of peppers, sauces, or condiments in red chili peppers. When searching for the best substitutes, I consider several factors: heat level, sweetness, and smokiness.
Here are the best substitutes for red chili peppers you can use when cooking spicy dishes:
Cayenne Pepper
Cayenne pepper has a thin and curved shape with a pointed end. These peppers' spice or heat level depends on the type and growing conditions, from mild to intense. The golden cayenne peppers and Carolina cayenne peppers are some popular varieties.
You can use the powder or flake form. Cayenne pepper provides the same heat and color as red chili pepper, making it an excellent substitute.
Jalapeno Pepper
Jalapenos originated from Mexico. These green peppers are easily found in local markets and grocery stores. They are milder than red chili peppers but are still a great substitute. If you want to make your dish spicy the way red peppers do, you can increase the jalapenos' quantity.
Although fresh jalapenos are an excellent red chili pepper substitute, finding dry versions are a challenge. These peppers also lack the red pepper's distinct red color. On the bright side, they promote weight loss since they help increase metabolism.
Serrano Pepper
Serrano peppers are often harvested while still vibrant green. They are slightly hotter than red peppers. They are among the hottest chili peppers offering a milder taste. While they are not as famous as red chilis and jalapenos, they are commonly used in the Southwest of the US.
These peppers are an excellent fresh substitute for red chili peppers. Although they also come in flakes or powder form, the fresh versions are preferred by many. I often use them roasted and even blended in my favorite sauces.
As mentioned, they are hotter than red chili peppers; ensure to carefully tweak the measurements to achieve the hotness you can handle.
Dried Poblano
Also known as Ancho chili, poblano is a mild chili pepper originating from Mexico. Mature red poblanos are flavorful and hotter than less ripe green ones.
This red chili pepper substitute typically has a low heat scale with a sweet and smoky flavor. Since they are not as spicy as red peppers, I prefer adding them to various types of meat, soups, or stews.
Pequin Chili Pepper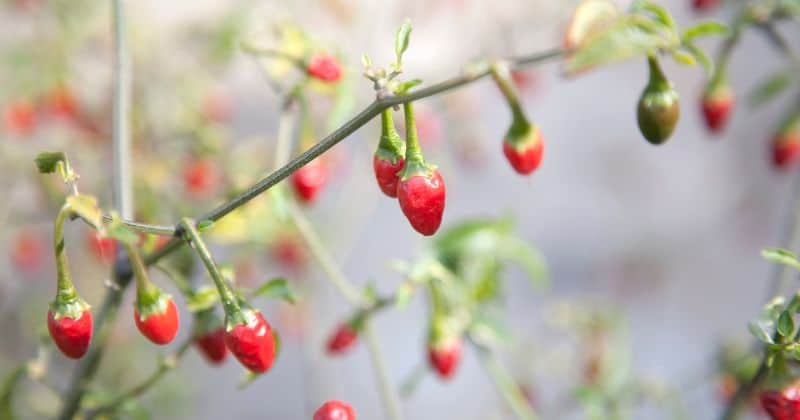 Pequin chili peppers come rectangular – short and squat about 1 inch long. They are often smoked over wood so that their signature taste is achieved. Limited cultivation makes these hot chili peppers more challenging to find than others. However, they are still an excellent substitute for red chili peppers.
Tien Tsin Chili
Tien Tsin chilis are from Northern China, also known as Chinese red peppers. They are commonly used in Chinese dishes, including Kung Pao chicken and Szechuan.
These peppers have a bright, shiny red appearance. Because of their extreme hotness, they are a good substitute for red peppers. However, be sure not to add too much because they may make your dish too spicy.
Paprika Powder
I appreciate that paprika can be easily stored inside a cabinet. Apart from its rich flavor, it has a distinctive red color. This red pepper replacement works well in spice pastes, marinades, and mixes.
As a red chili pepper substitute, paprika provides a red color and real hotness. It also offers different health benefits. It is loaded with antioxidants that help fight chronic illnesses and free radicals.
Paprika is Hungary's national spice and comes in 8 different species, which differ in taste and heat. I use paprika when cooking pork and veggies, especially on stews.
Piri Piri Sauce
You will not get wrong with Piri Piri sauce when looking for a red chili substitute with a very hot punch. This sauce is made of African bird's eye.
Piri Piri is one of the hottest chilies you can use for cooking in the form of bottled sauce, spice mix, or dry flakes. It works well in different recipes, such as dressings, sauces, and marinades.
Gochujang Paste
Regarding spicy dishes, Korean cuisine will give you the kick and zing you are looking for. And one of the popular Korean ingredients is the gochujang.
This Korean paste is made of fermented chili peppers, glutinous rice, soybeans, and salt. Since it provides heat and a very bright red color, it becomes one of the excellent alternatives to red peppers. It is not only very hot but also sweet. In short, it helps season different dishes accordingly.
Harissa Paste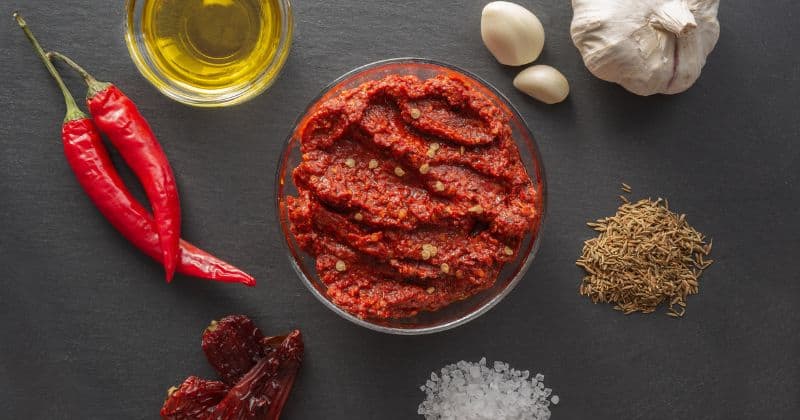 Harissa paste is also a great alternative due to its beautiful red color and amazing heat. It contains many ingredients, such as herbs, garlic, coriander, and cumin. I usually use it when cooking curries, making marinades or spice rubs, and more.
The paste's complex flavor works well in southeast Asian and Mediterranean cuisines. It also adds sweetness and smokiness to any recipe.
Sriracha Sauce
This hot red chili sauce is famous among chili enthusiasts and spicy food lovers. It resembles hot sauce but is slightly redder and thicker. Like other regular chili sauce options, it contains many ingredients, such as sugar, garlic, salt, and vinegar.
Sriracha sauce is an excellent substitute because it provides desirable heat and color. Since it is pre-seasoned, be sure to use it with caution.
Black Pepper
Running out of pepper in the pantry is never a good idea. Although black pepper does not provide the same red color or spice profile as red chili peppers, it is a wonderful substitute because of its benefits. It offers more intense heat and is a good source of nutrients. It helps fight inflammation and control blood sugar.
Conclusion
Do not feel frustrated when you find no red chili peppers in your kitchen. You can find different substitutes just around the corner. You can easily buy them in supermarkets, online, or at fresh greengrocers.