Brazilian cuisine often gets stereotyped as being mild, not spicy. But that's not the full story! Spicy Brazilian food does exist – you just need to know where to find it.
The key is looking beyond generalizations about Brazilian food and digging into its regional diversity. While much of Brazil favors flavor over spice, pockets of tantalizing heat can be found, especially in the cuisine of Bahia.
So if your taste buds crave a thrill beyond sweet and savory, this guide will uncover the best of spicy Brazilian food and where to sample tongue-tingling dishes. From simmering stews to incendiary peppers, we'll help you turn up the heat on your Brazilian food experience!
An Introduction to Brazilian Cuisine
Brazil is a vast country with diverse culinary influences. Its cuisine varies by region but is generally characterized by:
Portuguese and African origins
Fresh ingredients like palm oil, cassava, seafood, and tropical fruits
Rice, beans, and meat as staple ingredients
Coconut milk used in stews and sauces
Unlike neighboring countries, Brazilian food is not inherently spicy. Spice was historically too expensive for most Brazilians. Plus, the Portuguese didn't use much chili pepper in their cooking.
So Brazilian cuisine focuses more on flavor pairing than heat. But that doesn't mean spicy food doesn't exist! Let's explore the Brazilian spicy food options, especially in the state of Bahia.
Bahia: The Home of Spicy Brazilian Cuisine
The northeastern state of Bahia is considered the heart of spicy Brazilian food. Its regional cuisine blends Portuguese, African, and indigenous influences into delicious dishes packed with chili peppers.
Why is Bahian food so spicy? Its African roots play a role, as chilies are common in places like Nigeria. But the main reason is the locally grown malagueta pepper. Small and potent, it adds serious heat to Bahian cooking.
So while most of Brazil enjoys mild flavors, Bahia cranks up the spice meter. Here are some iconic spicy Brazilian foods to try in Bahia.
Acarajé – Black Eyed Pea Fritters
This street food snack is Bahia's signature dish. Acarajé features deep fried balls of mashed black eyed peas, slit open and stuffed with vatapá – a smooth paste of dried shrimp, peanuts, coconut milk, palm oil, and malagueta peppers.
The contrast of crunchy exterior and creamy interior is delicious. And the vatapá sauce brings slow-building heat that makes your mouth tingle. For the full experience, add hot pepper sauce!
Moqueca – Brazilian Fish Stew
Moqueca is a flavorful Brazilian fish stew recipe made with your choice of seafood, simmered in coconut milk infused with tomatoes, onions, cilantro, lime, and malagueta peppers.
It's shareable, simple, and totally scrumptious – especially when loaded with fish like snapper or shrimp. The coconut milk tempers the heat, making it mild enough for all palates…unless you add extra peppers!
Baião de Dois – Spicy Rice and Beans
This hearty one-pot meal combines rice, beans, and sliced collard greens with onions, garlic, cumin, and minced chilies for a dose of warmth.
It's cheap, filling comfort food that's still light enough for hot climates. The malagueta pepper provides a steady buzz of spiciness. Just have a cold beer on hand to tame the flames!
Caldinho de Feijão – Spicy Black Bean Soup
This rich, peppery soup features bacon, onions, garlic, and plenty of malagueta chili pepper for a broth that's deeply savory with a creeping heat.
It's served in cute mini bowls, meant for sipping. But you'll want to chug it once the spiciness hits! It's a quick, inexpensive snack that locals love.
Vatapá Sauce
We mentioned vatapá earlier as a filling for acarajé. But this thick, creamy sauce also makes a fantastic dip, spread, or soup base when made spicy.
Native to West Africa, vatapá features ground peanuts, palm oil, coconut milk, prawns, and loads of malagueta pepper. The texture resembles peanut butter with kick! Use it as a spicy sandwich spread or rich seafood sauce.
Other Spicy Brazilian Foods Worth Trying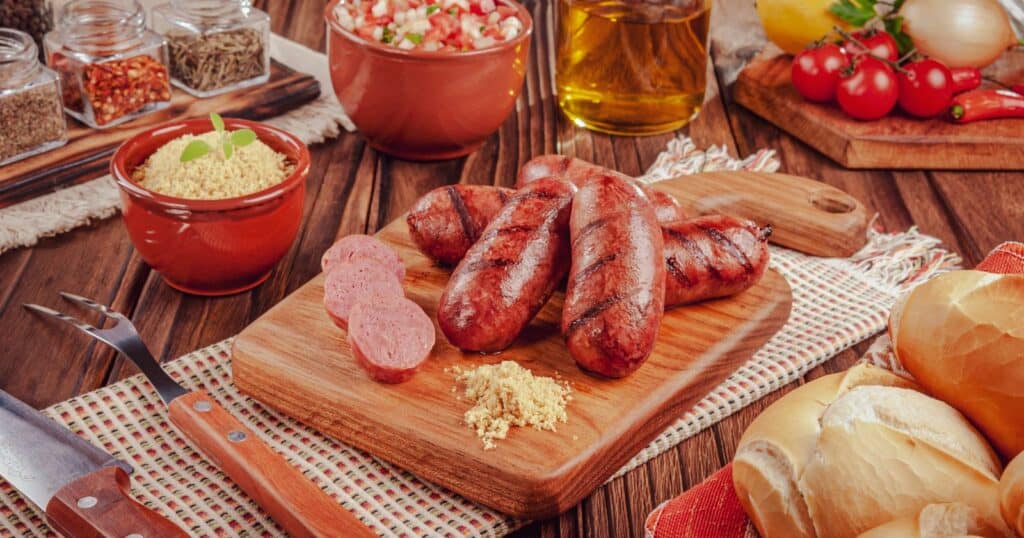 Beyond Bahia, the heat dies down. But pockets of spicy Brazilian cuisine can still be found, especially using local chili peppers. Here are some examples:
Linguiça – Spicy smoked pork sausage
Pimenta malagueta – Malagueta pepper sauce
Galinhada – Spicy chicken and rice (popular in Minas Gerais)
Tutu mineiro – Thick bean soup with sausage and peppers (from Minas Gerais)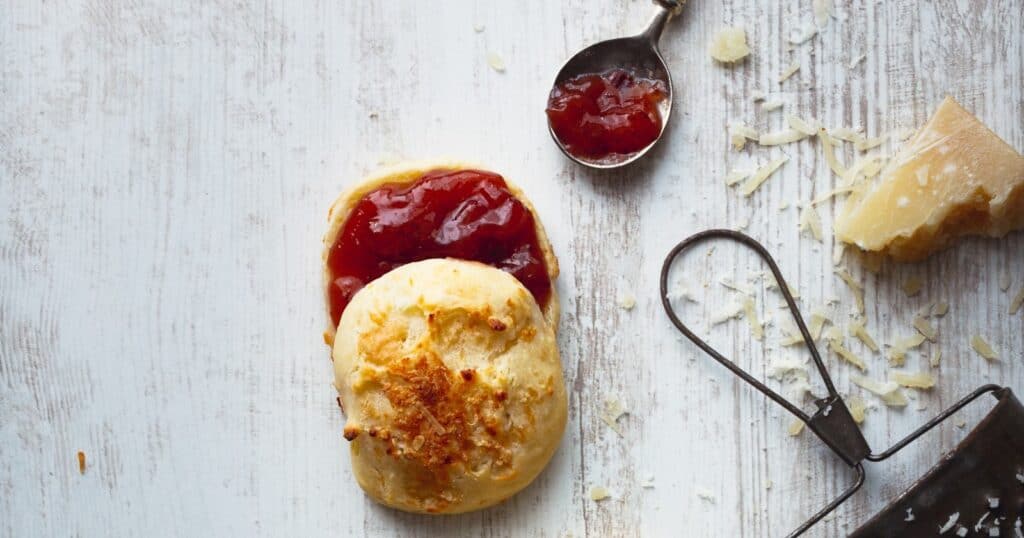 Even Rio de Janeiro has its share of spicy snacks, like pão de queijo cheese bread with jalapeños or chili oil on pizza.
You can also find Brazilian adaptations of dishes like chili con carne and chicken wings served bem picante (very spicy).
Tips for Finding and Enjoying Spicy Brazilian Food
Hopefully this guide has your taste buds tingling for some spicy Brazilian food! Here are some tips to make the most of the experience:
Head to Bahia for the spiciest Brazilian cuisine. But check regional menus across Brazil too.
Ask for malagueta pepper sauce to amp up any dish. Other hot sauces like pimenta are common too.
Order bem picante to get your food made extra spicy.
Have cooling drinks or bread on hand to balance the heat. Caipirinhas or beer work great!
Try street food snacks like acarajé as an affordable way to sample spicy Brazilian food.
Share dishes family-style so everyone can try the spicy items. A little heat goes a long way!
Embrace the tingle! Spicy food releases endorphins that give you a natural high.
With flavors to suit every palate, Brazilian cuisine has plenty to offer spice lovers and scaredy cats alike. But now you know where to get your fix of Brazilian spicy food too. Just brace those taste buds for some sensational heat!