Are you ready to add some crunch and flavor to your culinary adventures?
Celery is the perfect vegetable for adding a refreshingly salty taste and delightful crunch to sweet and savory dishes.
Whether you want to upgrade your everyday meals or impress dinner guests, learning to use celery in your cooking will leave a lasting impact!
Add celery slices to sandwiches or salads; let its unique crispiness be the dish's star by serving it as crudité with a dip at parties.
The bright green hue can also liven up cooked dishes such as soups, curries, frittatas, and casseroles—get creative!
Salads are always better when they include chopped celery and other fresh ingredients like cucumbers, chickpeas, and bell peppers.
And don't forget desserts–try it with apple pies or homemade bread for an extra unique twist.
You'll surely see success no matter how you incorporate this versatile vegetable into your cooking repertoire!
So why wait? Get started today by experimenting with celery in your kitchen creations!
What Is Celery And Why Is It Important In Cooking?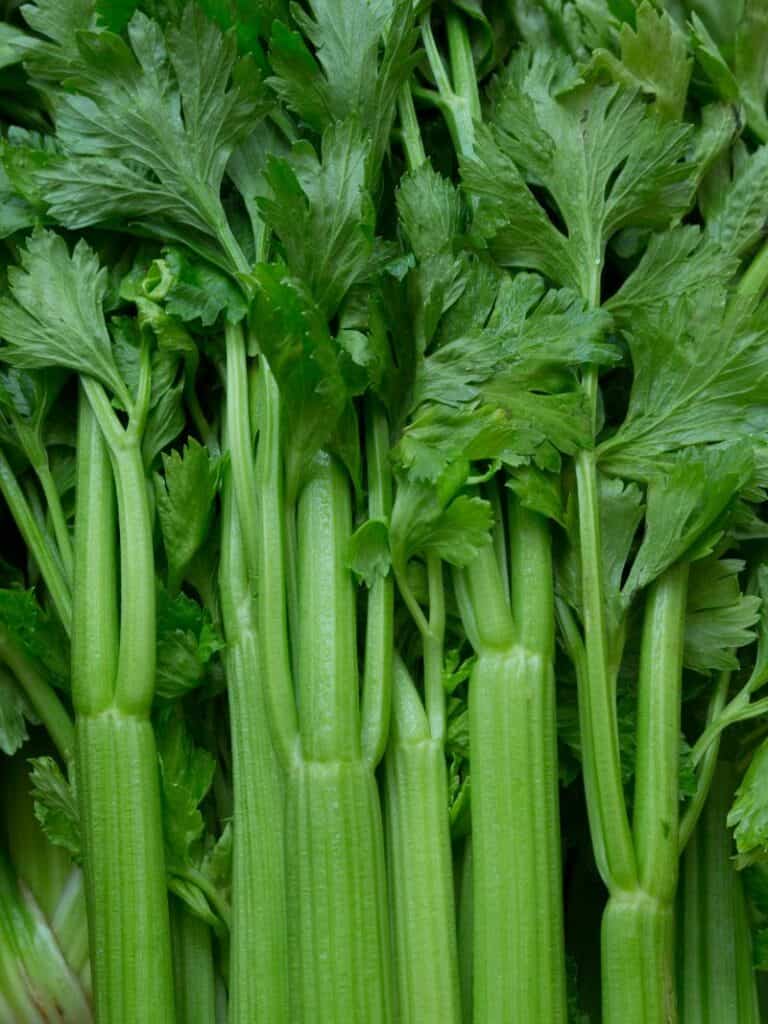 Celery is one of those vegetables that has many fantastic culinary uses, including adding it to salads, soups, and even garnishes.
At its most basic, celery is a crunchy vegetable that adds flavor and texture to any dish. But what makes it so unique?
As it turns out, celery is a nutrition powerhouse. It's packed with vitamins K and C, folate, calcium, potassium, magnesium, and fiber – all of which contribute to overall health.
Plus, consuming celery may assist with weight loss and reduce inflammation.
Celery can spruce up almost any dish with its subtle flavor and unmistakable crispness.
Use the stalks to cut into thin sticks or large chunks for your favorite salads or stir-fries.
You can also boil the leaves for a delicious side dish of essential vitamins and nutrients.
If you're feeling creative in the kitchen, celery's long stalks can even be sculpted into edible garnishes or used as an aromatic ingredient in broth or soup mixtures!
You really can't go wrong when using celery in your dishes.
Flavor Profile Of Celery: Crisp, Salty, And Refreshing
Celery is an essential cooking essential and provides a unique flavor to dishes. Celery has a distinct crispness and a refreshing crunch when used fresh in salads or coleslaw.
It can be cooked with other vegetables to add salty, earthy complexity to soups and stews.
You can also use celery seeds as a seasoning. As the flavor of this seed is known for being punchy and distinctive, it's best used sparingly.
Start with a tablespoon of whole celery seed, grind it in a spice grinder, or use a mortar and pestle.
To complement the flavors better, you can mix two tablespoons of Kosher salt thoroughly and enjoy this amazing taste sensation every time you cook!
Health Benefits Of Celery: What You Need To Know
Celery is a widely used vegetable in supermarkets and local grocery stores.
This veggie can be enjoyed in various ways – from eating it raw to adding it to soups or stews or even cooking it as a stir fry. Not only does celery taste great, but it also gives you access to various health benefits.
Celery is naturally fat-free with minimal fatty acids; cooked celery, prepared without added fat, has 27 calories per cup.
On top of that, it's also loaded with key minerals such as calcium, magnesium, iron, zinc, and potassium. Impressive nutrition stats make celery ideal for those watching their diet and fitness goals.
Its electrolyte activity makes this an ideal beverage to hydrate and nourish your body.
Culinary Uses For Celery: Recipes And Dishes That Feature This Vegetable
Celery is an incredibly versatile vegetable in various dishes, from appetizers to casseroles. Here are some culinary uses for celery:
Pickle Potato Salad
Celery is a key ingredient in this tangy and flavorful potato salad that also features carrots, shredded chicken, and a pickle brine-inspired dry rub. It's a great dish to bring to a potluck or picnic.
Lamb Osso Bucco with Rustic Lamb Demi-Glace
Finely chopped celery is an excellent filler for this hearty and flavorful lamb dish. It adds a subtle yet distinct flavor that pairs perfectly with the other ingredients.
BLT Pasta Salad
This pasta salad features the classic flavors of a BLT, including bacon, tomato, celery, and green onion. It's an excellent option for a summer barbecue or potluck.
Coleslaw and Potato Au Gratin Casserole
This casserole combines the flavors of coleslaw with potatoes au gratin. It's a delicious and comforting dish perfect for a family dinner.
Mirepoix
Diced celery is an essential ingredient in mirepoix, the classic French combination of onions, carrots, and celery that forms the base of many soups and stews.
Farro and Grape Salad
Celery pairs perfectly with farro and sweet grapes in this refreshing and satisfying salad.
Hummus and Crudités
Crunchy crudités like celery are perfect for creamy hummus. It's a great snack or appetizer that is always a crowd-pleaser.
Celery Salad with Dates and Parmesan
This fresh and flavorful salad combines celery with sweet dates and salty Parmesan. It's a great way to enjoy celery's clean, bright flavor.
How To Prepare Celery: Tips And Techniques For Slicing, Dicing, And Chopping
Celery is a versatile and nutritious vegetable used in various dishes.
Here are some tips and techniques for slicing, dicing, and chopping celery:
Removing the leaves
Before slicing or dicing the celery, remove the leaves by either pulling them off or cutting them off with a knife.
Celery leaves are eatable, but the punch of flavor is much more than stalks. So be careful. It's mainly used for garnishing dishes.
Washing
Rinse the celery under cold running water to remove any dirt or debris.
Slicing
For simple snacks or garnishes, slice the celery stalks crosswise into thin rounds. For soups, stews, and casseroles, slice the celery stalks lengthwise into thin strips.
Dicing
To dice celery, slice the stalks lengthwise into thin strips, then cut the strips crosswise into small cubes.
Chopping
For use in salads or coleslaw, chop celery stalks into bite-sized pieces. Cut the stalks crosswise into pieces, then chop each piece lengthwise and crosswise into small cubes.
Using a mandoline
A mandoline can be a valuable tool for slicing celery into thin, uniform strips. Be sure to use the guard to protect your fingers.
Using a food processor
A food processor can quickly and easily chop or dice celery. Be sure to pulse the celery rather than processing it continuously to avoid over-processing.
Blanching
Blanching celery can help to preserve its crisp texture and bright green color. Bring a pot of water to a boil to blanch the celery, then add the celery and cook for 1-2 minutes.
Remove the celery and immediately transfer it to a bowl of iced water to stop cooking.
Where to Buy Celery?
Celery can be purchased at most grocery stores and supermarkets. It is typically found in the produce section, either loose or pre-packaged in plastic bags.
When purchasing celery, look for firm, bright green stalks with no signs of wilting or discoloration.
The leaves should also be colored green and fresh-looking. Organic celery is also widely available at health food stores and some supermarkets.
In addition, farmers' markets may also offer locally grown celery during the growing season. When shopping for celery, choose the size and quantity that best fits your needs.
Celery is a common vegetable that should be readily available at most stores.
Celery Substitutes
If you don't have celery or want to try a different flavor, several substitutes can be used in its place. Here are a few options:
Fennel
Fennel has a similar crunchy texture and mild, licorice-like flavor that can be used instead of celery in many dishes.
It can be sliced or diced and used in soups, salads, and stir-fries.
Bok choy
Bok choy is a mild, leafy green that can replace celery in soups, stews, and stir-fries. It has a similar texture and can add a subtle, fresh flavor to your dish.
Jicama
Jicama is a root vegetable with a crisp texture and slightly sweet, nutty flavor. It can be sliced or diced, used in salads or as a snack, and as a substitute for celery in many dishes.
Green bell pepper
Green bell peppers have a similar crunch and mild flavor as celery and can be used in soups, stews, and stir-fries. They can also be used in salads or as garnish.
Cucumber
Cucumber has a similar texture and fresh, mild flavor as celery and can be used in salads, soups, and stir-fries. It can also be used as a snack and is an excellent substitute for celery in dips and spreads.
Remember that the flavor and texture may differ slightly when substituting one vegetable for another. Hence, it's best to use the vegetable called for in the recipe for the most authentic results.