Zwolle is a small town in the Netherlands, but it doesn't mean you can't enjoy an all-you-can-eat buffet here. Zwolle is home to some of the best restaurants in the country that offer all-you-can-eat buffets! Whether you're looking for a delicious lunch or dinner, there are plenty of all-you-can-eat options in Zwolle.
Wereldrestaurant Eten & Zo
Address: Boerendanserdijk 43, 8024 AE Zwolle, Netherlands
Website: https://www.etenenzozwolle.nl/
A good choice for those who want to explore a range of cuisines. At Wereldrestaurant Eten & Zo, you can find dishes from around the world served in a buffet style – perfect for those who want to sample many flavors at once.
In 2 hour limited buffet, you can eat dishes from Spanish, American, Turkish, Chinese, Indian, Italian, Japanese, and Dutch cuisines. Plus, a salad bar and dessert buffet are also included.
The prices depend on the day you visit; Monday to Thursday is EUR37.90, and Friday to Sunday is EUR39.90 for all food and non-alcoholic drinks. If you love alcohol, they also have a beer and wine for an additional price, and it pays per token. (EUR1.5 per 1 token)
Bowling and pool are also available to add an extra activity to your all-you-can-eat experience.
Wokstadion Zwolle
Address: Stadionplein 2, 8025 CP Zwolle, Netherlands
Website: https://www.wokstadionzwolle.nl/
An excellent choice for vegetarianism and other dietary needs. At Wokstadion Zwolle, you can find many vegetarian dishes, including vegan and gluten-free options. The buffet also includes meat dishes for those looking for more hearty meals.
The all-you-can-eat menu featured sushi, nigiri, poke bowl, sashimi, miso soup, and other dishes. They also have Chinese dishes like Kung Pao chicken, sweet and sour pork, beef with black bean sauce, and over 80 items.
For meat lovers, Lamb Chop, Chicken Teriyaki, Duck Breast Fillet, Deer Fillet, T-Bone, and even Kangaroo can find on their menu.
Blue Sakura Zwolle
Address: Bethlehemkerkplein 35, 8011 PH Zwolle, Netherlands
Website: https://www.bluesakura.nl/zwolle
Traditional Japanese restaurant with all-you-can-eat for lunch and dinner. Blue Sakura Zwolle offers a wide range of traditional Japanese dishes, including sushi, sashimi, maki, tataki, gunkan, temaki, salads, and desserts
The prices are EUR29.50 for lunch and EUR 39.50 for dinner. They also offer a "Kids Price" of EUR16.50 for ages 4-10.
This restaurant is great for family dinners, as they have many choices to satisfy everyone's tastes and dietary needs.
Their menu is well crafted, and you can find various things not offered in all-you-can-eat restaurants. So that is why people love Blue Sakura Zwolle.
Silk Sushi & Asian Dining
Address: Jufferenwal 32, 8011 LE Zwolle, Netherlands
Website: https://www.silkdining.nl/zwolle
Take a trip to Asia without leaving Zwolle! Silk Sushi & Asian Dining offers all-you-can-eat lunch and dinner buffets that mainly include Japanese dishes. Still, you can find other favorite words from Thailand, Korea, Indonesia, China, and Taiwan.
They specialize in Nigiri, Hosomaki, Futomaki, Uramaki, Poke Bowls, and Sashimi. But don't forget to try the chicken menu from Silk. They have various options like General Tso's chicken (Taiwan), Red Curry Chicken (Thai), Korean Fried Chicken (Korea) Satay Ajam (India), and more.
They also have a Cocktail bar, but not included in AYCE (all-you-can-eat). If you are craving Asian food, this is the place to be.
China Palace Zwolle
Address: Van der Capellenstraat 252, 8014 VZ Zwolle, Netherlands
Website: http://www.chinapalacezwolle.nl/
Since 1990, China Palace has been serving Zwolle locals the best Chinese food.
For Chinese food, they provide a course menu for two-person prices ranging from EUR 25 to EUR 36.50 per person, depending on what is included. It will consist of 6 – 8 dishes you can choose between authentic Chinese and authentic Cantonese styles.
But if you are hungry, China Palace offers an all-you-can-eat lunch buffet for lunch and dinner for EUR34.50 per person, including dim sum, sushi, teppanyaki, banmi, and more. It's mixed with Chinese and Japanese cuisine.
The cozy and inviting atmosphere makes it perfect for family dinners or lunch dates. They also offer take-out and delivery services so that you can enjoy their delicious food from the comfort of your home!
MONSTER SUSHI ZWOLLE
Address: Katwolderplein 3, 8011 BT Zwolle, Netherlands
Website: http://www.monstersushi.nl/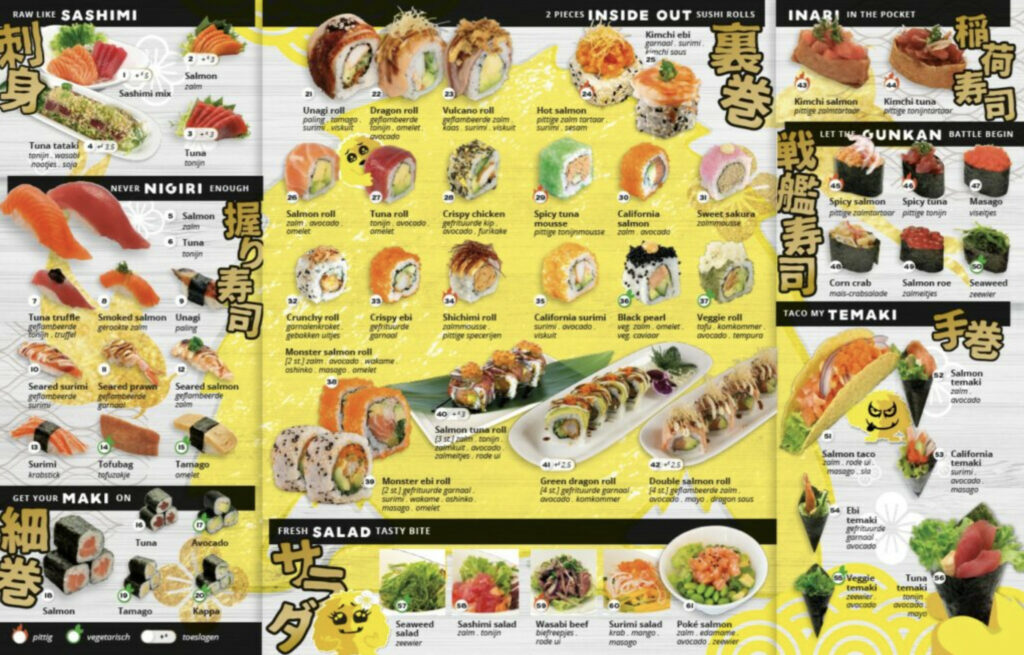 Are you looking for AYCE Korean Grill with sushi? Monster Sushi Zwolle provides the best of both worlds!
Enjoy unlimited grilling in Smokeless Korean style with their special marinated meats. But that's not all; Monster Sushi also offers a wide range of sushi, tempura, and other sides dish from Japan.
The all-you-can-eat menu is EUR34.50 from Monday to Thursday and EUR 36.50 from Friday to Sunday. Monster Sushi is an excellent place for those who want to enjoy their favorite Korean and Japanese dishes in one meal.
The smokeless grill is also suitable for those who prefer food without smoke and smell.
Minoyu
Address: Belvederelaan 327, 8043 LX Zwolle, Netherlands
Website: http://www.minoyu.nl/
All-you-can-eat sushi with over 100 different types of sushi and other dishes? Yes, please!
Minoyu offers an AYCE menu for both lunch and dinner. The menu includes sushi, maki, temaki, salads, and other Asian dishes. They also have some raw meat dishes like a tataki, a unique feature. You can even choose a spicy level for some spicy dishes.
Don't forget to end your meal with ice cream. They have a variety to choose like green tea, vanilla, lychee, mango, and hazelnut, and you can choose to create a banana split, sundaes, or just ice cream with whipped cream (Dame Blanche)
La Cubanita
Address: Melkmarkt 45, 8011 MB Zwolle, Netherlands
Website: https://lacubanita.nl/tapas-zwolle
The unique take of AYCE restaurants, La Cubanita, offers unlimited tapas and many other Spanish dishes.
Their AYCE menu includes various types of tapas like patatas, bravas, croquettes, calamari, and many more. The unique paella dishes here include seafood, vegetable or meat-filled options. It also has other authentic Spanish main courses like garlic shrimp or a spareribs
The price is EUR 22.50 per person from Sunday to Thursday and EUR 27.50 per person from Friday to Saturday. La Cubanita is perfect for those who love Spanish food or just want a unique AYCE experience!
UNO Restaurant
Address: Nieuwe Markt 1, 8011 PE Zwolle, Netherlands
Website: http://www.restaurant-uno.nl/
This is where you can watch movies and enjoy a wonderful dinner.
Uno Restaurant offers an all-you-can-eat dinner buffet for EUR29.95 per person from Monday to Wednesday and EUR32.50 from Thursday to Sunday. The menu includes dishes from France, Italy, Spain, Asia, and the Netherlands. The limited is only time-based (2.30 hours) , so you can take your time and enjoy the variety of delicious dishes.
The best part is that you get a ticket to watch a movie and dinner for EUR 42 per person. It's an excellent option for a date night or family dinner.
So, if you're looking for an AYCE experience or a romantic evening with your partner, Uno Restaurant is the place to be! Enjoy their delicious food while watching a movie in their theater-style seating.
Brasserie Dunnik
Address: Broerenstraat 4-10, 8011 VB Zwolle, Netherlands
Website: https://www.brasseriedunnik.nl/brasserie-dunnik-zwolle-menu/
Brasserie Dunnik provides an all-you-can-eat buffet for EUR25.50 from Monday to Wednesday and EUR27.50 from Thursday to Saturday. The menu includes various dishes such as Sticky Spareribs, Java chickie, Rabbit mushroom sauce, and other items from their menu. The buffet also includes soup, salads, and fries.
They also offer a filmed dinner, for EUR 32.00 you can get unlimited dishes and one cinema ticket. So, if you're looking for a great place to have an all-you-can-eat dinner or watch a movie and have some delicious meals, Brasserie Dunnik is the perfect option! Enjoy their tasty selection of dishes in an enjoyable atmosphere.
The AYCE scene in Zwolle is varied and offers something for everyone. Whether you want to dine on sushi, tapas, or Dutch dishes, there's always an all-you-can-eat restaurant to satisfy your cravings. With these great options in Zwolle, there's no need to worry about going hungry! Experience a delicious meal, and make sure to come back for more. Bon appetit!